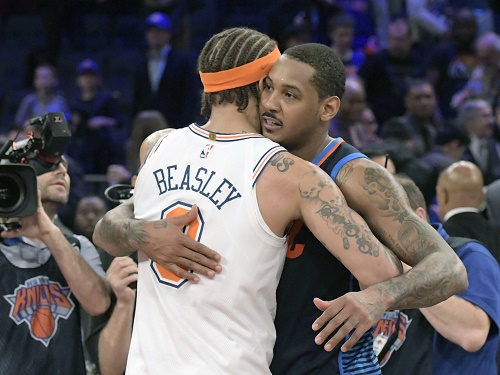 (PHOTO CREDIT: Bill Kostroun/AP.)
Forgive me if this is the third entry in a row that I've featured the Thunder. But I can't ignore this return.
So Carmelo Anthony mostly got cheers when he was brought out during the player introductions. While returning players sometimes get tribute videos for their tenures during a timeout, Carmelo got his during those same player intros.
This is quite a difference from Paul George's return to Indianapolis.
Once again, I'll tell you why he mostly got cheered.
Carmelo Anthony never wanted to leave New York. But after all the damage had been done by the former management (Phil Jackson), he had to go. The Knicks wanted to go in a different direction and so did Anthony. It was not an acrimonious parting. Anthony didn't demand a trade. George let Pacer management know he wanted out. So in the fans' eyes, Anthony did not betray the organization.
Melo wasn't exactly the greatest player there in his tenure. If anything, he tried to take on too much. Like most other players with egos, he wanted to do it his way. Mike D'Antoni was the coach when he got there. They didn't exactly see eye-to-eye. When the Linsanity miracle hit later on, he didn't exactly build chemistry with Jeremy Lin. D'Antoni was eventually run out of town and, later on, Lin was out as well.
The 2012-13 season, however, was the team's greatest in quite some time. Melo led the league in scoring and the team won 54 games and got to the second round of the playoffs. But they couldn't follow up the next year and had a disappointing 37-win campaign. Phil Jackson took over the front office before the 2014-15 season and seemingly threw Melo under the bus each time he took the chance. After Phil was ousted, Melo and the Knicks went their separate ways. Throughout all that time, Melo never really talked about getting out of town and, if anything, wanted to stick it out with New York.
The fans look at that as loyal. So he got sort of a hero's welcome when Carmelo returned to New York.
Too bad for Melo and the Thunder (they played a triple overtime game the night before!) that he got shut out in the second half (Anthony scored 12 points, all in the first half). But good for the Knicks fans as they got to cheer their former star and got to see their team win.
(On a side note, Michael Beasley scored 30 points for the Knicks. MICHAEL BEASLEY. That's awesome.)
BULLET PASSES
*Erik Spoelstra is now the winningest coach in Heat franchise history, passing his mentor, Pat Riley. Good for Spoelstra, who sometimes doesn't get his due from fans. He's a Top 5 coach in the league, in my view.
*The Rockets can't lose. That's 13 straight wins in a row and 14-0 with Chris Paul in the line-up.
*For the team to grow, the Timberwolves have to beat teams like the Suns at home. That's a very disappointing loss by Minnie.
*Manu Ginobili. Seriously.
SCOREBOARD
12/16/2017
POR 93 (16-13) @ CHA 91 (10-19)
UTA 100 (14-16) @ CLE 109 (22-8)
OKC 96 (14-15) @ NY 111 (16-13)
LAC 85 (11-17) @ MIA 90 (15-14)
MIL 111 (15-13) @ HOU 115 (24-4)
PHX 108 (10-21) @ MIN 106 (17-13)
DAL 96 (8-22) @ SA 98 (20-10)
BOS 102 (25-7) @ MEM 93 (9-20)
LINE CROSSER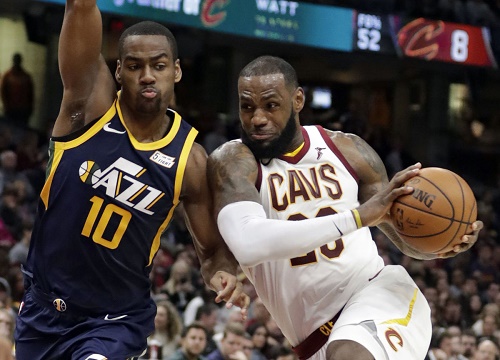 (PHOTO CREDIT: Tony Dejak/AP.)
Another day, another LeBron James triple-double.
29 points, 11 rebounds, 10 assists.
That is LeBron's fifth triple-double of the season and the 60th of his career.
WATCH THIS PLAY
https://youtu.be/vLnNAr37m_k
(VIDEO CREDIT: PMG Videos.)
The Spurs keep getting bailed out by Manu Ginobili. Here's another game-winner from Manu. He just keeps doing this.
---
Hey now! Follow Rey-Rey on Twitter at @TheNoLookPass.
You can also see some of his work at Forum Blue & Gold, a site specializing on the Los Angeles Lakers.
Also, while it's on hiatus due to personal and health issues, you can listen to old episodes of Rey-Rey's podcast, Rey-Rey Is Fundamental, which has NBA talk and other topics. The podcast will be back as soon as he's healthy.