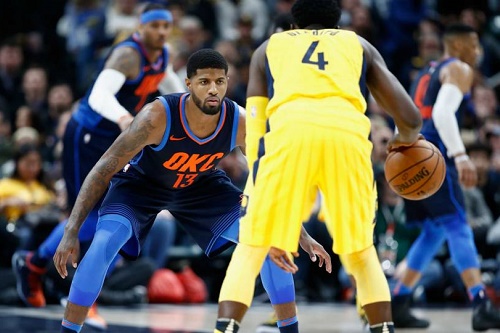 (PHOTO CREDIT: Getty Images.)
Paul George returned to Indianapolis for the first time since being traded out of the Pacers. Some were surprised to see George get booed loudly every time he touched the ball. This prompted me to answer old friend, Chris Manning from 2K Sports:
The reaction that IND gave to PG surprised me…

— Chris Manning (@LD2K) December 14, 2017
It was known he wanted out. Why would you cheer him? https://t.co/hiD2tR1a8u

— Rey-Rey (@TheNoLookPass) December 14, 2017
It also led to a discussion with ol' Twitter friend, @WordToMoses. He mentioned that, yeah, the Pacers fans should cheer PG for all he did for that team.
He's right. And I am all for the players wanting to choose to where to work whether it's Indianapolis, Oklahoma City, New York, Los Angeles, or Sioux Falls. I defended Kevin Durant going to Golden State even if it threw out the balance of power in the league.
(Also, who the heck are we to tell people how to feel, right?!)
Even if illogical, though, I totally get why PG got booed for wanting to leave. I would like to think it's not personal from the fans (who am I kidding?!) but it's basically seen as betrayal for wanting to leave. The player left their team and went to one of the 29 other enemies in the league. So yeah, of course, they're only going to see that as hurtful since a lot of the fans are more on the lines of "you're either with us or against us."
Now if it's a player who got traded out of nowhere like Chauncey Billups from Detroit to Denver then that's a different story. He got cheered loudly when he returned to Detroit for his first game after the deal. It's because he never wanted out (at least, he didn't say it publicly). If anything, the fans are going to hold something against the team for making that deal. So he gets a hero's welcome because Billups, per se, never betrayed the team.
I'm not the type to boo anyone these days; I want everybody to do well. After all, while NBA is pure entertainment for a lot of these people, let's remember that the players are still human beings. Getting traded and going to a new environment is always difficult for them. The hassle of having to move your stuff to another city? It sucks. And if they have their own family, it's difficult to uproot them to a new place.
But yeah, if you make it known that you want to leave a city, you're probably going to get booed. Even if you're sincere about wanting to move on to a new chapter. Even if you let them know in advance so that the team can get compensation. Even if you gave them all those years of service. I completely understand the player… but that's not what the people see who only view the NBA as pure entertainment.
Most fans will get over it. I do hope PG is happy in Oklahoma City. And if he's not, he can always go somewhere else. But by doing that, he'll probably piss off another city. Whoops.
BULLET PASSES
*So this got a lot of play. Brook Lopez getting out of the way as LeBron James darted down the middle for the jam:
Brook Lopez made a business decision as LeBron streaks down the middle. pic.twitter.com/LuSXt75BEe

— Rey-Rey (@TheNoLookPass) December 15, 2017
It was ALMOST a no-win situation for Brook. But he probably chose the worst decision. He didn't even try. Look at Kyle Kuzma raise his arms afterwards in disbelief.
So a few things could've happened:
A. He could've clobbered LeBron James: It probably could've led to a flagrant foul depending on how hard he fouled him. But if LeBron gets hurt (which I somehow find impossible because LeBron is not of this world), everyone's going to get on Brook for hurting LeBron. Especially since it's a regular season game.
Still, he could've TRIED.
B. Brook decides to get in the way without having to get too physical with him: Verticality! Yeah, he probably could've gotten dunked on. And he'd be a highlight for years to come like Dwyane Wade yammed on Anderson Varejao. Actually, that's a pretty bad result. He'd get all the slander for getting dunked on.
But you never know until you try!
C. Bear hug LeBron James?: LeBron is so strong that he probably still could've made a lay-up if he got the dreaded Andre the Giant bear hug (well, okay; Brook Lopez doesn't even come close to that size).
HE COULD HAVE TRIED.
Instead, we're just here talking about Lopez getting out of the way so he doesn't get in a poster.
Maybe that WAS the wisest decision. After all, it's still two points and we're going to stop talking about Mr. Lopez moving out of the way this week as opposed to him getting dunked on and we'd be talking about that for years.
GREAT BUSINESS DECISION.
*Good job, Pistons, for finally snapping that long seven-game skid.
*It's so weird that that the Bulls became a decent team once Nikola Mirotic returned. They're on a four-game winning streak at the moment. Mirotic is scoring 19.5 points per game and is shooting .522 from three. Nice added punch to the offense indeed.
*People are getting (have been) irritated with the Lonzo Ball coverage and comparisons. Obviously, I'm not helping by adding to said coverage. But this isn't anything new. LeBron James got hype in HIGH SCHOOL. I totally remember Eli Manning practically getting babied by SportsCenter when they broke down incomplete passes of his and raved about his fundamentals.
For the record, I still think Ball's doing decent out there in terms of running the offense, rebounding the ball, and his feel for the game. It's just that his shooting woes (which has gotten slightly better) are GLARING. He'll be fine.
*Welcome back, John Wall. John Wall is fast.
*I saw a lot of writers put down Houston. They're all saying they're going to choke in the second round because the team isn't full of winners, blah blah blah.
I'm not saying I'm picking Houston to win the entire thing but will I be surprised? No. They're absolutely playing lights out right now. Yeah, of course, they'll lose a game soon. But to those that are saying the Rockets aren't winners? James Harden isn't a winner? Chris Paul isn't a winner? Mike D'Antoni?
At one time, the Chicago Bulls, Michael Jordan, and Scottie Pippen weren't winners.
SCOREBOARD
12/13/2017
LAC 106 (11-15) @ ORL 95 (11-18)
MEM 87 (8-20) @ WAS 93 (15-13)
OKC 100 (13-14) @ IND 95 (16-12)
DEN 118 (15-13) @ BOS 124 (24-6)
POR 102 (14-13) @ MIA 95 (13-14)
MIL 108 (15-11) @ NO 115 (15-14)
UTA 100 (13-15) @ CHI 103 (7-20)
TOR 115 (18-8) @ PHX 109 (9-21)
CHA 96 (10-17) @ HOU 108 (21-4)
12/14/2017
DET 106 (15-13) @ ATL 91 (6-22)
NY 111 (15-13) @ BRK 104 (11-16)
LAL 112 (10-17) @ CLE 121 (21-8)
SAC 96 (9-19) @ MIN 119 (17-12)
DAL 97 (8-21) @ GS 112 (23-6)
–
LINE CROSSER
12/13/2017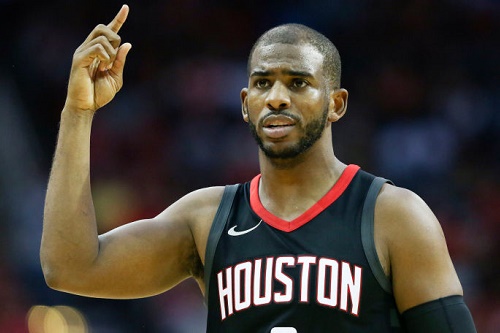 (PHOTO CREDIT: Eric Christian Smith/AP.)
The Rockets continue to stay undefeated with one Chris Paul. On Wednesday, he went for:
31 points, 7 rebounds, 11 assists.
It's what happens when Mike D'Antoni unlocks a dude like CP3.
12/14/2017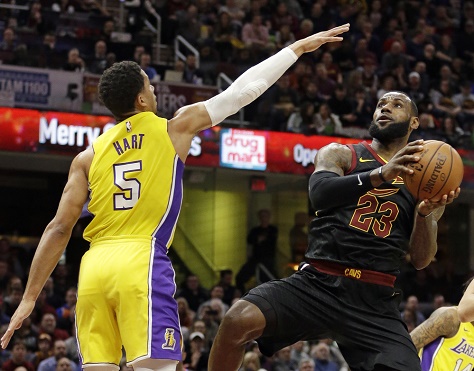 (PHOTO CREDIT: Tony Dejak/AP.)
This man just passed Larry Bird in career triple-doubles. His name is LeBron James. And he did this on Thursday:
26 points, 12 rebounds, 12 assists.
Pretty easy stuff for him.
WATCH THIS PLAY
12/13/2017
(VIDEO CREDIT: whodey.)
Trey Lyles puts one on Jayson Tatum. Ouch.
12/14/2017
(VIDEO CREDIT: DaHoopSpot Productions.)
And here's John Collins putting the oop down on Luke Kennard. Too bad, the Hawks were the first ones to lose to the Pistons in eight games.
Last year on this day, we lost Craig Sager. We will be #SagerStrongForever.
---
Hey now! Follow Rey-Rey on Twitter at @TheNoLookPass.
You can also see some of his work at Forum Blue & Gold, a site specializing on the Los Angeles Lakers.
Also, while it's on hiatus due to personal and health issues, you can listen to old episodes of Rey-Rey's podcast, Rey-Rey Is Fundamental, which has NBA talk and other topics. The podcast will be back as soon as he's healthy.