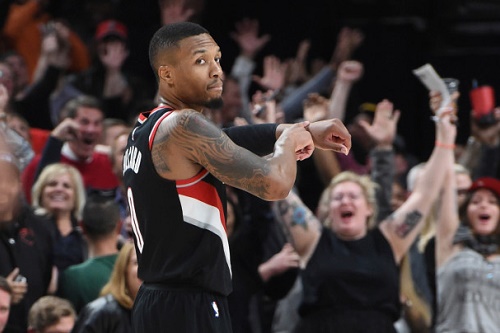 (PHOTO CREDIT: Steve Dykes/AP.)
Damian Lillard hit the game-winning shot for Portland against the Lakers with 0.7 seconds left. Of course, when I put up the video of the shot, I got a few that questioned me on how terrible the shot was.
I don't necessarily agree with Dame's approach to this. And honestly, the so-called "hero ball" has been a time-honored tradition for the longest time in the league.
But there are a few people who are comfortable with putting up a 28-foot stepback or fadeaway jumper to win the game. Lillard has been one of them and he has made a few shots like this over the years.
To me, I submit that this is simply Lillard's specialty. In the last possession of a game, you want your best player to handle it however he pleases whether he'll take the shot himself or he'll drive and kick out to his teammate. In my opinion, if you can get off a good shot, I'm fine with the possession. Even if a good shot to someone is a stepback three-pointer.
Would the situation have changed if the game wasn't tied? Likely. I've seen C.J. McCollum make a clutch shot when they were down one; he took it inside for a floater. We've also seen Portland be down by two in a playoff game and they had Lillard break open for a ballsy three-pointer.
Some teams don't have the luxury of a Lillard-type of player. Some don't have superstars and they don't know what to do. So really, while a stepback three-pointer is not the most preferred shot, it is one that some can make easily.
Shoot your shot. We've heard it so many times but that's what you do if you want to have a chance at winning.
BULLET PASSES
*The Wizards (well, Bradley Beal) mentioned they were the best team in the East. Well, LeBron James disagreed with that premise (in the process, also stopping the Cavs' losing skid). Look at the statline section below…
*So we were talking about revenge/homecoming games last week, right? Well, we were a little hyped that D'Angelo Russell was making his first and only visit to the Lakers this season since he got dealt.
Turns out that we were looking at the wrong individual for the revenge game. Brook Lopez was the main player dealt from the Nets and HE went for 32 points and 10 boards in a Laker win.
Russell went for 17-7-7 but he also shot 8 for 24. There's a Kobe Bryant joke in there somewhere.
*I am SO happy for Andre Drummond. I brought up his free throw improvements briefly a few days ago. Now? He's at 77.8 percent this season after making 14 of 16 from the line on Friday night. That's actually double his career percentage (38.9 percent). That's remarkable. I hope he sustains it.
It just goes to show that, yes, you can fix your free throw even if it seems like the most hopeless situation. This feels like the biggest jump I've ever seen. Karl Malone shot 48 percent his rookie year and was 59 percent the next. He turned out to be a 74 percent career free throw shooter.
*This pic was taken in October 23rd but the point remains the same.
After going down to .500 on Thursday, San Antonio bounced back the next night with a win over Charlotte. They're above .500 again.
*By the way, Manu Ginobili is still throwing it down at 40 years old.
*Ben Simmons now has two triple-doubles in nine games. Only Oscar Robertson has done that to start a career. And Wilt Chamberlain was the first Sixer to get two trip-dubs to start a season within nine games.
*Kyle Kuzma can make a case for being the best player from the 2017 Draft Class thus far. He is third among rookies thus far in scoring (behind Simmons and Lauri Markannen) and has been so instrumental in the Lakers decent 4-5 start thus far. He went for 21 points and 13 boards in his first start for the team on Friday. Kuzma could be entrenched in the starting line-up from here on out; he can play on the wing at 6'9″ and has been so good at getting space on offense. A hell of a steal by the Lakers in the draft.
*The Celtics continued their winning streak at seven games. They are now a league-best 7-2.
*Yesterday, I was watching the Thunder/Celtics game with a friend. He was practically laughing his arse off at Paul George's, uh, shooting in the clutch. It's too bad we didn't get to hear this commentary from Brian Scalabrine.
Brian Scalabrine: "Paul George only makes those in the Gatorade commercials." pic.twitter.com/rNZk88uNS7

— The Render (@TheRenderNBA) November 4, 2017
"Paul George only makes those in Gatorade commercials."
That's so messed up, Scal.
SCOREBOARD
11/02/2017
GS 112 (6-3) @ SA 92 (4-4)
LAL 110 (3-5) @ POR 113 (5-4)
11/03/2017
MIL 96 (4-5) @ DET 105 (6-3)
CHI 105 (2-5) @ ORL 83 (6-3)
IND 110 (5-4) @ PHI 121 (5-4)
CLE 130 (4-5) @ WAS 122 (4-4)
HOU 119 (7-3) @ ATL 104 (1-8)
PHX 107 (4-5) @ NY 120 (4-4)
NO 99 (4-5) @ DAL 94 (1-9)
CHA 101 (5-4) @ SA 108 (5-5)
MIA 94 (3-5) @ DEN 95 (5-4)
TOR 109 (5-3) @ UTA 100 (5-4)
BOS 101 (7-2) @ OKC 94 (4-4)
BRK 112 (3-6) @ LAL 124 (4-5)
LINE CROSSER
11/02/2017
Lillard stood out the most in that two-game Thursday with…-
32 points, 6 rebounds, 5 assists.
Needed every single one of those points to overcome L.A.
11/03/2017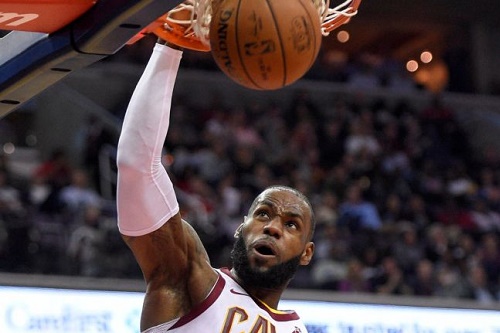 (PHOTO CREDIT: Nick Wass/AP.)
There were a lot of great lines on Friday but there is no way any of those are better than LeBron James against the Wizards on Friday.
57 points, 11 rebounds, 7 assists, 3 steals.
Those are the most points in a game this season. Kristaps Porzingis and DeMar DeRozan each went for 37 points, Bradley Beal went for 36, DeMarcus Cousins went for 20-22-7, Ben Simmons had a triple-double, etc. But LeBron's statline felt better than all of those.
WATCH THIS PLAY
11/02/2017
(VIDEO CREDIT: NBA.)
In Portland, when they need a win, it's Dame time.
11/03/2017
https://youtu.be/73nNgRLnAMc
(VIDEO CREDIT: Ximo Pierto.)
Steven Adams picks up the garbage and throws it down on Aron Baynes. Poor Baynes; he's been a subject of a few facials this season.
---
Follow Rey-Rey on Twitter at @TheNoLookPass. You can also see some of his work at Forum Blue & Gold, a site specializing on the Los Angeles Lakers. And lastly, it's on hiatus due to personal and health issues but you can listen to old episodes of Rey-Rey Is Fundamental, which consists of NBA talk and other topics he feels like talking about. The podcast will be back soon.