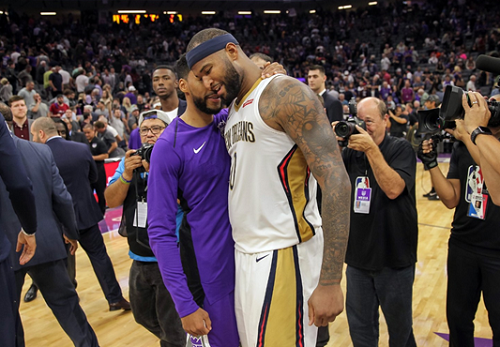 (PHOTO CREDIT: Sergio Estrada/USA Today.)
I NEVER believe it when a very important star/role player says this before he goes against a former team that he was mostly associated with the season before, "It's just another game."
It's not.
There are always huge emotions going against a former team for the first time, especially when the player is visiting said team's city. That's what exactly happened last night for DeMarcus Cousins when his new team, the New Orleans Pelicans, visited the Kings in Sacramento. It was his first time playing in Sactown since the trade last year.
And, boy, did he come through. After getting cheers and a tribute video earlier in the game, Boogie went off for 41-23-6 against his old team. Just another game, eh?
When you're going against your former team, no matter how amicable or acrimonious the break-up was, there are always going to be nerves. It could be a different mindset for different players but there will be some jitters, nonetheless. It could be, I CAN'T WAIT TO SHOW THEM WHAT THEY'RE MISSING. It could be, MAN, I HOPE TO DO WELL ON MY FIRST VISIT BACK. Or I WANT TO PUT ON A SHOW FOR MY OLD FANS IN THIS CITY. It's always a big game. The date is circled on their (virtual) calendar.
You can't tell me Paul George (who also played his former mates last Wednesday but it was in Oklahoma City) didn't overthink this game. He still has some friends that are on his former team. By the way, he only scored 10 points against them.
Kevin Durant wanted to show up against the Thunder last year. In his first game against his old team? He scored 39 points for Golden State.
Kyrie Irving's first game with Boston was against his old team in Cleveland! He did well with 22 points and 10 assists.
And we can't forget LeBron James going back to Cleveland for the first time in 2010. He was Public Enemy #1 in Cleveland at the time. But he overcame the hostile crowd by scoring 24 of his 38 points in the third quarter in a Heat blowout of the Cavs. After the game, he was interviewed inside the hallways instead of out on the court which was customary for postgame interviews on national television. You can't tell me that LeBron thought of this as "just another game."
Whether it's "sweet revenge" or a "fond homecoming", going against an old team for the first time or/and first visit is never "just another game."
TIP-INS
*Look at the Clippers and the Spurs start out 4-0. Blake Griffin has more room to playmake for the Clips. LaMarcus Aldridge is playing his game without Kawhi Leonard around. Sure, it's only been four games but you do have to note these fast starts.
*It feels a little rare these days but the Grizzlies and Mavericks had a home-and-home series on consecutive days. A split happened which gave the Mavs their first win while the Grizzlies got their first loss. Still, the Grizz at a 4-1 start is very notable as they're not predicted by some to not make the playoffs (I'm one of them).
*Another notable start? Denver was predicted to do very good things this season. They're 1-3.
*And the Orlando Magic are off to a good start at 3-1. Aaron Gordon seems to be making the leap; that's an understatement at 27.5 points and 11.5 rebounds for the season!
*I like games that seem to have very unattractive teams. You can't get any more gross than the Hawks and the Bulls this season. They didn't disappoint in that Bulls win in that game that was ran like a track meet (like an NBA game in 1997). Did you know how many times I watched the Process Sixers (before Joel Embiid) in seasons past?!
*Remember when Marcin Gortat said that John Wall would torture Lonzo Ball for 48 minutes? Wall went for 18 points and 9 dimes as well as 7/22 shooting. The younger Ball went 6-8-10 in a Lakers upset over the Wizards.
*Speaking of Ball, the stuff that he does on the court doesn't show up on the box scores. I don't think he's a particularly exciting player (from what I've seen so far) but he does get the job done. Look at how he sets up the offense. Look at his fundamentals on defense; he's nimble enough to stay in front. He's also an excellent rebounder. He knows how to pick his spots. That's why a lot of people appreciate his game. His stats are pretty eye-popping, too, if you're going to look at that (11.5 points, 9.0 rebounds, 9.0 assists). But highlight plays aren't there as much if you're looking for those.
*Robin Lopez has a picture of young Britney Spears in his locker.
Britney will always be looking out for us guys #IMustConfessIStillBelieve pic.twitter.com/zR06gC2p5A

— Robin Lopez (@rolopez42) October 27, 2017
I LOVE that a few people sent me that tweet. They know what I like.
SCOREBOARD
10/25/2017
DEN 93 (1-3) @ CHA 110 (2-2)
HOU 105 (3-2) @ PHI 104 (2-3)
MIN 101 (2-3) @ DET 122 (3-2)
CLE 107 (3-2) @ BRK 112 (3-2)
IND 96 (2-3) @ OKC 114 (2-2)
SA 117 (4-0) @ MIA 100 (2-2)
MEM 94 (3-1) @ DAL 103 (1-4)
UTA 88 (2-3) @ PHX 97 (2-3)
TOR 112 (2-2) @ GS 117 (3-2)
WAS 99 (3-1) @ LAL 102 (2-2)
10/26/2017
ATL 86 (1-4) @ CHI 91 (1-3)
DAL 91 (1-5) @ MEM 96 (4-1)
BOS 96 (3-2) @ MIL 89 (3-2)
LAC 104 (4-0) @ POR 103 (3-2)
NO 114 (2-3) @ SAC 106 (1-4)
LINE CROSSER
10/25/2017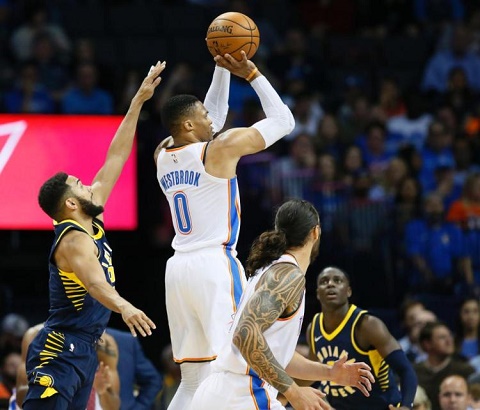 (PHOTO CREDIT: Sue Ogrocki/AP.)
As mentioned, LeBron James had a triple-double but I liked Russell Westbrook's line better.
28 points, 10 rebounds, 16 assists, 3 steals.
Even with two stars besides him, he's still doing this.
10/26/2017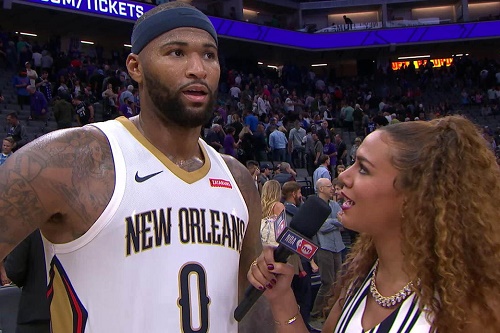 (PHOTO CREDIT: Getty Images.)
Once again, Boogie Cousins:
41 points, 23 rebounds, 6 assists.
Revenge can be sweet.
WATCH THIS PLAY
In the last two days, we had game-winning three-pointers from some good West teams. Also from former teammates!
10/25/2017
(VIDEO CREDIT: NBA.)
The Process was halted by Eric Gordon, who makes the triple to beat the buzzer and the Sixers.
10/26/2017
(VIDEO CREDIT: NBA.)
Gordon's former teammate in Los Angeles, Blake Griffin, sinks the team that eliminated them in the playoffs two seasons ago. This is clearly the Blake Griffin revenge tour this week.
---
Follow Rey-Rey on Twitter at @TheNoLookPass. You can also see some of his work at Forum Blue & Gold, a site specializing on the Los Angeles Lakers. And you can listen to his podcast called Rey-Rey Is Fundamental, which consists of NBA talk and other topics he feels like talking about.