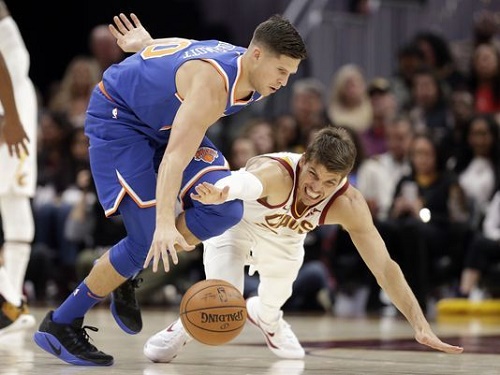 (PHOTO CREDIT: AP.)
We're still in October but already, we're getting this question. What is wrong with the Cleveland Cavaliers? (I already talked about the struggles of the Warriors, who lost to the Pistons on Sunday night.)
They've lost four of their last five games. Their legs got taken under by the Knicks on Sunday night. They were blown out by the Pelicans on Saturday. They lost a close one against the Nets, who weren't supposed to be a good team. Cavs barely survived the Bulls but got blown out by the Magic.
It all points to defense. They're currently 27th in the league in defensive rating (allowing 112.5 points per 100 possessions). You'd think that with this team, they would be great offensively but they're in the bottom half of offensive rating (scoring 106.9 points per 100 possessions).
It is fair, though, that they are going through an adjustment period. LeBron James and Dwyane Wade have played together before in Miami (DIDN'T YOU HEAR?) but while LeBron is currently defying father time, D-Wade is not. Isaiah Thomas hasn't played a minute (the one traded for Kyrie Irving) and is not expected to until the new year. Derrick Rose has injury woes once again. Jae Crowder got taken out of the starting line-up. And for some reason, the mainstays J.R. Smith and Kevin Love are making the team worse, per Yahoo! and analytics.
Also a bit notable is that they just walk off the court after losses. But we've seen the Cavs treat basketball like a job (i.e. not fun) at the end of the 2015-16 season and they ended up winning the championship.
Still, it's early. I had mentioned that there is a switch that they can turn on. I wouldn't worry until suddenly, they're struggling to stay at .500 by March.
Did we mention that they still have LeBron friggin' James? This is the luxury of having a once-a-generation player on your team. You know they're gonna be okay as long as they have that kind of player. And as I mentioned earlier, there's no steep decline just yet on the four-time MVP. Once they integrate their players more and have everyone healthy, the Cavs should be just fine. I still expect them to go to their fourth straight NBA Finals.
I'll say this, though: it does make for an interesting start to the season. At least, there's no feeling of inevitablity at the moment.
BULLET PASSES
*I mean, the PISTONS are on top of the East. In back-to-back nights during the weekend, they took care of business against the Clippers AND the Warriors. I'm not ready to say they're for real just yet; they're still not in the Top 10 in defensive rating and that still needs a bit of work.
They are firing from three, though. They're seventh in overall three-point field goals and even if they're 15th in team percentage, the quantity can overcome that. Tobias Harris is off to a fast start with 20.9 points per game and shooting a sharp .463 from three in nearly six attempts!
Come back to me about the Pistons in about a week. Fantastic start, though.
*Who else is off to a fast start? Victor Oladipo. Not known as a three-point marksman, he's shooting .469 behind the arc in over five attempts per game. He's also averaging what's easily a career-best 25.5 points per game. Maybe he NEEDED to be the #1 guy on offense. Russell Westbrook cast a HUGE shadow over him in OKC.
*Giannis Watch: he scored 33 points and grabbed 11 boards in their win over Atlanta. He continues to lead the league in scoring at 34.7 points per game. Plus he made a pull-up three-pointer. Again, once he starts making those…
*The Magic lost to the Hornets. But they STILL scored 113 points. The offense is there, that's for sure.
SCOREBOARD
MIL 115 (4-2) @ ATL 106 (1-6)
SA 94 (4-2) @ IND 97 (3-3)
ORL 113 (4-2) @ CHA 120 (3-3)
DEN 124 (3-3) @ BRK 111 (3-4)
WAS 110 (4-2) @ SAC 83 (1-5)
NY 114 (2-3) @ CLE 95 (3-4)
DET 115 (5-2) @ GS 107 (4-3)
LINE CROSSER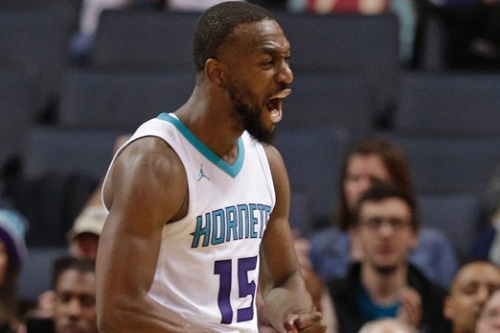 (PHOTO CREDIT: The Canadian Press.)
Get it done, Kemba Walker.
34 points, 6 rebounds, 10 assists.
Way to topple those Eastern Conference powers, the Orlando Magic.
WATCH THIS PLAY
https://youtu.be/TjXLnkBWzeA
(VIDEO CREDIT: Ximo Pierto.)
Oladipo makes the clutch three to help the Indiana Pacers upset the San Antonio Spurs. This might work out for the Pacers, after all.
---
Follow Rey-Rey on Twitter at @TheNoLookPass. You can also see some of his work at Forum Blue & Gold, a site specializing on the Los Angeles Lakers. And lastly, it's on hiatus due to personal and health issues but you can listen to old episodes of Rey-Rey Is Fundamental, which consists of NBA talk and other topics he feels like talking about. The podcast will be back soon.