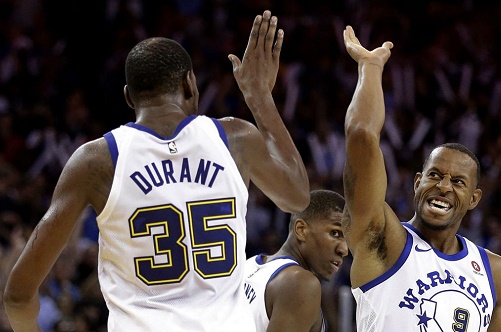 (PHOTO CREDIT: Ben Margot/AP.)
Most of us have this feeling of inevitability of the Warriors. Sure, there are a lot of things going great about the NBA right now but the one thing that some people don't like? We think the Warriors are going to cruise through the title.
Their team is so unfairly good. They have four all-stars, a former all-star who is still really, really good that's coming off the bench, a former lottery pick who has transformed his game beautifully after a devastating injury, and a coach who has seen all the battles as a five-time champion as a player and a two-time champion as a coach. By the way, they won 67 games last season, set a record 73 wins two seasons ago, and won 67 three years ago. It's the best three-season stretch in history in terms of W-L. If it wasn't for some sort of fluky three-game stretch in mid-June, they'd have a three-peat in their hands.
And yeah, the Warriors are 4-2, but I kinda like that this team is struggling at the moment.
Hear me out. I know Warriors fans are certainly not happy about this start coming out of the gate.
They lost games against Memphis and Houston (the opener!). The Grizzlies game saw their stars, Kevin Durant and Stephen Curry, get ejected (Curry threw a mouthguard at the ref, remember?). They blew a big lead against James Harden and the company.
The only game they really had an easy time was against the not-so-great Dallas Mavericks. The Raptors were a tight struggle until they broke away in the final minutes. They had to come back from 15 down against the Pelicans and then, last night, they had to erase an 18-point lead against the Wizards.
While they are currently 1st in offensive rating (scoring 117.4 points per 100 possessions), they are also 26th on the other side of the ball (allowing 111.7 per 100 possessions). That's… not good.
Also, Draymond Green already has three technical fouls through six games. He got two of them last night, with this scuffle with Bradley Beal ultimately ejecting him from the game.
(VIDEO CREDIT: Bleacher Report.)
Although this scuffle felt more like this to me:
Ohhhh… kiss me! Beneath the milky twilight! Lead me! Out on the moonlit floor! pic.twitter.com/g7J4kYj3br

— Rey-Rey (@TheNoLookPass) October 28, 2017
Anyway, the Warriors struggling like this makes us feel that maybe the Warriors don't have a sure path to the title. I mean, it's not like we ever thought we were 100 percent sure; after all, the Warriors didn't win a championship when they had the record-setting 73-win season. But the Warriors having on-court drama and to earn every win feels like the Dubs aren't so inevitable.
Of course, I'm willing to ignore everything I just said here if the Dubs win 20 straight games from here on out.
BULLET PASSES
*Not only are the Warriors struggling but the new Nike jerseys have had a rough start.
Jerseys pic.twitter.com/SMnQ7TmAAy

— Oliver Maroney (@OMaroneyNBA) October 28, 2017
*With the Spurs losing big against the Magic, the Clippers are the lone undefeated team in the league. Also, Frank Vogel is not known as an offensive wiz but Orlando has scored 116, 121, 114, 125, and 114 in their first five games. Huh?
*Speaking of players going against their former team from the season before, new Nuggets forward Paul Millsap got a warm ovation in the Atlanta crowd. He scored 16 points in the Denver win.
*In the meantime, Dwight Howard, who last played for Houston two seasons ago, got 19 points and 16 boards against his former team. But James Harden got a triple-double as the Rockets trounced the Hornets.
*Also, the Rockets shot only 28 two-pointers last night. They put up 57 threes, which is shockingly not the record. They attempted 61 in a December game last season. That's quite a lot.
*With the Knicks blowing out the Nets, there are no more winless teams in the league. Parity! Or something.
*Carmelo Anthony put up what would have been a game-tying three against the Wolves. He missed and the pups beat the Thunder for the second time this season. This could be big for playoff seedings down the line. Also, Melo getting the final shot is fine with me even if Russell Westbrook seemingly had a better look a few seconds earlier. It's just a way of Russell trying to integrate his two stars with the team more. OKC is struggling themselves coming out of the gate with a 2-3 slate.
*Kyle Lowry had one of the quietest triple-doubles ever as the Raptors beat the Lakers. Lowry ended with 11-10-12. It's probably because Kyle struggled with his shooting (4 for 14) that we didn't realize he was doing the other things.
SCOREBOARD
HOU 109 (5-1) @ CHA 93 (2-3)
SA 87 (4-1) @ ORL 114 (4-1)
BRK 86 (3-3) @ NY 107 (1-3)
DEN 105 (2-3) @ ATL 100 (2-4)
OKC 116 (2-3) @ MIN 119 (3-3)
TOR 101 (3-2) @ LAL 92 (2-3)
WAS 117 (3-2) @ GS 120 (4-2)
LINE CROSSER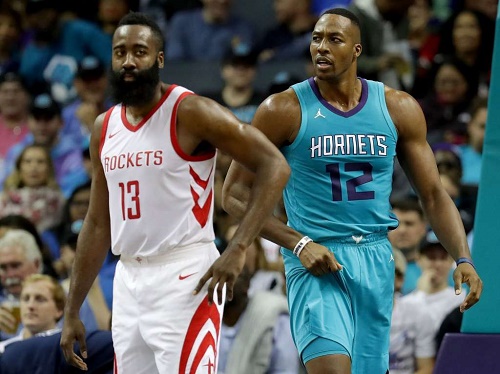 (PHOTO CREDIT: Streeter Lecka/Getty Images.)
Again, Harden had a triple-double.
27 points, 10 rebounds, 11 assists.
That's his first of the season. He had 22 of those last year.
Shoutout to Karl-Anthony Towns, who had 33 points, 19 boards, and 4 blocks. Once he picks up that defense, he's going to be scary scary good.
WATCH THIS PLAY
(VIDEO CREDIT: GamesOnTV.)
Kristaps Porzingis had a rude dunk against rookie Jarrett Allen.
---
Follow Rey-Rey on Twitter at @TheNoLookPass. You can also see some of his work at Forum Blue & Gold, a site specializing on the Los Angeles Lakers. And lastly, it's on hiatus due to personal and health issues but you can listen to old episodes of Rey-Rey Is Fundamental, which consists of NBA talk and other topics he feels like talking about. The podcast will be back soon.