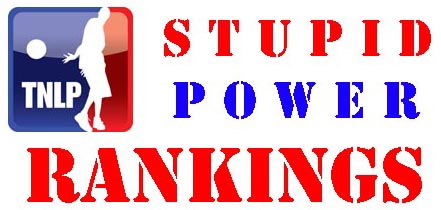 Power Rankings can be really stupid. So stupid that The No-Look Pass just had to have "Stupid Power Rankings." I take 10 things that happened in the league (well, not really; you'll see why) and rank them all however I see fit.
This feature is usually on every Monday. Disagree with the rankings? Well, we already prefaced that these are stupid. Just have fun with these as I rank these however I feel where they stupidly belong.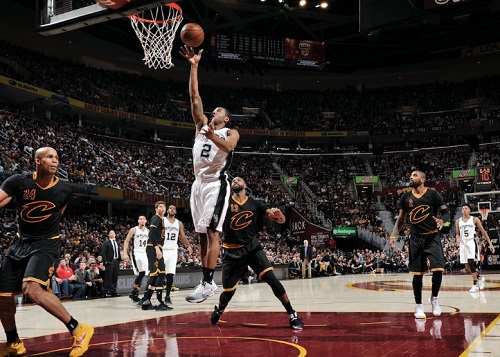 (PHOTO CREDIT: David Liam Kyle/Getty Images.)
1) Kawhi Not?
The Spurs went for a cool 3-0 in the last week, including a Game of the Year candidate against the defending champion Cavs.
But Kawhi Leonard has been outstanding. In those three games, he's averaged 36.3 points, 6.0 rebounds, and 4.7 assists. That includes a career-best 41 points. By the way, Kawhi has scored 30 or more in the last six games.
It's the Spurs, though, so nobody is paying attention.
(VIDEO CREDIT: NBA.)
2) Robert Covington is Cool in the Clutch
He made two big three-pointers (including the game-winner) against Portland. The Sixers had a big week (for them) as they went 3-1 but we can't ignore Covington's heroics. He hit the game-winner against Minnesota not long ago, too.
(VIDEO CREDIT: Ximo Pierto.)
3) Russell Westbrook Travels Far
This is the best traveling violation ever. It's not even close.
Warriors' Draymond Green hard fouls Cavaliers' LeBron James & then mocks his flailing (all angles) pic.twitter.com/rzOTYiXhFt

— Ben Golliver (@BenGolliver) January 17, 2017
4) LeBron James Sells Foul and Gets a Flagrant Out Of It
I actually applaud this. This might be a regular foul to some but since LeBron sold it, he was able to get two free throws plus possession. It ultimately made no difference but, hey, you gotta do what you gotta do to win.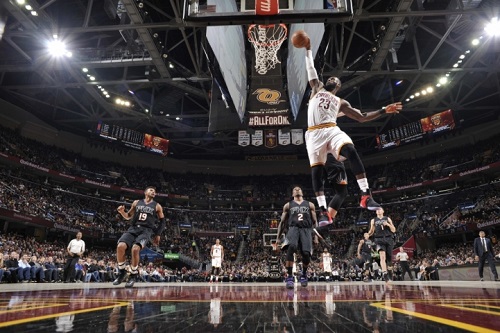 (PHOTO CREDIT: David Liam Kyle/Getty Images.)
5) NBA All-Star Voting Results
The results are fine and they mostly got it right even with the exclusion of one Russell Westbrook.
The process continues to be questioned. It's obvious that the players didn't take it seriously and it almost looked as bad as some of the fans voting. The media, who some players criticize for not knowing what's going on, took it seriously (if I had a vote, I probably wouldn't take it seriously). Nevertheless, there's always going to be an outrage for this kind of thing and we're never going to get this "completely right" because we're human beings who make errors in judgment all the time.
But as for the voting process; if it's for the fans, then let the fans vote in the starters. If players and media are included, then that's fine, too. I'm indifferent in however they do it.
Dwyane Wade with great defense, misses the dunk. WOW called a foul on Cousins. pic.twitter.com/juNpSQn3e5

— ⓂarcusD2.0 (@_MarcusD2_) January 22, 2017
6) Dwyane Wade Got Fouled By Nobody
While Westbrook didn't get away with a walk, Dwyane Wade, who turned 35 in the last week, got away with one here. He missed an easy dunk and nobody seemed to touch him. But the refs called a foul on DeMarcus Cousins (we all know HIS reputation) simply for existing (he was in the vicinity but he didn't even touch him). The Bulls would go on to win the game against the Kings in controversial fashion that would make people think the NBA is just like WWE. Stupid conspiracy theorists.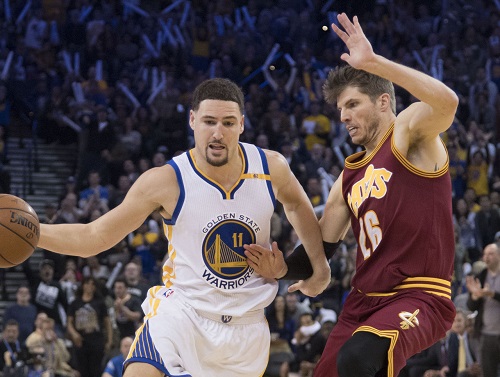 (PHOTO CREDIT: Getty Images.)
7) The Disappointing Cavs/Warriors Rematch
We all anticipated this contest on Martin Luther King Day. It had the aura of an NBA Finals game. It's arguably the best rivalry in sports.
And the Warriors won by 35. I guess we can't have everything. It felt like going on a blind date with this really hot girl only to find out she has a personality of a bar stool.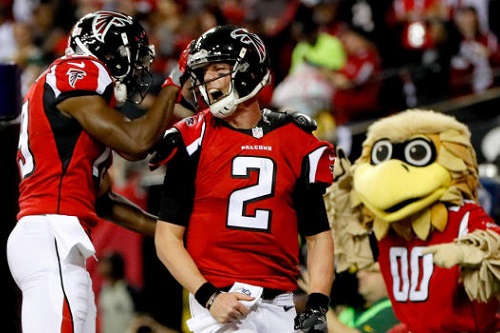 (PHOTO CREDIT: Kevin C. Cox/Getty Images.)
8) NFL Conference Title Games
If anything, I should just say that the NFL Playoffs has been a dud. These conference title games really didn't really help me on trying to get me to reconnect to the league (I was a massive NFL addict until a few years ago). Aaron Rodgers tried to run the table but the table broke in Atlanta when the Packers lost, 44-21. And to no one's surprise, the Patriots are back in the Super Bowl after they dissected Pittsburgh, 36-17.
I do know most outside of New England will root for the Falcons. It's been a weird time for sports. The teams not known for winning are getting the crown (Cavs, Cubs).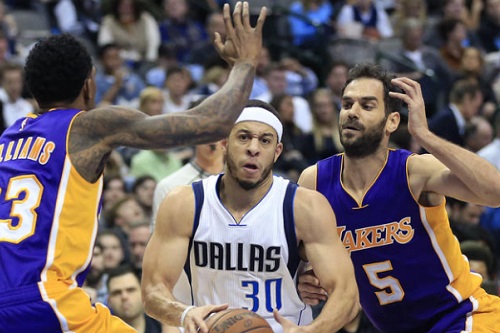 (PHOTO CREDIT: Ron Jenkins/AP.)
9) Lakers Lost By 49 Points
Just when they thought they were going to build momentum after beating a lackadaisical Indiana Pacer team, they went out there and laid an egg against the Mavericks on a Sunday matinee.
Not only that but the entire Laker team couldn't even reach Kobe Bryant's 81-point total that he did exactly 11 years ago. Ouch.
"And then you touch it… and it feels like… a bag of sand…" pic.twitter.com/XGFMDRQ3mP

— Rey-Rey (@TheNoLookPass) January 22, 2017
10) Alternative Facts
Like… what even are those?
So we had White House Press Secretary Sean Spicer go out there and embarrass himself and say that today's President got the largest inauguraton audience ever when it's clear as day that it wasn't. Then senior advisor Kellyanne Conway went out and said they offered alternative facts when it came to the crowd size.
The new government is trying to lie about crowd sizes to feed their egos. They seriously think they're in a TV show or something.
The trouble with this is that they are willing to lie (they're awfully bad liars, by the way) just to get to whatever the heck they're trying to accomplish. They are so bad at this that Steve Kerr chuckled and referenced to the "alternative facts" by saying he was an Orlando Magic star that scored 14,000 points.
By the way, I'm already tired of all the "alternative facts" jokes. But those will never be as bad as what Spicer and Conway are doing. Don't be blind to this. (And I'm not even being political, per se. I'm talking about bad people being such blatant liars and making up facts.)
---
Follow Rey-Rey on Twitter at @TheNoLookPass for all tweets about the NBA. Also, check out his podcast, Rey-Rey Is Fundamental.

us on FaceBook! Thank you!
#SagerStrongForever