This is the Hangover. This is where I get drunk on the NBA as I recap last night's action as well as a few things going on around the league. Here's your word vomit.
01/19/2017
THE GAMES
PHX 103 (13-29) @ CLE 118 (30-11)
DAL 95 (14-28) @ MIA 99 (13-30)
WAS 113 (23-19) @ NY 110 (19-25)
DEN 104 (17-24) @ SA 118 (33-9)
MIN 104 (15-28) @ LAC 101 (29-15)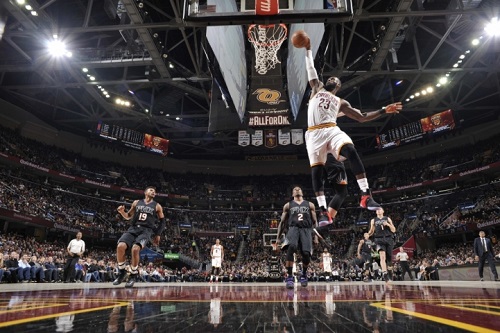 (PHOTO CREDIT: David Liam Kyle/Getty Images.)
HEY, NOW… YOU'RE AN ALL-STAR
Remember that this year's All-Star voting was changed. It's 50 percent fans, 25 percent media, and 25 percent players. It's been opined that the "fans never get it completely right" so the NBA changed the voting process.
Newsflash: we're all humans. We never get it "completely right." Check out the starting line-ups. Let's check out the East.
LeBron James (F, Cavs)
Jimmy Butler (F, Bulls)
Giannis Antetokounmpo (F, Bucks)
Kyrie Irving (G, Cavs)
DeMar DeRozan (G, Raptors)
Some will say Kyle Lowry got robbed. Some will also say Joel Embiid deserved it. And also, whatever happened to rewarding winning? How come there's a Bull in the line-up? I'm not saying I agree with most of the complaints; the people made it known and this is what we got.
The West is even more glaring.
Kevin Durant (F, Warriors)
Kawhi Leonard (F, Spurs)
Anthony Davis (C, Pelicans)
Stephen Curry (G, Warriors)
James Harden (G, Rockets)
The obvious glaring omission here was Russell Westbrook, who is averaging a triple-double and has 21 of those babies this season. But once again, it's a popularity contest. You know what's hilarious? Zaza Pachulia would've gotten in as a starter if the system didn't change this year. He was second amongst the frontcourt in voting. Also, 19 players actually voted for Zaza so don't just charge fans for messing around in the process.
All the voting numbers are here from players to media to fans. At the very least, I can say that all ten players do deserve to be all-stars.
Now it's up to the coaches to get it "completely right." By the way, guys? They won't. No one ever will. We'll always find a snub or ten.
THE REST OF THE LEAGUE
Not much going on in the league. The Clippers were shorthanded against the Wolves. DeAndre Jordan was impressive (29 and 16!) but without Chris Paul and Blake Griffin, their seven-game win streak was snapped.
Courtney Lee has a gripe here in the Knicks' closing play against the Wizards.
Here's the play Courtney Lee is referencing. Can clearly see the coach almost on the three point line yelling in his ear pic.twitter.com/K69ELycCWY

— Kenny Ducey (@KennyDucey) January 20, 2017
Wizards assistant coach Sidney Lowe was clearly out on the floor and that was enough to distract Lee from shooting a three. Coaches really need to watch themselves from doing that. Remember when Erik Spoelstra did that in the Finals?
Gregg Popovich got kicked out of their game against the Nuggets. And I loved that Emmanuel Mudiay had fun with it.
(VIDEO CREDIT: Ximo Pierto.)
Mudiay actually apologized for it. You didn't have to, man. Go have fun!
Get well soon, Pau Gasol. He fractured a finger in his left hand. That doesn't sound fun.
LINE CROSSER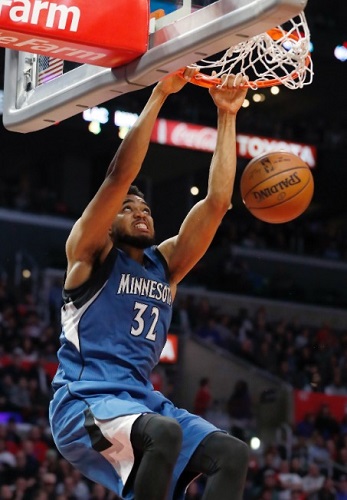 (PHOTO CREDIT: Ryan Kang/AP.)
Karl-Anthony Towns! Welcome to this section!
37 points, 12 rebounds, 5 assists.
That is some work against the Clippers.
WATCH THIS PLAY
(VIDEO CREDIT: Ximo Pierto.)
LeBron James goes baseline and throws down the impressive double clutch reverse slam.
---
Follow Rey-Rey on Twitter at @TheNoLookPass for all tweets about the NBA. Also, check out his podcast, Rey-Rey Is Fundamental.

us on FaceBook where we have additional NBA highlights! Thank you!
#SagerStrongForever