This is the Hangover. This is where I get drunk on the NBA as I recap last night's action as well as a few things going on around the league. Here's your word vomit.
11/25/2016
THE GAMES
SA 109 (13-3) @ BOS 103 (9-7)
WAS 94 (5-9) @ ORL 91 (6-10)
DAL 90 (2-13) @ CLE 128 (12-2)
CHA 111 (8-7) @ NY 113 (8-7) [OT]
CHI 105 (10-6) @ PHI 89 (4-12)
LAC 97 (14-3) @ DET 108 (8-9)
ATL 68 (10-6) @ UTA 95 (9-8)
TOR 105 (10-6) @ MIL 99 (6-8)
MIA 90 (5-10) @ MEM 81 (10-6)
BRK 97 (4-11) @ IND 118 (8-9)
OKC 132 (9-8) @ DEN 129 (6-10) [OT]
MIN 98 (5-10) @ PHX 85 (5-12)
NO 104 (6-11) @ POR 119 (9-9)
GS 109 (14-2) @ LAL 85 (8-9)
HOU 117 (10-6) @ SAC 104 (6-10)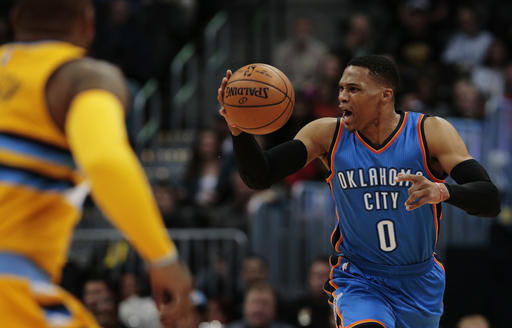 (PHOTO CREDIT: Joe Mahoney/AP.)
RUSSELL WESTBROOK CONTINUES TO DESTROY
Okay. So the Thunder haven't been exactly great since they got off to a 6-1 start. But the one constant has been Russell Westbrook. Let's take a look at his Destruction Tour
After 17 games, he's averaging a near-triple-double. 32.0 points, 9.8 rebounds, 10.9 assists (by the way, he's also leading the league in scoring). He basically only has one mindset when he's on the court: wreck everything. He's almost like an uncontrollable robot that goes after the basketball on both sides of the court.
Obviously, there will be the detractors. He's not efficient. He gambles too much defensively. He takes bad shots. And he shoots too much.
But other than Victor Oladipo at the moment, no one on the team can create their own shot like Westbrook. The team isn't exactly built around Westbrook but rather they're just working with the team that is built around Kevin Durant (who bolted for Golden State as we know) AND Westbrook, both excellent playmakers. And besides, Westbrook seems to concentrate on getting his teammates involved in the first three quarters. Then he takes over the fourth quarter with reckless abandon. This isn't even including overtime but Westbrook leads in fourth quarter scoring by a mile (11.1 points per game in that fourth, with second place being Isaiah Thomas and Damian Lillard at 8.1).
Westbrook is doing everything so the team can live with his flaws, even though I don't think they're really destructive to his team. He has gotten so much better on setting up his teammates even though it looks like he's wildly flailing everywhere. And outside of Westbrook and Oladipo, who else would you rather have handle or shoot the ball? Steven Adams is ever-improving so he's getting a bit more trustworthy in the post. Enes Kanter does a lot of his eating off the bench. And sure, Westbrook encourages his teammates to shoot when they're open but man, Andre Roberson isn't exactly a deadeye shooter. Maybe next offseason, they can get another playmaker so that Westbrook doesn't have to do too much (although, in his mind, he doesn't think so).
But whether you like his play or not, Westbrook is having a historic season thus far. I guess to those that don't like his game, all they see is a Michael Bay movie where it's a bunch of explosions that don't make much sense. Still, explosions are fun!
Also, Westbrook is so good that the NBA claimed he got triple-doubles for both the Thunder AND the Rockets!
THE REST OF THE LEAGUE
The Warriors are on that mode now. They now claim the best record in the league at 14-2 after the Clippers lost to the Pistons on Friday night.
The Blazers got a pretty big win as they cooled down the Pelicans, who had won four straight games. At least, the Pelicans are back in the thick of it while the Blazers are wondering if they overachieved last season or not.
The only team that seems to be really out of it is the Dallas Mavericks, who got clobbered by the Cavs. There's no end in sight, it seems. They are 2-13 and have lost eight straight games. It's sad because we all thought they would be competing for a playoff spot. And really, it's been a while since we've seen Dallas as a terrible team. Remember those years when they would only win like 11 or 13 games? Yeah, Mavs fans don't want to remember that. Well, at least they got the championship in 2011.
Hey, Carmelo Anthony can still be a clutch player!
Guys, the Spurs have won eight straight games. But don't tell the Spurs we said anything about that.
So this is the only day of the NBA season that all 30 teams played. I feel pretty bad for the teams that have to play tonight. Back-to-backs suck.
I don't have much else to say. I'm still in Thanksgiving mode. I've eaten so much good food that my face resembles Kyle O'Quinn on the starting line-up graphic.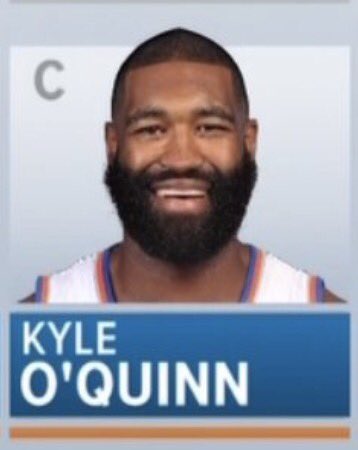 He looks so happy!
LINE CROSSER
Westbrook. Who else? He got his sixth triple-double on Friday night.
36 points, 12 rebounds, 18 assists.
Shoutout to his former teammate, James Harden, for getting his fourth trip-dub at 23-10-10. That hurt to type.
WATCH THIS PLAY
(VIDEO CREDIT: NBA.)
Zach LaVine steals Alex Len's sunshine with this early dunk of the year candidate.
---
Follow Rey-Rey on Twitter at @TheNoLookPass for all tweets about the NBA and terrible pop music. Also, check out his podcast, Rey-Rey Is Fundamental.

us on FaceBook! Thank you!