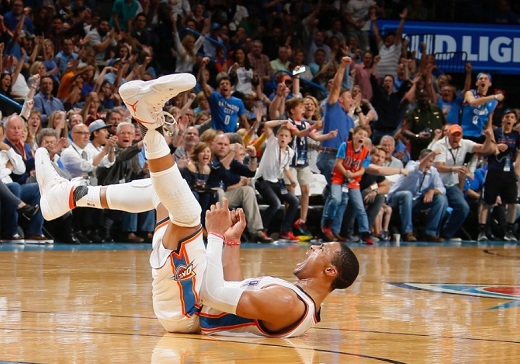 (PHOTO CREDIT: Bryan Terry/The Oklahoman.)
10/28/2016
THE GAMES
CLE 94 (2-0) @ TOR 91 (1-1)
IND 94 (1-1) @ BRK 103 (1-1)
ORL 82 (0-2) @ DET 108 (1-1)
PHX 110 (0-2) @ OKC 113 (2-0) [OT]
CHA 97 (2-0) @ MIA 91 (1-1)
HOU 106 (1-1) @ DAL 98 (0-2)
LAL 89 (1-1) @ UTA 96 (1-1)
GS 122 (1-1) @ NO 114 (0-2)
RUSSELL'S REVENGE AND RAMPAGE
We all couldn't wait for Russell Westbrook to unleash his rage on the league after his running mate for the last eight years, Kevin Durant, skipped town and went to California. We were all predicting crazy things like he might get 25 triple-doubles this season… or even AVERAGE a triple-double this season. Whatever it was, it was going to be disastrous for the opponents and it was going to be AWESOME.
But honestly, talking about it and seeing it happen are two different things.
Westbrook went for an ungodly 51-13-10 line in an overtime win against the Phoenix Suns. He shot 44 times, sure, but efficiency goes out the window when you're a relentless attacker and you're doing everything else to help the team win. Like… can ANY regular NBA player go off for 51 points AND rebound the ball AND dish out to teammates?
It's a beautiful destruction. I was always against the idea of Westbrook and Durant separating because I wanted to see them win a championship together. But Durant decided his happiness was somewhere else and now we're getting this version of Russ. There is absolutely nothing wrong with that. I still think it's unbelievable that he's doing this kind of damage after three knee surgeries. Russell is STILL going balls to the wall and it's amazing. And he's a much smarter player now so he's able to pick and choose how he's going to tear his opponent apart. Plus, look how he's gone from most maligned player in the league to possibly the most beloved.
And we are just beginning! The frightening part is that this may not be his craziest game of the season. We have 80 more possible games (or more) where Russell Westbrook can split the Earth in half. And we're going to love it every single time he tries to do that.
THE REST OF THE LEAGUE
While Westbrook is setting a village on fire, Anthony Davis is also leaving behind his own trail. After a 50-point, 16-rebound performance against Denver, he put up 45 and 17 against Durant's new team, the Golden State Warriors. Durant went off himself (30-17-6) but it was overshadowed by them Brow smashes. It's too bad that while Davis is now averaging a tidy 47.5 points and 16.5 boards, the New Orleans Pelicans are 0-2.
Davis's teammates are mostly nameless although near-All-Star Lance Stephenson is on the squad (15 points, 8 rebounds, 6 assists). But it's clear that a lot of his teammates aren't used to increased roles. Tim Frazier was damn good as the starting PG at 21-6-10. But for the most part, it's Davis against five. Hopefully, the Pelicans can put it all together soon.
I forgot that there was a marquee game between the Cavaliers and the Raptors. The Cavs have that championship swagger and, especially with LeBron James on a mission to become the greatest of all-time, they're going to be hard to shake. The Raptors did keep up with the champs but there are no more moral victories for Toronto if they want to take that final step. It is encouraging to see Jakob Poeltl get some productive back-up minutes. They're going to miss Bismack Biyombo's energy on the defensive end.
Speaking of Biyombo, his new team, the Orlando Magic have looked horrific thus far. There is something mismatched about the roster. It's going to be tough to find an identity if the team is just a hodgepodge of basketball players. I know Frank Vogel leans towards the defensive end and he's got two great rim protectors in Biyombo and Serge Ibaka. But the team has looked really bad so far. Anyway, it's just been four days.
The rest? The Lakers have a GREAT fighting spirit that we haven't seen in years. I love that we got a glimpse of Linsanity in the Nets' first win. Charlotte is probably the most unheralded undefeated team thus far and good for Harrison Barnes on that offensive explosion. Thank goodness, you are back, NBA.
LINE CROSSER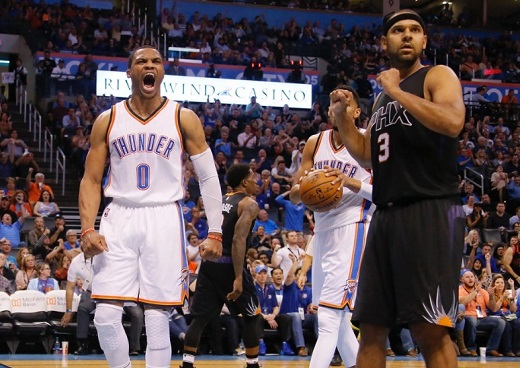 (PHOTO CREDIT: Bryan Terry/The Oklahoman.)
There are so many good lines on this crazy Friday. I mentioned Brow's incredible statline earlier. Kevin Durant went for 30-17-6. DeMar DeRozan continued his scoring barrage with 32 points. Jeremy Lin nearly had a triple-double. Andre Drummond had 20 boards. Harrison Barnes had a career-best 31 points.
But none of that compares to what Russell Westbrook did: 51 points, 13 rebounds, 10 assists. The first 50-point triple-double in 41 years. That means Michael Jordan never did it. Magic Johnson never did it. Larry Bird. Hakeem Olajuwon. David Robinson. Kobe Bryant. LeBron James. Kevin Durant. ALL OF THEM NEVER DID IT. But Russell Westbrook did.
WATCH THIS PLAY
(VIDEO CREDIT: NBA.)
DeMar DeRozan with DeDunk on DeKarda… I mean, Tristan Thompson! That was super mean.
---
Follow Rey-Rey on Twitter at @TheNoLookPass for all tweets about the NBA and terrible pop music. Also, check out his podcast, Rey-Rey Is Fundamental.

us on FaceBook! Thank you!