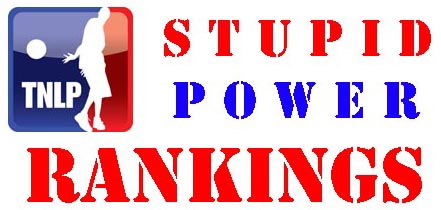 Power Rankings can be really stupid. So stupid that The No-Look Pass just had to have "Stupid Power Rankings." I take 10 things that happened in the league (well, not really; you'll see why) and rank them all however I see fit.
This feature is usually on every Monday. Disagree with the rankings? Well, we already prefaced that these are stupid. Just have fun with these as I rank these however I feel where they stupidly belong.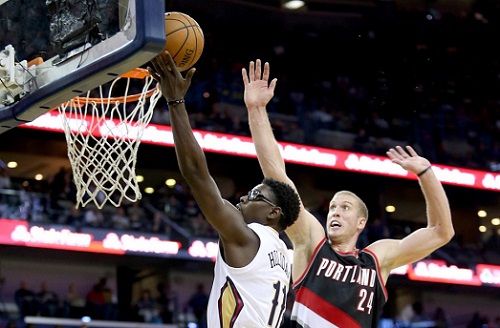 (PHOTO CREDIT: Michael DeMocker/The Times-Picayune.)
1) Jrue Holiday's Return
So ever since Holiday returned, the Pelicans looked like a real NBA team. They won both games that he's played in. And he's averaged 21.5 points and 8.0 assists. New Orleans badly needed some talent and they got some back in Holiday.
But there are more important things than basketball. Jrue Holiday being able to go back means that Jrue's wife, Lauren Holiday, is okay. As you know, Lauren is a former player for the U.S. Women's National Soccer Team. But she was also diagnosed with a benign brain tumor while she was pregnant and Jrue, being the man that he is, put his career on hold to take care of his wife.
We are happy to learn that Lauren and their daughter, Jrue Tyler, are both healthy. Sure, it's great that Jrue can play ball again. But knowing that both your wife and daughter no longer have any health scares is the best thing of all.
Bucks jumbotron does a bandwagon fan cam, makes 3-1 joke pic.twitter.com/ruBK4Kg2gm

— Anthony Slater (@anthonyVslater) November 20, 2016
2) Bandwagon Fan Cam
This should happen more often. Yeah, not everyone that lives in a particular city will be a fan of their home basketball team. But if you're in "enemy territory", per se, you SHOULD get called out. Good on the Bucks to make fun of the Warriors fans.
(VIDEO CREDIT: NBA.)
3) Russell Westbrook Finishes Off Rockets
You know, Russell Westbrook could've just run out the clock. They were up three with 7.1 seconds left. But Russ decided that he wanted to destroy the Rockets so he went inside and jammed on Clint Capela to pretty much seal the win.
That is some confidence and some arrogance. And I love it.
(VIDEO CREDIT: NBA.)
4) Karl-Anthony Towns Dunks All Over The Sixers
KAT fakes a shot and Joel Embiid bites. And then Towns destroys Timothe Luwawu-Cabarrot with a jam that nearly brought down the Target Center. Witness the obliteraton in that video.
(VIDEO CREDIT: NBA.)
5) Blake Griffin Did It For The Mascots
Griffin went inside and yammed this on mascot-hater Robin Lopez. We had quite a bit of facial dunks this week, didn't we?
Who throws a shoe? Honestly!https://t.co/yfIbLqs7t5

— Bleacher Report (@BleacherReport) November 21, 2016
6) Rudy Gay's Shoe Toss
This was very wise by Gay to throw away DeMar DeRozan's shoe. Sure, it was a tad careless and it did hit a fan. But it definitely threw off DeRozan. It might have been super effective; DeRozan went on to only score 12 points, which was easily a season-low.
And from personal experience, getting hit by a shoe sucks.
I want to apologize…. TO ABSOLUTELY NOBODY!#GrindCity pic.twitter.com/JN6p8YdV0G

— Marc Gasol (@MarcGasol) November 17, 2016
7) Marc Gasol Did The Conor McGregor Dance
Gasol hits a corner three against the Clippers (Grizzles would eventually win) and he does this little Conor McGregor walk. And Marc even quotes Conor in that tweet. Fantastic.
Zaza Pachulia makes a 15-footer … SPANKS THE PONY 🐴🔥 https://t.co/ogVTBwvUPW

— Rob Perez (@World_Wide_Wob) November 19, 2016
8) Zaza Makes A Jumper Then Bootyslaps
I like that Zaza Pachulia hits this J and does a little bootyslap/Pony dance. He knows his team is up big. That's some arrogance right there.
The dance didn't exactly look that great but I appreciate the effort. I am totally doing this at a club or at a wedding.
You already knew @SHAQ is part-owner of the @Kings, but did you also know he's their new free throw coach? pic.twitter.com/X9lEvXHLvf

— Mike Goldfarb (@MikeGoldFool) November 17, 2016
9) Kosta Koufos' Free Throw
Just a LITTLE bit to the left, Kosta.
(VIDEO CREDIT: Ximo Pierto.)
10) The Controversial Ending of Raptors/Kings
I already went over this in the Hangover but I just hate that the Raptors got penalized on an extremely questionable call. Terrence Ross absolutely got the shot off before the buzzer. But because the clock started ever-so-slightly late, they deduced that Ross never would've gotten the shot off had it started on time. This could definitely affect the East seedings later on.
The officials blew this one. At the very least, have them do the play over. But, hey, I suppose Kings fans are happy because they never get a break and they finally get one.
---
Follow Rey-Rey on Twitter at @TheNoLookPass for all tweets about the NBA and terrible pop music. Also, check out his podcast, Rey-Rey Is Fundamental.

us on FaceBook! Thank you!