This is the Hangover. This is where I get drunk on the NBA as I recap last night's action as well as a few things going on around the league. Here's your word vomit.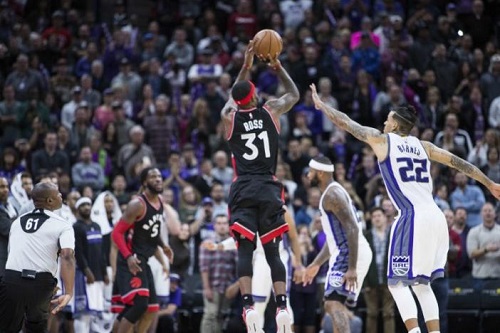 (PHOTO CREDIT: Neville E. Guard/USA Today.)
11/20/2016
THE GAMES
ATL 94 (9-4) @ NY 104 (6-7)
POR 129 (8-7) @ BRK 109 (4-9)
IND 115 (7-7) @ OKC 111 (8-6) [OT]
TOR 99 (8-5) @ SAC 102 (5-9)
UTA 91 (7-8) @ DEN 105 (5-8)
CHI 118 (9-5) @ LAL 110 (7-7)
QUESTIONABLE CALL IN NORCAL
(VIDEO CREDIT: Ximo Pierto.)
So here was the situation. It was Kings 102, Raptors 99 with 2.4 seconds left. Toronto had the possession. DeMarcus Cousins tips the ball and Terrence Ross had to retrieve the basketball. Ross launched a 33-footer before the buzzer clearly sounded and the ball went through the hoop. Mandatory review of the play was coming up and we were sure for five minutes, right?
But the officials waved off the shot and the Kings got the victory. And we're all just like… how?
They reasoned that the clock started slightly AFTER Cousins deflected the ball. They deduced that Ross didn't have enough time to get the shot off and, therefore, it shouldn't count.
Eh?
Here's my thing: it SHOULD have counted. It's not the fault of the Raptors (or Ross) that the timekeeper in SACRAMENTO started the clock ever-so-slightly late. It's not like they waited until Ross touched the ball. Ross can only go by what he sees on the clock. The timekeeper made a SLIGHT mistake and, somehow, the Raptors paid for it. I wouldn't go so far to say that Toronto was robbed but I WILL say that the Raptors WERE robbed of a CHANCE to win the game.
It's really unfortunate. This game could change the Raptors' seeding in the East. And they really have little time to mope about this because they have a game against the Clippers later on tonight.
And I'll paraphrase Kyle Lowry on this one: I have no further comment.
THE REST OF THE LEAGUE
The Raptors have lost three of their last four games. In that same controversial contest, DeMar DeRozan only scored 12 points. That's easily the lowest output he's had this season. He's slipped to third in scoring in the league. Anthony Davis has now taken over the lead at 31.7 points per game.
The Lakers have also lost three of four games. It seems like they're coming back down to Earth a little bit. But they probably shouldn't be letting opponents score than 116 points a game.
Meanwhile, Jimmy Butler is on a tear. In the last five games, he's scored 29.2 points per game. In that same stretch, he's also averaged 9.0 boards and 4.8 dimes. The Bulls were also 4-1 in that time frame.
Portland finally stopped their skid at three games after going against an undermanned Brooklyn squad. These Nets have lost their last four games by an average of 19.5 points. Yikes.
With a lot of teams going on some sort of swoon, the only teams that are standing out at the moment are the Warriors, Cavs, and Clippers. Give us some other teams to talk about, NBA.
LINE CROSSER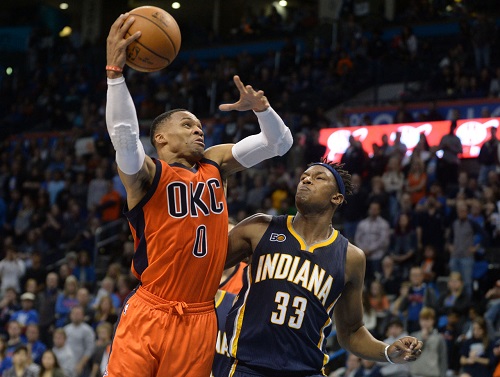 (PHOTO CREDIT: Mark D. Smith/USA Today Sports.)
We are not at Thanksgiving yet but Russell Westbrook just got his fifth triple-double.
31 points, 11 rebounds, 15 assists.
Also, shoutout to Jimmy Butler. He went for 40-7-6. Scrumptious.
WATCH THIS PLAY
(VIDEO CREDIT: NBA.)
Westbrook sent the game to OT with this clutch three against the Pacers. Unfortunately, the Thunder fell short in that extra period. But, hey, let's give Russ credit for extending the contest.
---
Follow Rey-Rey on Twitter at @TheNoLookPass for all tweets about the NBA and terrible pop music. Also, check out his podcast, Rey-Rey Is Fundamental.

us on FaceBook! Thank you!