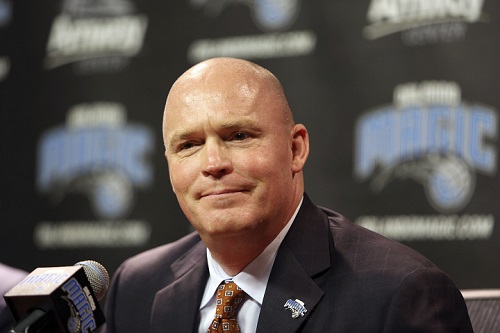 (PHOTO CREDIT: Ricardo Ramirez Buxeda/Orlando Sentinel.)
What's not surprising is yet another NBA team needs a new head coach. What IS surprising is the team that suddenly needs one.
From ESPN:
After only one season, Scott Skiles is leaving the Orlando Magic.

"After much thought and careful consideration, I and I alone, have come to the conclusion that I am not the right head coach for this team," Skiles said in a statement released by the team. "Therefore, effective immediately, I resign my position as head coach of the Orlando Magic."
He was slated to coach the Magic for three seasons, with a team option for a fourth. There are rumblings that there were clashes with the front office or that he wanted his option to be picked up. But the bottom line is that the Magic need a new head coach.
After Orlando traded Dwight Howard, the Magic went into rebuilding mode. They seemed to finally be making progress in their fourth year as Skiles was finally able to get them going in the right direction. The Magic got off to a 19-13 start before going on a 2-15 freefall to start the 2016 calendar year. Still, Orlando was in the middle of the pack in defensive rating and the young team seemed to be making strides. But now the Magic are going to look for their fourth head coach in three seasons. Orlando was 10 games better (35-47) than last season's win total (25-57) under Jacques Vaughn and James Borrego.
It's been a wild NBA coaching carousel and this season has been no exception. Hopefully, the Magic can find the right man for the job.
That goes for every other NBA squad, too, that needs a head coach. It's been crazy.
Skiles has also been a head coach in Phoenix, Milwaukee, and Chicago. He has compiled a 478-480 (.499) record in his NBA coaching career.
---
Follow Rey-Rey on Twitter at @TheNoLookPass for all tweets about the NBA and terrible pop music. Also, check out his podcast, Rey-Rey Is Fundamental.

us on FaceBook! Thank you!