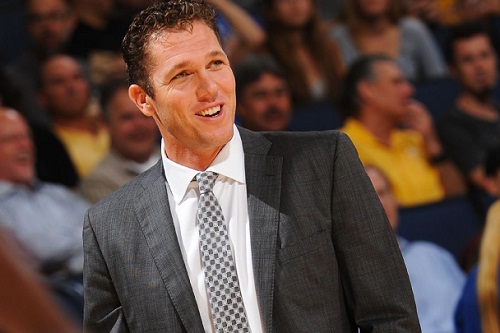 (PHOTO CREDIT: Getty Images.)
A lot of coaching changes have been made since the regular season ended. Let's take a look on all the teams that have done this change. Some feel necessary and some feel like it's a backwards move.
MINNESOTA TIMBERWOLVES
OUT: Sam Mitchell. Mitchell was in a difficult position to begin with. He was going into the season as an assistant to Flip Saunders before Saunders passed away. It was a heartbreaking way to taking over the head coaching position.
You might question Mitchell's ways of coaching but you can't deny his knowledge of the game. While he was lambasting Zach LaVine in that candid interview, LaVine did have a very good second half of the season that made us think he is a valuable part of that potentially great Wolves core. And Karl-Anthony Towns was a monster his rookie season. What didn't go so well for the Wolves was defense (28th in defensive rating) but you kinda expect that out of a very young team.
You can say good riddance to Mitchell or you can argue that Mitchell didn't get more of a chance. But you can't deny that Mitchell's replacement has the credentials.
IN: Tom Thibodeau. We know what Thibs brings to the table. Teams have adopted a lot of his defensive principles. He was consistently coaching the Chicago Bulls to the postseason. He helped Derrick Rose become MVP at age 22. Who's to say he can't do the same for KAT? And who's to say the Wolves can't suddenly become defensive monsters next year?
Of course, the biggest fear is that Thibodeau will wear his guys out by playing them big minutes. He may be able to get away with it with these young pups for a little bit. But is this going to become a recurring problem like it was in Chicago? Let's hope he's learned from that experience.
BROOKLYN NETS
OUT: Tony Brown. Brown had replaced Lionel Hollins after the Nets got off to a horrendous start. I'm not sure if any coach could have saved this season; the roster just wasn't talented and the players that were there in the playoff years had mostly left. The Nets were down to Brook Lopez, Thaddeus Young, and… I guess Bojan Bogdanovic, who had a 44-point game this season.
A hard reset was needed.
IN: Kenny Atkinson. I mostly knew Atkinson for being a Knicks assistant who got Jeremy Lin ready to play (Lin has given him credit plenty of times for him being able to stick in the league). For the last four years, he's been part of the Atlanta Hawks staff and was helping Mike Budenholzer in making the Hawks a more threatening squad.
Now he's going to oversee a rebuilding program in Brooklyn. A change in the coaching department is a good start. Now it's time to improve on the roster… except they can't do it at the draft next month because they traded that pick away to Boston a few years ago. Whoops. Good luck, Kenny!
WASHINGTON WIZARDS
OUT: Randy Wittman. Wittman tried to make the Wizards a faster team and it backfired on them. The Wizards also became a worse defensive team (14th in defensive rating compared to 5th last season) although they did get better at season's end. It was mostly attributed to a change in their defensive coverage but, nevertheless, Washington was a poster of inconsistency this season.
For not making the postseason, Wittman was canned. They decided to go after a coach who is very point guard-friendly and could be the bait to lure a certain superstar back home.
IN: Scott Brooks. Brooks was a mainstay for that Oklahoma City Thunder team until he himself was fired after OKC missed the postseason last year when Kevin Durant was injured. Durant happens to be a free agent this summer so was this hire calculated? Probably.
Anyway, Brooks lets his players freestyle on offense and concentrates more on the defensive end. Wall might like this change in style. He might even like it more if it brings Durant to the fold. But who knows?
LOS ANGELES LAKERS
OUT: Byron Scott. We all know what Byron did in his tenure. Called out the young core in the media every chance he got. Benched his potential franchise players for "tough love." Tried to win games with veterans and failed to do that. Basically let Kobe Bryant do whatever he wanted. But he never looked at himself and said, "This is my fault." The finger always went to someone else. Tons of Laker fans couldn't wait to get him out of there and were giving Byron THE finger.
IN: Luke Walton. With Kobe Bryant gone and with a very young roster, it was best for Byron to go. In comes Luke Walton, the Warriors assistant coach who guided the team to a 39-4 start when head coach Steve Kerr was out and the former Laker who is now, more or less, marked as the savior of this franchise. He's not going to be saving anything but what he'll provide is his incredible basketball IQ and communication that is in touch with today's NBA. If the Lakers truly understand that this is a rebuilding process, Luke will be okay.
Walton may turn out to be a horrid head coach (though I doubt that). But the Lakers are starting over in earnest. Why bring in a retread when you can bring in a young coach that can grow along with the team? The only potential roadblock here is Jim Buss's self-ultimatum that has him ousted by next season. If he's really adhering to that, he may fast-track this rebuilding process to try to save his job.
But Luke Walton was probably going to be the only coach that survives a regime change. Luke is like pizza to the Lakers. Everyone in the Laker organization likes Luke. And everyone likes pizza.
Now I want pizza.
PHOENIX SUNS
OUT: Jeff Hornacek. Hornacek was doomed when 1) he did so well in his first season that expectations skyrocketed and 2) the front office did (or did not do) moves that shook up the roster. It didn't help that injuries to their best players (Eric Bledsoe, for one) really killed their chances. With the Suns going on a freefall, the Suns kicked Hornacek off the island.
IN: Earl Watson. Watson did a good job holding the fort for the rest of the season and had his interim tag taken off as he got a three-year deal with the team. The Suns are also starting over so it's nice that they have a young coach in the helm. And a former player at that so he can relate easier to his players.
NEW YORK KNICKS
OUT: Derek Fisher. Fisher was showing some improvement in his second year as Knicks head coach before a 1-9 tailspin ended his tenure. His off-court issues with a former teammate didn't help. But what was more damning to Phil Jackson was Fisher straying away from the Zenmaster's beloved Triangle offense. I don't think Fisher will have a problem finding another NBA coaching gig, should he choose to do so.
IN: Kurt Rambis (?). Rambis didn't do much to improve the Knicks' fortunes to finish the season. He really hasn't had a great coaching career (he didn't succeed with Minnesota). But the advantage that he has is that he's a Phil Jackson guy and that he will implement the Triangle, no matter how badly it fit his personnel (that was his downfall with the Wolves). We'll see if the Knicks actually keep Rambis beyond this season since there are a few candidates out there.
SACRAMENTO KINGS
OUT: George Karl. Karl clashed with franchise player DeMarcus Cousins the whole time he was in Sactown. Other than Mike Malone (who is in Denver now), no one was really able to rein in Boogie.
The Kings have enough talent to make the playoffs. But the environment and the culture are very toxic. And they need someone that can lay down the law in Sacramento. I'm not necessarily advocating for an old-school coach but I'm advocating for someone that can bring everybody together and someone that everybody respects. And especially someone that Cousins respects.
HOUSTON ROCKETS
OUT: J.B. Bickerstaff. I wasn't sure if anybody could fix the Rockets that season. The body language by the team was awful the whole year. The younger Bickerstaff did well enough to get the team to the playoffs (although, yes, they should be a Top 3 team in the West) despite all the problems inside. But it was just too much and the entire team seemed like they couldn't wait to go to Cancun.
Dwight Howard is expected to leave the Rockets so it all falls on James Harden. Harden is getting some of those "selfish" label murmurs and, once again, it's about getting somebody for the head coaching position that everybody respects.
INDIANA PACERS
OUT: Frank Vogel. Shockingly, Vogel wasn't re-signed by the Pacers even though he was consistently good in his tenure (only missing the postseason once in his six years when Paul George was hurt the whole year). Vogel brought defensive intensity to his team. He could be better offensively and that is the reason why Larry Bird decided to let him go.
But out in the market, can you get any better than Vogel?
---
Follow Rey-Rey on Twitter at @TheNoLookPass for all tweets about the NBA and terrible pop music. Also, check out his podcast, Rey-Rey Is Fundamental.

us on FaceBook! Thank you!