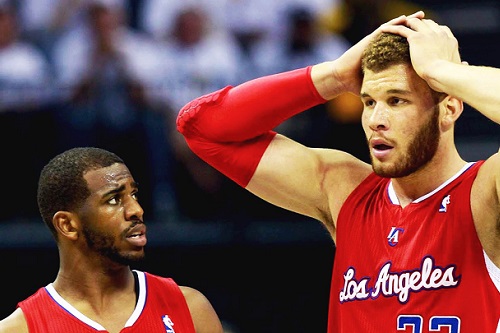 This can't get any worse for the Clippers this season (yes, I'm well-aware of their awful history before Chris Paul and Blake Griffin).
Last night, Chris Paul left their playoff game fuming after hurting his hand trying to steal the ball from Gerald Henderson. Then in the fourth quarter, Blake Griffin left after reaggravating his quad.
Well, the worst fears of Clipper fans have been realized. From ESPN's Arash Markazi:
Blake Griffin will miss the remainder of the postseason and Chris Paul will be out indefinitely, the Los Angeles Clippers announced Tuesday.

Griffin aggravated a left quadriceps injury in Game 4 of the team's first-round series against the Portland Trail Blazers on Monday night. An MRI revealed no further structural damage, and the team said he'll be ready for the start of training camp.

Paul, meanwhile, underwent surgery Tuesday morning in Los Angeles to repair a right hand fracture that he suffered in the third quarter of Monday night's game. Team sources indicated the recovery time for Paul is four to six weeks, meaning the Clippers would have to advance to the conference finals or NBA Finals for the first time in franchise history for him to return this postseason.
The Clippers had a golden opportunity looming as the winner of this match-up faces the winner of the Rockets/Warriors match-up. But let's assume the Warriors get to the second round. Stephen Curry is out for two weeks. They could've taken advantage.
But now Paul and Griffin are pretty much out of the postseason. I don't even like their chances against the Blazers at this point. What are the Clippers going to do from here since this is almost certainly a lost year?
Paul and Griffin are both free agents at 2017. Are they done with this duo? Are they going to give it one more shot with these two? Paul has been pretty much beat up every postseason he's been with the Clippers. Their championship window isn't closed… but it's something to think about.
I'm so sorry, Clippers.
---
Follow Rey-Rey on Twitter at @TheNoLookPass for all tweets about the NBA and terrible pop music. Also, check out his podcast, Rey-Rey Is Fundamental.

us on FaceBook! Thank you!