This is the Hangover. We get basketball-wasted all the time. Yes, we recap the NBA every night in our own way.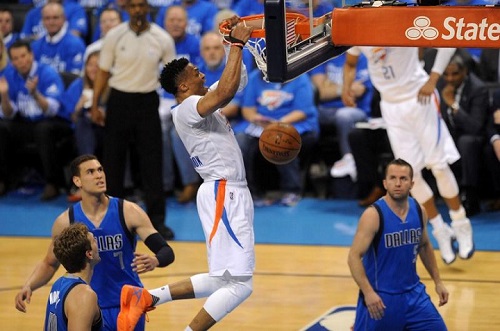 (PHOTO CREDIT: Mark D. Smith/USA Today.)
#3 MIAMI HEAT 85 @ #6 CHARLOTTE HORNETS 89
EAST First Round – Game 4 – Series is TIED, 2-2
Kemba Walker and Jeremy Lin did some damage early. The lead would balloon to 18 for the buzz. But Heat did some quick damage control as they burst through with a 17-1 run.
As the Heat threatened to take the lead, Walker streaked through (not LITERALLY, if you know what I mean) with 11 straight points. The threat wouldn't go away, though, as the buzz led by two with 30 seconds left. Walker tried to put the game on ice with a three. He missed but Courtney Lee (she still got it!) got fouled during the rebound attempts. Lee would make both free throws to finish the game and help the Hornets tie the series.
BEHIND THE LINES
Kemba Walker (CHA): 34 pts.
Jeremy Lin (CHA): 21 pts.
Joe Johnson (MIA): 16 pts, 7 rebs.
Dwyane Wade (MIA): 12 pts, 7 rebs, 10 assts.
#6 DALLAS MAVERICKS 104 @ #3 OKLAHOMA CITY THUNDER 118
WEST First Round – Game 5 – THUNDER WIN series, 4-1
Even with all the scratches, eye gouges, superman punches, and suplexes, there was just a feeling of inevitable doom for the Mavericks. The Thunder led this game the whole time. Andre Roberson and Kevin Durant made big buckets late to make sure Dallas didn't do any miracle comebacks.
Dallas surprised everyone by making the playoffs. But only one team can advance. And now the Thunder have a date with the Spurs. We'll all be watching who pays for who.
BEHIND THE LINES
Russell Westbrook (OKC): 36 pts, 12 rebs, 9 assts.
Steven Adams (OKC): 15 pts, 10 rebs.
Kevin Durant (OKC): 33 pts, 7 rebs.
Dirk Nowitzki (DAL): 24 pts.
#4 LOS ANGELES CLIPPERS 84 @ #5 PORTLAND TRAILBLAZERS 98
WEST First Round – Game 4 – Series is TIED, 2-2
It seemed like the air was taken out of the Clippers when Chris Paul went out of the game. It turned out to be a broken hand for CP3. Awful, awful, awful.
The Blazers would start making threes in the fourth quarter. Former Clipper Al-Farouq Aminu made one of those long distance shots to put the Blazers up in double digits. He would score a playoff career-best 30 points.
And not only is CP3 looking to be out for a significant amount of time but Blake Griffin reaggravated a quad injury. He didn't play the last half of the second quarter.
Speedy recoveries for those players but things do NOT look good for the Clippers.
BEHIND THE LINES
Al-Farouq Aminu (POR): 30 pts, 10 rebs, 3 blks.
Mason Plumlee (POR): 2 pts, 14 rebs, 10 assts, 3 blks.
DeAndre Jordan (LAC): 7 pts, 15 rebs, 4 blks.
Blake Griffin (LAC): 17 pts, 7 rebs.
Jeff Green (LAC): 17 pts, 5 rebs.
WATCH THIS PLAY
This is the NBA's Top 5 plays but I agree that the #1 play is the best play. Westbrook to Durant, TOUCHDOWN.
https://youtu.be/1QjjWYbzEck
(VIDEO CREDIT: NBA.)
---
Follow Rey-Rey on Twitter at @TheNoLookPass for all tweets about the NBA and terrible pop music. Also, check out his podcast, Rey-Rey Is Fundamental.

us on FaceBook! Thank you!