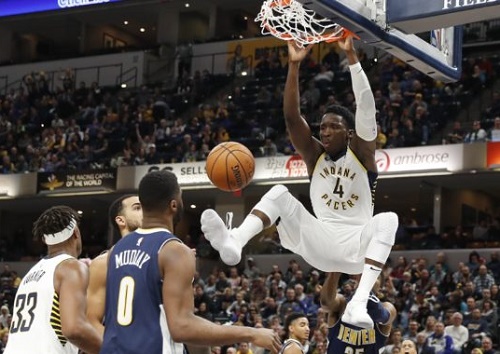 (PHOTO CREDIT: Brian Spurlock/USA Today.)
Every year, I get hyped for the NBA Slam Dunk Contest. Way more often than not, it becomes a letdown.
Still, we have gems every once in a while. The two contests that Zach LaVine won in 2015 and 2016 (ESPECIALLY 2016) have been great shows. Last year wasn't so great when Glenn Robinson III won.
But you know these players are capable of putting on a show. Here is this year's crop:
Victor Oladipo (IND)
Dennis Smith, Jr. (DAL)
Donovan Mitchell (UTA)
Larry Nance, Jr. (CLE)
Oladipo has participated before. He was beaten by LaVine easily in the finals. But he did have that one memorable slam where he did a 360 that ended in a reverse jam.
(VIDEO CREDIT: Ryan Van Dusen.)
He also sings (which was not shown in the video) so expect more entertainment from Vic.
Dennis Smith, Jr. makes it look easy. He's got a 47-inch vertical. Here are some of his best jams from HS.
(VIDEO CREDIT: BallIsLife.)
And here's some of his dunks in his stay with NC State. He gets so high up there. Hopefully, he can get creative with it.
Donovan Mitchell specializes on the one-handed alley-oops.
(VIDEO CREDIT: City of Red.)
Devastating in-game. If he can add some creativity to that juicy power of his, he'll be something to watch in the dunk contest.
And lastly, Larry Nance the younger should get cheers as he was supposed to be the hometown guy until he got traded to Cleveland. Not many highlights from his college years but here are some of his best NBA dunks from this season.
(VIDEO CREDIT: NBA.)
He loves going over the top. But once again, these are all game dunks. He has, however, been campaigning for a spot so he must have something in reserve. Probably his dad's cuff dunks that won him the dunk contest 34 years ago. Has it been that long?
All I ask for is a great show. Go do it, gentlemen.
PREDICTION: Dennis Smith, Jr. beats Donovan Mitchell in the Finals.
---
Hey now! Follow Rey-Rey on Twitter at @TheNoLookPass.
You can also see some of his work at Forum Blue & Gold, a site specializing on the Los Angeles Lakers.
Also, while it's on hiatus due to personal and health issues, you can listen to old episodes of Rey-Rey's podcast, Rey-Rey Is Fundamental, which has NBA talk and other topics. The podcast will be back as soon as he's healthy.