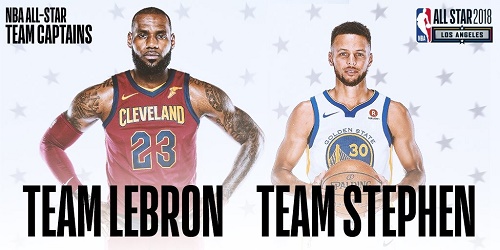 So as mentioned many times about the All-Star game, the game this year will be different. Teams will be chosen by captains (in this case, LeBron James and Stephen Curry). They get to pick from whoever was voted the starters first. And then they choose from the reserves.
In the end, here's what we got.
TEAM STEPHEN CURRY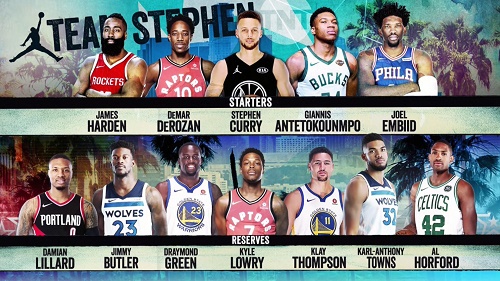 And then…
TEAM LeBRON JAMES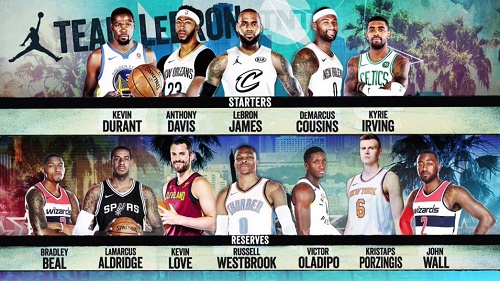 All this is really moot if the game isn't going to be taken seriously like the past few years. But…
Look how huge LeBron's team is. Seriously. In the starting line-up, LeBron James is the second shortest on that team. Then they have Kristaps Porzingis as a 7'3″ guy that can play on the perimeter. They have explosiveness in both Russell Westbrook and John Wall. They have familiarity with the Pelicans bigs, Kevin Love and James (and Kyrie!), Kevin Durant and Westbrook, and Wall and Bradley Beal.
On the other side, they do have fantastic scoring in Curry, James Harden, and Damian Lillard. They have incredible bigs in Giannis Antetokounmpo and Joel Embiid. If you're about intangibles, you can't get any better than Al Horford and Draymond Green. They also have a bit of familiarity with the Raptors, Wolves, and Warriors on the same team.
But man, the size is just overwhelming on LeBron's squad. If you have money on Curry's team, you'd better hope they just get hot from the perimeter.
Again, all of this doesn't matter if this is the same all-star game we've been seeing for years now.
Also, please televise the draft next time.
BULLET PASSES
*Boston really needed to snap their losing streak and they did it against the Clippers, who are sadly going into their own swoon with their third straight loss. Boston and Toronto have the same number of losses now but because the Celtics have played an ungodly amount of games in the first three months, they are three ahead of Toronto in wins.
*I really want the Detroit Pistons to do well. But now I'm thinking of another reset on the roster somehow. That is six straight losses by the Pistons.
*The longest current winning streak belongs to the Oklahoma City Thunder; they have won six straight games. With Minnesota losing both games of their back-to-back, the Thunder are now tied with the Timberwolves in the loss column. The way it is right now, those two and San Antonio are going to be fighting for the third seed. At the beginning of the season, we didn't think this was possible for OKC.
*Marcus Smart is now out for a couple of weeks because of a hand injury. He said that "he swiped a picture frame on the wall." Hope he recovers quickly. I know people tend to laugh at or get on the player for something like this but these things do happen (I've once gotten concussed during karaoke!).
*Even though they lost against the Kings, I'm having trouble choosing another coach that would win Coach of the Year other than Erik Spoelstra.
SCOREBOARD
01/24/2018
NO 101 (26-21) @ CHA 96 (19-27)
UTA 98 (20-28) @ DET 95 (22-24) [OT]
PHX 101 (17-31) @ IND 116 (26-22)
CHI 101 (18-30) @ PHI 115 (23-21)
TOR 108 (32-14) @ ATL 93 (14-33)
HOU 104 (34-12) @ DAL 97 (16-32)
SA 108 (32-18) @ MEM 85 (17-30)
MIN 114 (31-19) @ POR 123 (26-22)
BOS 113 (35-14) @ LAC 102 (23-24)
01/25/2018
SAC 89 (15-33) @ MIA 88 (27-21)
WAS 112 (26-22) @ OKC 121 (28-20)
NY 118 (21-28) @ DEN 130 (25-23)
MIN 113 (31-20) @ GS 126 (39-10)
LINE CROSSER
01/24/2018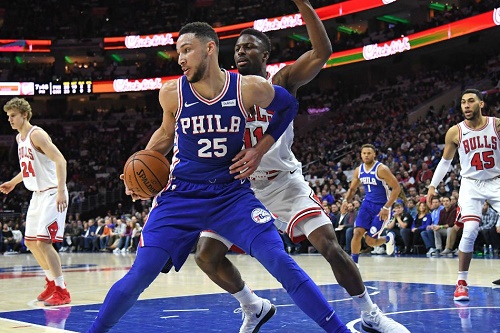 (PHOTO CREDIT: Eric Hartline/USA Today.)
Ben Simmons put this on the Bulls after being left off the All-Star team.
19 points, 17 rebounds, 14 assists.
He nearly got that trip-dub by halftime!
01/25/2018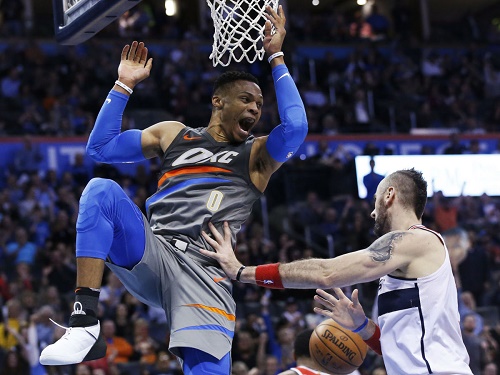 (PHOTO CREDIT: Sue Ogrocki/AP.)
We had an awesome duel between Russell Westbrook and Bradley Beal on Thursday night. In the end, though, Westbrook came out with…
46 points, 6 rebounds, 6 assists.
Shoutout to Westbrook's BFF, Kevin Durant, for his triple-double, though.
WATCH THIS PLAY
01/24/2018
(VIDEO CREDIT: gz highlights.)
This is Davis on Davis. Davis Bertans drops one on Deyonta Davis.
01/25/2018
(VIDEO CREDIT: NBA.)
De'Aaron Fox SKIES for the jam that put the Kings ahead. The Kings would upset the Heat.
---
Hey now! Follow Rey-Rey on Twitter at @TheNoLookPass.
You can also see some of his work at Forum Blue & Gold, a site specializing on the Los Angeles Lakers.
Also, while it's on hiatus due to personal and health issues, you can listen to old episodes of Rey-Rey's podcast, Rey-Rey Is Fundamental, which has NBA talk and other topics. The podcast will be back as soon as he's healthy.