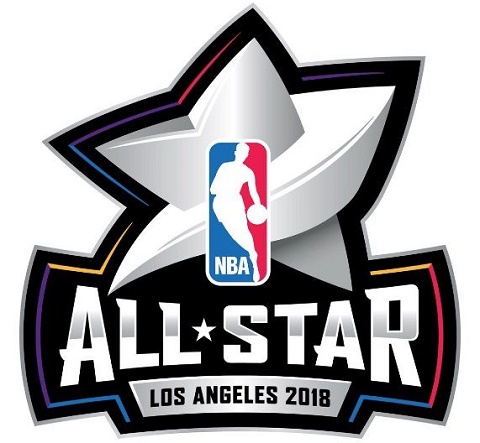 So we know what's coming up. In the last week or so, the All-Stars have been named for each conference. And we also know that in the last two years, the starters are no longer voted by the fans alone. Players and media also affect the voting for the starters. As for the reserves, the coaches get to vote for that.
And new to this All-Star game? There will be captains from the leading vote-getters from each conference. Then they get to pick from the pool of all-stars that were named.
First off, let's see the starters from each conference.
EAST STARTERS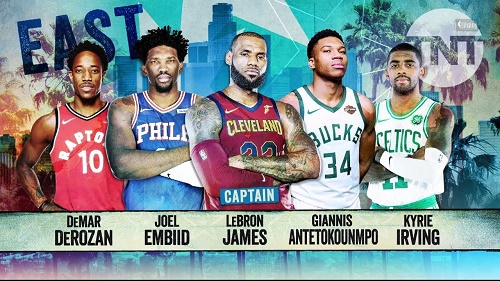 WEST STARTERS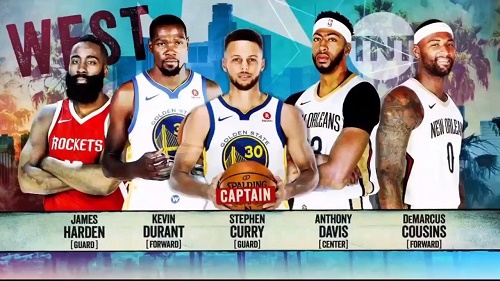 That means LeBron James and Stephen Curry get to pick their teams however they want to. The starters gets to be picked first before they get to pick from this pool of reserves.
EAST RESERVES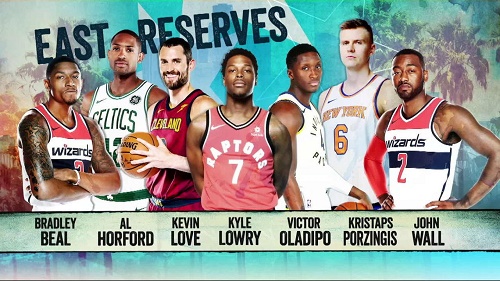 WEST RESERVES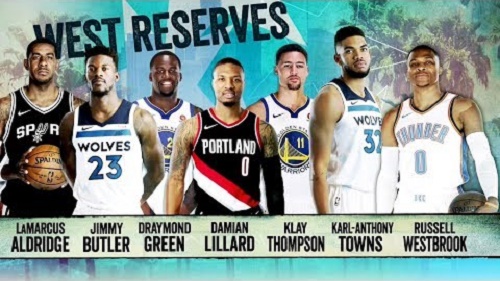 Now we always have outrage from everyone about who was picked to and snubbed from the team.
To be quite frank, I'm not mad on who got picked to the team (there are other things to get angry about, guys). What about the notable snubs?
EAST
Andre Drummond (DET): Leading rebounder in the league (15.0 per). Sure, they're currently out of the playoff picture but spots 3-9 are currently separated by 4.5 games.
Goran Dragic (MIA): Miami is 4th in the East. Not his best year but he should be considered since he's the catalyst of the Heat.
Kemba Walker (CHA): Averaging 21.9 points and 5.9 assists. But the Hornets are 11th in the East.
WEST
DeAndre Jordan (LAC): Second in boards in the league. The Clippers are also outside of the playoff picture. But they're also doing better than expected despite all the injuries.
Lou Williams (LAC): Coming off the bench and he's scoring 23.3 points per game. He's sometimes singlehandedly kept the Clippers afloat. As mentioned, Clips have been battling injuries all season.
Chris Paul (HOU): The point god. Averages of 19-6-9. Probably penalized for missing games but Curry only played five more games than CP3.
C.J. McCollum (POR): Probably couldn't get a second all-star in Portland but it's tough to ignore 21.4 points per game and a .419 three-point percentage.
Devin Booker (PHX): Yeah, it's because he plays for the Suns. And he's not the greatest defender (putting it kindly). 25-5-5, though? Woof.
Paul George (OKC): 20.9 points and 5.6 rebounds per game. Also, a league-leading 2.1 steals per contest. One of the best perimeter defenders in the league. We do find it funny that Oladipo (one of the guys traded for Paul George) made the all-star team and he didn't.
So yeah. Go ahead. Fight some more about who made the team and who didn't. The only problem I have with this is that clauses are put into players' contracts about becoming an all-star (starter, reserve). I suppose it's good to be rewarded but it puts pressure on players, especially borderline all-stars to make the team so they can make that extra dough. It puts individual goals ahead of team goals, sometimes. Eesh.
BULLET PASSES
*I'm not much for the Rising Stars Challenge myself but it is a good showcase for the young rookies and sophomores of the league. They're doing the Team USA vs Team World format again.
TEAM USA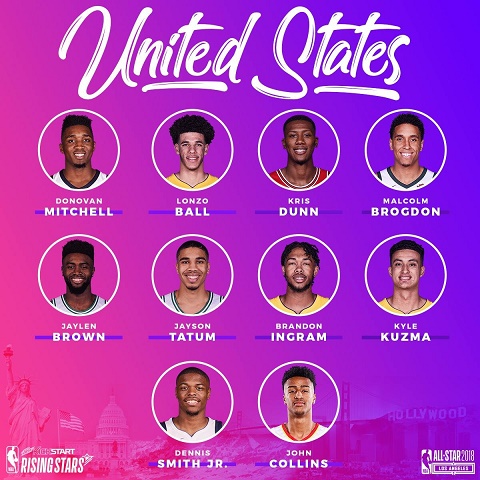 TEAM WORLD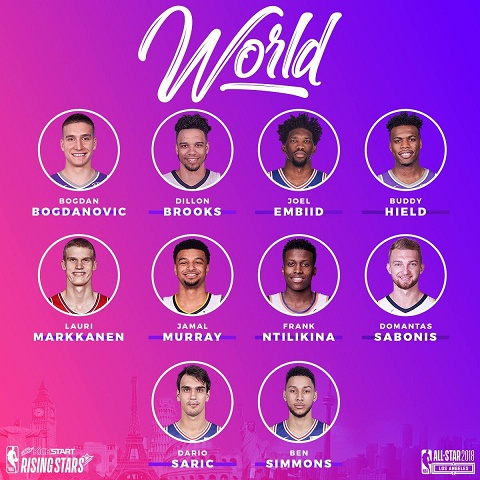 We've seen guys in the past do double duty and do both Rising Stars and All-Star games. But I think Joel Embiid will do light duty on the Rising Stars game.
*We also have the dunk contest participants. I will do my usual Slam Dunk Contest preview the day before but the participants are…
Larry Nance, Jr. (LAL)
Aaron Gordon (ORL)
Dennis Smith, Jr. (DAL)
Victor Oladipo (IND)
Larry Nance is obviously the hometown guy. Gordon can win it with his array of creative dunks; we saw that in 2016. Oladipo did the contest in 2015 but he only did one great dunk. And DSJ from the Mavericks should be exciting because he has like a 271-inch vertical leap. I'm always excited for the dunk contest but it's never usually that good. But hey, we could be surprised like 2015 and 2016.
*As for what happened in last night's action, the Lakers beat the Celtics? It IS a new year! (I know it's the 23rd but work with me here.)
*Good on you, Garrett Temple. 34 points! Impressive.
*Also good on you, LeBron James for getting 30,000 career points. That makes him the 7th player ever to get that milestone (Kareem, Mailman, Kobe, Jordan, Wilt, Dirk).
But all those player meetings by the Cavs have not fixed their problem so far. Even though, yeah, we see Kevin Love and Isaiah Thomas trying to fix their problems in public.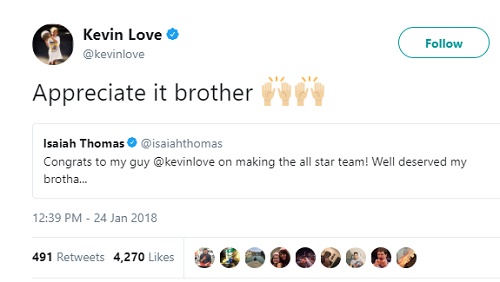 SCOREBOARD
01/23/2018
SAC 105 (14-33) @ ORL 99 (14-33)
BRK 108 (18-30) @ OKC 109 (27-20)
CLE 102 (27-19) @ SA 114 (31-18)
NY 112 (21-27) @ GS 123 (38-10)
BOS 107 (34-14) @ LAL 108 (18-29)
LINE CROSSER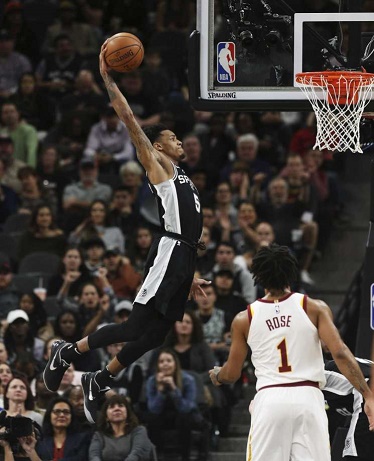 (PHOTO CREDIT: Kin Man Hui/San Antonio Express-News.)
Dejounte Murray did this for the Spurs.
19 points, 10 rebounds, 7 steals.
Consider the torch passed.
WATCH THIS PLAY
(VIDEO CREDIT: Athletic Productions.)
Russell Westbrook makes the go-ahead lay-up with 3.3 ticks left to help give OKC the win.
---
Hey now! Follow Rey-Rey on Twitter at @TheNoLookPass.
You can also see some of his work at Forum Blue & Gold, a site specializing on the Los Angeles Lakers.
Also, while it's on hiatus due to personal and health issues, you can listen to old episodes of Rey-Rey's podcast, Rey-Rey Is Fundamental, which has NBA talk and other topics. The podcast will be back as soon as he's healthy.