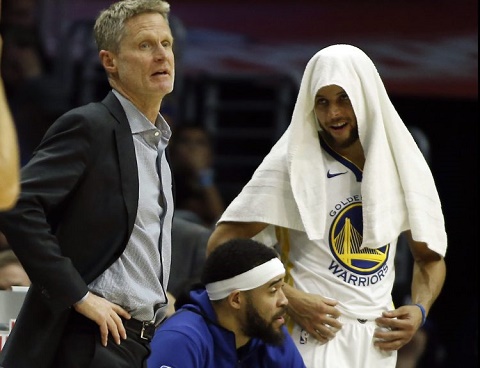 (PHOTO CREDIT: Alex Gallardo/AP.)
Let's remind everyone again on how good the Golden State Warriors are.
They're on pace to win 66 games this season. That ain't much of a dropoff compared to their last three seasons. They're about to have the greatest four-year regular season run in NBA history.
Sure, there were teams like the Celtics of the 60s and 80s, Showtime Lakers, and Jordan's Bulls that had such fantastic runs. We can even include the San Antonio Spurs of the present.
But you're not going to find a run like the Warriors. If they put away the Cleveland Cavaliers in one of their last three games in the 2016 NBA Finals, they would have the greatest three-year run in NBA history. As such, it'll always be disputed because they only won two of three NBA titles in that period.
Look at this, though:
2014-2015: 67-15 (.817) (champions)
2015-2016: 73-9 (.890) (best regular season record in history)
2016-2017: 67-15 (.817) (champions)
2017-2018: 32-8 (.800) (currently the best record in the league)
Total: 239-47 (.835)
These guys are winning a ridiculous 84 percent (rounding it up) of their games! So basically, there's only a 16 percent chance of the Golden State Warriors losing a regular season game. And I didn't even include that they went 16-1 in the playoffs last season. That is utterly disgusting.
The only other three-year run that you can find that's probably better is the second threepeat of the Chicago Bulls.
1995-1996: 72-10 (.878) (champions)
1996-1997: 69-13 (.841) (champions)
1997-1998: 62-20 (.756) (champions)
Total: 203-43 (.825)
The Bulls won 83 percent of their regular season games. Also disgusting.
It's basically why people seem to make a huge deal when the Warriors lose a game; it hardly happens.
I also don't think we appreciate this enough but that's how we people are; we just kind of get lost in the moment (whether people are basking in the glow of a singular win or are too busy getting angry at them) before we take a step back and go, "OH, MY GOSH. THIS IS INCREDIBLE."
Sure, it's unfair that they have four all-stars. But they did it legally and there's not much you can do about it. I mean, you sure wish your favorite team could pull this off, right? And while people say this is NOT good for the league, didn't we love the heyday of those same superteams I mentioned? Don't we appreciate them now? Didn't the NBA have the highest ratings ever when Michael Jordan and his teams were being gods on the court?
10-20 years from now, we'll be saying the same thing about the Golden State Warriors. I certainly try to appreciate how good they are now.
BULLET PASSES
*Speaking of those Warriors, Stephen Curry certainly went off against the Clippers, didn't he?
*And speaking of the Clippers, good grief. Get well soon, Blake Griffin. That concussion was scary.
*They have all been close but the Heat have won four straight. They're now 5th in the East and a game behind the equally surging Washington Wizards (even with a loss to the Bucks recently).
*The gap between the Celtics and the Raptors is pretty hilarious. We didn't realize Boston has played the most games in the league. They have a hefty six-game lead on the win column against Canada but both are sitting pretty on the loss column with only 10 losses. Technically, the Celtics are three games ahead of T-Dot.
*Oh, hey. The Lakers played actual good basketball. But, man, those Hawks are BAD.
*It's really unfortunate what's happening with Kawhi Leonard. We just hope this season is bad luck and he can resume his fantastic career healthy. This kind of stuff is scary.
*Andre Drummond should not be shushing anybody after a made free throw when his team is down 30.
*The Pacers snapped their five-game skid. It's really good to have Victor Oladipo back, who's the prime candidate for Most Improved Player.
*The unfortunate biggest news is Lonzo Ball's dad going off again. He mentioned that Luke Walton has lost the team. Rick Carlisle stepped in and said ESPN did an atrocious job with this article. Well, Basketball Dad is going to keep talking. The media certainly isn't helping. I'M certainly not helping. I don't mention him much but I do want to say something about this incident.
Everyone looks bad here. Look, we know Lonzo's dad is never going to stop talking. If ESPN isn't putting a mic in front of his face, he'll find a way to get his voice out there. That's his thing. He'll probably do some sort of Periscope show. Or go on Facebook and go on a rant. He can talk about his stuff on his reality show. He's not going to shut up unless everyone stops listening to him or he just fades away. The former is NOT going to happen because there will always be some sucker that's going to listen to him. The latter is more likely because that stuff happens and the news is hungry for a new story every waking day.
Carlisle stepping in to defend Walton is fine. Carlisle attempting to suppress Lonzo's dad is NOT cool. We already have an idiot "running the country" trying to suppress the media. And it was a good example of hypocrisy. We have coaches speaking out about said idiot in the White Supremacist House trying to suppress people. And now we have coaches trying to suppress individuals. Not cool. Even if he's a loudmouth, there are always other ways to go about shutting him up.
And the media has a job to do. Do I think they need to cover something else? Of course, I do. But I'm just one person. Heck, look what I'm doing; I'm talking about this now. But there is demand for what he says so the media is going to supply it. Don't like it? Ignore the story. And I am fine if you ignore this entire section.
"If you don't care, why did you care enough to talk about it?" That's my philosophy.
This thing DOES affect the Lakers, though. After all, Lonzo is the future face of this franchise. If they can ignore the white noise that is his dad, that's fine. Lonzo was also put in this incredibly difficult position. Most of us act like idiots at age 20 and here is Lonzo trying to put it all together. We're asking a lot from him.
At the very least, Kyle Kuzma has gone on record to say that he supports Walton. I wish the entire team would get behind him, too.
That's all I got.
SCOREBOARD
01/05/2018
DET 78 (20-17) @ PHI 114 (19-19)
MIN 84 (24-16) @ BOS 91 (32-10)
NY 103 (18-21) @ MIA 107 (21-17) [OT]
TOR 129 (27-10) @ MIL 110 (20-17)
CHI 127 (14-25) @ DAL 124 (13-27)
PHX 89 (15-26) @ SA 103 (27-13)
UTA 91 (16-23) @ DEN 99 (21-17)
WAS 102 (23-16) @ MEM 100 (12-27)
ATL 89 (10-28) @ POR 110 (20-18)
CHA 108 (15-23) @ LAL 94 (11-27)
01/06/2018
GS 121 (32-8) @ LAC 105 (17-21)
BOS 87 (33-10) @ BRK 85 (15-24)
HOU 101 (27-11) @ DET 108 (21-17)
CHI 86 (14-26) @ IND 125 (20-19)
CLE 131 (26-13) @ ORL 127 (12-28)
MIL 110 (21-17) @ WAS 103 (23-17)
NO 98 (19-19) @ MIN 116 (25-16)
DEN 98 (21-18) @ SAC 106 (13-25)
01/07/2018
UTA 102 (16-24) @ MIA 103 (22-17)
NY 100 (19-21) @ DAL 96 (13-28)
OKC 100 (22-18) @ PHX 114 (16-26)
SA 110 (27-14) @ POR 111 (21-18)
ATL 113 (10-29) @ LAL 132 (12-27)
LINE CROSSER
Fri, Jan. 05: Kris Dunn (32 pts, 9 assts, 4 stls)
Sat, Jan. 06: Stephen Curry (45 pts, 6 rebs, 3 stls, 8/16 3FG)
Sun, Jan. 07: Russell Westbrook (26 pts, 10 rebs, 11 assts)
WATCH THIS PLAY
01/05/2018
(VIDEO CREDIT: Tomasz Kordylewski.)
Jayson Tatum puts this in the face of Karl-Anthony Towns
01/06/2018
(VIDEO CREDIT: NBA.)
KAT, however, did have a highlight of his own, instead of being on the other end of one. Look at him run up to get this follow jam.
01/07/2018
(VIDEO CREDIT: whodey.)
C.J. McCollum's clutch floater beats the Spurs.
---
Hey now! Follow Rey-Rey on Twitter at @TheNoLookPass.
You can also see some of his work at Forum Blue & Gold, a site specializing on the Los Angeles Lakers.
Also, while it's on hiatus due to personal and health issues, you can listen to old episodes of Rey-Rey's podcast, Rey-Rey Is Fundamental, which has NBA talk and other topics. The podcast will be back as soon as he's healthy.