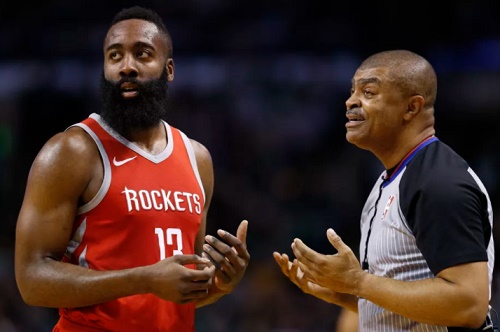 (PHOTO CREDIT: Greg M. Cooper/USA Today.)
We all know referees are a huge part of sports. It's a really strange day if we don't hear anyone complaining about officiating. But basically, the best-called games by officials are when we don't hear about them.
And while the calls about them are never silent whether it comes from fans, players, or even media, they have been certainly on the forefront the last couple of weeks or so.
Last week, the Rockets officially filed a protest in relation to their loss against the Clippers. Jawun Evans was supposed to be given the foul but it was given to Lou Williams instead. Evans would go on to play a big role in the last few minutes of the game, hence the protest.
A few days ago, the Rockets were involved in another event related to the officials. Normally, an NBA game has three referees but referee Mark Lindsay was sidelined with a bad back, leaving the Rockets/Celtics game with two referees. James Harden probably wouldn't complain if the Rockets won but his team blew a 26-point lead to the Celtics. Still, Harden has a right to gripe here, blown lead or not. The Celtics may not have gotten away with the physicality they used to come back in the game if there were more eyes watching them.
On Friday, the Bucks beat the Thunder when Giannis Antetokounmpo slammed the game-winner in OKC. The problem was that he stepped out of bounds before the dunk. The Last Two-Minute Report confirmed it (which reviews plays in the last two minutes to see if the officials missed anything). But it didn't change the result; the Bucks still won. Even more damning to the Thunder was that a play like that COULDN'T be reviewed.
Draymond Green mentioned that these reports are "useless." By the way, his teammate Kevin Durant got away with fouls against LeBron James on Christmas Day.
I understand the need for transparency. The NBA SHOULD have nothing to hide in terms of officiating. But the punishment thus far has been basically equal to getting caught stealing cookies. You get a slap on the wrist and then you move on.
I don't understand why ALL plays can't be reviewed. I know a "flag system" has been bandied around where the coaches can throw a flag to call for a replay just like they do in the NFL. Or if there's a questionable call, period, then it should be reviewed. Although let's face it; it feels like NBA games get delayed so much because of these replays. They want the games to be faster, not muddled around with replay reviews.
Also, there SHOULD be an alternate official in case one of the three officials gets injured or ousted for whatever reason. I know they do so in the postseason because there are fewer games scheduled per day. But I don't see why they can't have more personnel officiating in the league. They can bring up referees from the G-League if they have to.
Don't get me wrong; officiating in the NBA is INCREDIBLY difficult. I might be one of the few but I'm in awe whenever I see referees catch a foul or call an out-of-bounds play in real time. That's extremely difficult and it's a very thankless job. These refs are the best around. Yeah, I do get frustrated when the refs miss an EASY call (like a SUPER obvious call) but they're human and, like all of us, they make mistakes, too. That's why there's replay.
But they're not perfect. They never will be but we want to get the closest to perfection as possible. I hope they can fix the personnel issue. I hope they can fix the replay system a bit more. Maybe somewhere down the line, there can be a flag system where coaches can call for a replay. I do think the Last Two-Minute Reports don't do much other than transparency. But maybe they can punish officials missing calls by fining them. Maybe they already do behind the scenes but refs already get a lot of flak as is.
While I always thought the officiating in the NBA has been mostly good, the last couple of weeks have not been a great look. Hopefully, we won't hear much of this riffraff soon.
SCOREBOARD
12/28/2017
DET 89 (19-15) @ ORL 102 (12-24)
HOU 98 (25-8) @ BOS 99 (29-10)
MIN 96 (22-14) @ MIL 102 (18-15)
NY 107 (17-18) @ SA 119 (25-11)
PHI 110 (15-19) @ POR 114 (18-16)
12/29/2017
HOU 103 (25-9) @ WAS 121 (20-16)
ATL 98 (9-26) @ TOR 111 (24-10)
BRK 111 (13-22) @ MIA 87 (18-17)
IND 107 (19-17) @ CHI 119 (13-22)
DAL 128 (12-25) @ NO 120 (18-17)
MIL 97 (19-15) @ OKC 95 (20-16)
PHX 111 (14-23) @ SAC 101 (12-23)
CHA 111 (13-22) @ GS 100 (28-8)
LAC 121 (15-19) @ LAL 106 (11-23)
12/30/2017
SA 79 (25-12) @ DET 93 (20-15)
MIA 117 (19-17) @ ORL 111 (12-25)
NY 105 (18-18) @ NO 103 (18-18)
POR 89 (18-17) @ ATL 104 (10-26)
CLE 101 (24-12) @ UTA 104 (16-21)
MEM 128 (11-25) @ GS 141 (29-8)
PHI 107 (16-19) @ DEN 102 (19-17)
12/31/2017
CHI 110 (13-23) @ WAS 114 (21-16)
MIN 107 (23-14) @ IND 90 (19-18)
BRK 105 (13-23) @ BOS 108 (30-10)
LAL 142 (11-24) @ HOU 148 (26-9) [2OT]
DAL 116 (13-25) @ OKC 113 (20-17)
CHA 98 (13-23) @ LAC 106 (16-19)
MEM 114 (12-25) @ SAC 96 (12-24)
PHI 123 (17-19) @ PHX 110 (14-24)
LINE CROSSER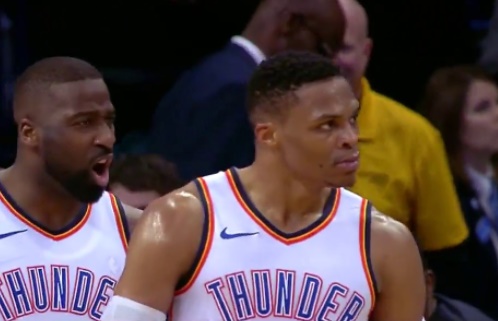 Thu, 12/28: James Harden (34 pts, 6 rebs, 10 assts)
Fri, 12/29: Russell Westbrook (40 pts, 14 rebs, 9 assts)
Sat, 12/30: Stephen Curry (38 pts, 10/13 3FG in 25 min)
Sun, 12/31: Russell Westbrook (38 pts, 15 rebs, 11 assts)
WATCH THIS PLAY
12/28/2017
(VIDEO CREDIT: Prince Marcus.)
Al Horford completes the comeback for Boston as they edge out the Houston Rockets.
12/29/2017
(VIDEO CREDIT: MLG Highlights.)
Thon Maker had a front seat to Russell Westbrook's rim destruction. This is probably the best dunk of the season thus far. My goodness.
12/30/2017
(VIDEO CREDIT: CliveNBAParody.)
I know that we try to give credit for people who try to stop dunks. But was it really worth it to stop Anthony Davis, Ron Baker? Because this was just messed up.
12/31/2017
(VIDEO CREDIT: Apostar Sin Arriesgar.)
Look at Alex Caruso throw this one down on P.J. Tucker! Are you serious?
---
Hey now! Follow Rey-Rey on Twitter at @TheNoLookPass.
You can also see some of his work at Forum Blue & Gold, a site specializing on the Los Angeles Lakers.
Also, while it's on hiatus due to personal and health issues, you can listen to old episodes of Rey-Rey's podcast, Rey-Rey Is Fundamental, which has NBA talk and other topics. The podcast will be back as soon as he's healthy.