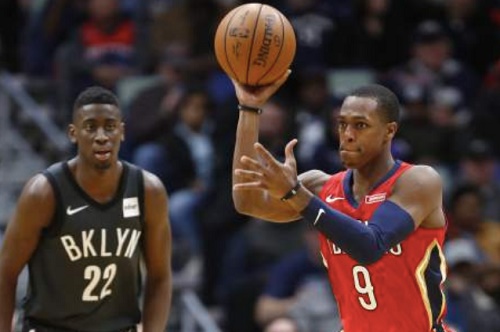 (PHOTO CREDIT: AP.)
So we forget that Rajon Rondo was once an all-star and can still affect a game. Heck, we forgot that he had 20 assists as recently as 2016.
But that's what Rondo does best: assists. Sometimes, he's guilty of chasing those assist numbers but aren't most NBA players guilty of chasing numbers, anyway?
Rondo handed out a career-best 25 assists against the Nets on Wednesday night. It was the first time a player got that many dimes since Jason Kidd dropped two bucks and fifty cents in 1996. To show how rare it is for a player to get 20 assists, Rondo was the 55th game to have that many since Kidd got those 25. That's 55 games in 21 years.
Out of all the major stats (points, rebounds, assists, steals, blocks), I always thought that the 30 assists done by Scott Skiles was the easiest to break. But since Skiles got 30 in 1990, it was hard to even get to 20. All-time assists leader John Stockton got close at 28 in 1991. After that, only three players got to the 25 mark. Kevin Johnson did it in 1994 then Kidd and Rondo.
Plus while passing is vogue in the NBA now, the assist only counts for the last passer. A point guard that dominates the ball pretty much only has a chance on getting to that number. Russell Westbrook comes to mind; he did get 22 assists in a game last season. Obviously, if Rondo stays healthy and keeps feeding DeMarcus Cousins, Anthony Davis, and Jrue Holiday, he MIGHT get there (he's averaging 8.3 assists this season). John Wall is another guy who dominates the ball; he got 20 last March. James Harden and Chris Paul are together now so it's unlikely they'll get to that number although Harden did get 17 earlier this month when they were on that winning streak.
Will the assist record get broken anytime soon? It'll probably happen at a random game that we didn't see coming.
Such as Rondo getting 25 assists. But 31 or more assists by an individual may not happen in the next 31 years.
BULLET PASSES
*Luke Walton continues to frustrate me. I only give him a pass because he's still learning on the job. But how hard is it to give Julius Randle minutes? And for that matter, Larry Nance? So NOW he falls in love with Kyle Kuzma by giving him a ton of minutes but why not take him out when he was clearly struggling AND hobbling? This continues to baffle me.
*So the Thunder are a little scary now, aren't they? They're finding their groove as they've won six in a row. They'd be a little higher in the seedings…
*…if it wasn't for Minnesota ALSO winning. The Wolves have won their last five. Getting a little competitive up in the West.
*Golden State isn't exactly playing their best but they also keep winning. They've won 13 of their last 14 games as they continue to have the best record in the league. That's what happens when you lose Stephen Curry but you still have Kevin Durant.
*I don't know why Washington continues to lose these games inexplicably. They should be thrashing the Hawks.
*How about Sacramento upsetting Cleveland? LeBron James did get a triple-double (16-10-4… plus 5 steals) but look at Vince Carter get 24 points!
*The Bulls winning is still a mystery to me other than Nikola Mirotic giving them a boost.
SCOREBOARD
12/27/2017
BOS 102 (28-10) @ CHA 91 (12-22)
DAL 98 (11-25) @ IND 94 (19-16)
WAS 99 (19-16) @ ATL 113 (9-25)
NY 87 (17-17) @ CHI 92 (12-22)
DEN 125 (19-16) @ MIN 128 (22-13) [OT]
BRK 113 (12-22) @ NO 128 (18-16)
TOR 107 (23-10) @ OKC 124 (20-15)
CLE 95 (24-11) @ SAC 109 (12-22)
UTA 101 (15-21) @ GS 126 (28-7)
MEM 109 (11-24) @ LAL 99 (11-22)
LINE CROSSER
Let's ignore the points. We know what Rajon Rondo does. He passes.
2 points, 7 rebounds, 25 assists.
Once again, five away from the record.
WATCH THIS PLAY
(VIDEO CREDIT: MLG Highlights.)
Steven Adams dunks on the entire country of Canada.
---
Hey now! Follow Rey-Rey on Twitter at @TheNoLookPass.
You can also see some of his work at Forum Blue & Gold, a site specializing on the Los Angeles Lakers.
Also, while it's on hiatus due to personal and health issues, you can listen to old episodes of Rey-Rey's podcast, Rey-Rey Is Fundamental, which has NBA talk and other topics. The podcast will be back as soon as he's healthy.