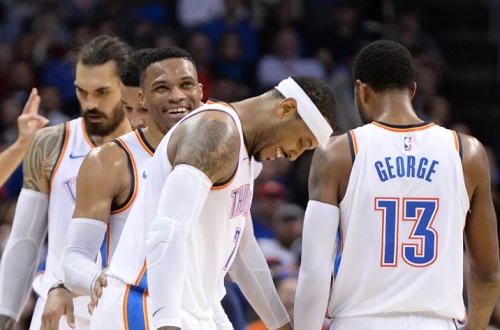 (PHOTO CREDIT: Mark D. Smith/USA Today.)
The Thunder are over .500 for the first time since Halloween.
I know that they're still searching for answers and a lot of people are worried for them. But let's all remember that, once again, this is a marathon, not a sprint.
We've seen all sorts of teams go up and down during the season. For example, the Bulls won only three of their first 23 games. Now they've won seven straight games and looking like worldbeaters.
Remember when we were all worried about the first season of LeBron James, Dwyane Wade, and Chris Bosh together in Miami? They started out 9-8. After that, they went on a 21-1 burst. The Heat would go on to finish 58-24 and make it to the NBA Finals before being upset by the Dallas Mavericks.
The 2013-14 Indiana Pacers got off to a 16-1 start. Then they struggled after the trade deadline. They didn't have huge losing streaks but they didn't look good towards the end of the season. They did finish 56-26 but nearly got knocked out by the 8th-seeded Atlanta Hawks in the first round. They would lose to the Heat in the Conference Finals.
The 2000-01 Los Angeles Lakers didn't look like champions throughout the season. They were still very good at 48-26 after 74 games but it seemed like a bit of a struggle. And then they went on to win their last eight games and THEN won their first 11 playoff games on the way to a devastating 15-1 playoff run to the championship. Sometimes, it takes getting hot at the right time to completely turn around a season.
We laugh at the 2012-13 Los Angeles Lakers but even they went on a run to get to the postseason. They were 18-25 at one point but they finished 27-12 in their last 39 games to make it as a 7th seed. Even still, they lost Kobe Bryant in their third-to-last game of the season and got swept by the San Antonio Spurs in the first round.
The 2009-10 Boston Celtics were largely given up for dead. But I also knew their defense was outstanding and they just needed to get everyone healthy. They finished 50-32 for the season and fourth in the East. Then they ran roughshod through their conference. I felt like I was the one of the few people that was NOT surprised they smashed through the East. They would lose to the Lakers in the Finals and health was a HUGE part on why they probably lost.
There's even a super late bloomer in the 1994-95 Houston Rockets. They got Clyde Drexler in a blockbuster midseason deal. The Rockets only won 47 games as they stumbled into the playoffs. It took them a while to figure it out… and they did in mid-April. It felt like Drexler found the fountain of youth in the postseason as they roared through their opponents, including an unbelievable sweep over the Orlando Magic in the Finals.
The Thunder are 8-3 in their last 11 games, including wins over San Antonio, Philadelphia, and Indiana. They have been locking down opponents over the year but their offense has been disappointing, especially with three excellent offensive players in Russell Westbrook, Paul George, and Carmelo Anthony. The rest of the league just hopes they don't figure it out. Because if they do, they're going to be a menace.
It's a loooooooong season.
BULLET PASSES
*Kyle Kuzma went off for 38 points in the Lakers' upset win over the Rockets. This is Kuzma's second 30-point game. And he did start since Brook Lopez is out for a few weeks with an ankle injury and Kentavious Caldwell-Pope is out due to a complicated stipulation in his DUI arrest from last March.
Anyway, my point stands from a few weeks ago: he should be in the starting line-up permanently. It's VERY obvious he's a scoring threat. He leads the Lakers in scoring at 16.8 points per. It baffled me on why he was put back on the bench in the first place. And even if he was put back on the bench, give him the minutes.
Walton's been better about giving him minutes; his last five games has been 29+ minutes. But the first four since returning to the bench had him under 20 minutes in two games and 27 minutes each on the other two. Don't you want your best scorer on the court for the most part? We can ALL see how good of a scorer Kuzma is. If it wasn't for Ben Simmons wrecking shop, he'd be the favorite to win Rookie of the Year.
A good friend thought it's because it could ruin the egos of the other players. I do think Jordan Clarkson and Larry Nance, Jr. know their roles. Brandon Ingram is entrenched in as the next star for the team as well as Lonzo Ball. I feel only Julius Randle can be hurt but even then, they already started treating him badly (he came in SO late in that Rockets game). Also, they DO want to win, right? Part of winning is sacrificing.
Start Kuzma permanently.
*How are the Bulls still winning? My gosh. They do have a date with Cleveland later on tonight. That might not be good.
*With that loss to the Lakers, the Rockets' 14-game win streak was snapped. But Chris Paul did go out of the game early in the fourth quarter. Would that count as a loss for CP3 since he did go out with an injury? (Of course, it's counted. And how I conveniently forget that he went out with an injury against the Warriors in the first game of the season.)
*Speaking of the Warriors, they now hold the longest current win streak with 10 games as they beat the not-so-great Grizzlies.
*Kelly Olynyk came back to Boston with a career-high 32 points, including a clutch dunk that helped give the Heat the win over the Celtics. Olynyk continuing his trend of big games in the Garden (remember that he scored 26 points in Game 7 against the Wizards in last year's East Semis).
*Andrew Wiggins is really not having a great season. His scoring average is down from nearly 24 last season to just 17.6 points this season. And scoring is supposed to be his best attribute, right? The comparisons to one Robert Covington on NBA Twitter aren't so ludicrous anymore although Covington hasn't played well on offense as of late, either. But Covington does play defense so…
*The Raptors are just quietly doing their thing. They are 21-8 and currently second in the East. Shhhhhhhhh.
*We continue to have more parity in the league this season. I guess we've had our fill of dominant seasons from one team in the last few years. It's kind of a nice change of pace.
SCOREBOARD
12/19/2017
SAC 101 (10-20) @ PHI 95 (14-16)
NO 106 (15-16) @ WAS 116 (17-14)
CLE 116 (23-9) @ MIL 119 (16-13)
12/20/2017
TOR 129 (21-8) @ CHA 111 (11-20)
MIA 90 (16-15) @ BOS 89 (26-8)
SAC 104 (11-20) @ BRK 99 (11-19)
IND 105 (18-14) @ ATL 95 (7-24)
UTA 79 (14-18) @ OKC 107 (16-15)
LAL 122 (11-18) @ HOU 116 (25-5)
ORL 94 (11-21) @ CHI 112 (10-20)
DET 93 (17-14) @ DAL 110 (9-23)
MIN 112 (19-13) @ DEN 104 (16-15)
SA 93 (22-10) @ POR 91 (16-15)
MEM 84 (9-22) @ GS 97 (25-6)
PHX 95 (11-22) @ LAC 108 (12-18)
LINE CROSSER
12/19/2017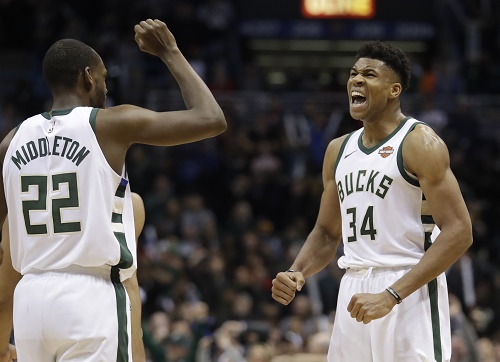 (PHOTO CREDIT: Morry Gash/AP.)
LeBron James didn't get a triple-double but his foe for Tuesday, Giannis Antetokounmpo got close to one.
27 points, 14 rebounds, 8 assists.
FEAR THE DEER.
12/20/2017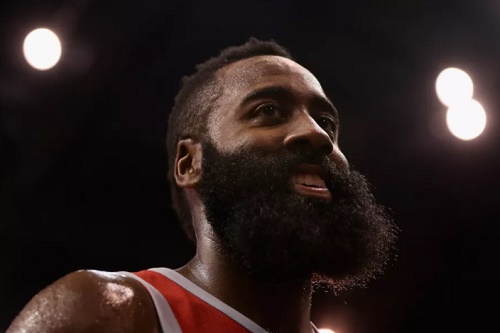 (PHOTO CREDIT: Christian Petersen/Getty Images.)
Yo, the Rockets lost even though James Harden went off:
51 points, 9 assists.
But honestly, it was probably the quietest 50-point game you'll ever see. So many points were being scored that we didn't realize Harden was doing all this work.
WATCH THIS PLAY
12/19/2017
(VIDEO CREDIT: whodey.)
Eric Bledsoe bursts from the three-point line to follow this miss by Khris Middleton. Look at this two-handed putback jam from Mini-LeBron.
12/20/2017
(VIDEO CREDIT: OKC Thunder Fans – Blue & White Army.)
Paul George detonates this one in front of Derrick Favors.
---
Hey now! Follow Rey-Rey on Twitter at @TheNoLookPass.
You can also see some of his work at Forum Blue & Gold, a site specializing on the Los Angeles Lakers.
Also, while it's on hiatus due to personal and health issues, you can listen to old episodes of Rey-Rey's podcast, Rey-Rey Is Fundamental, which has NBA talk and other topics. The podcast will be back as soon as he's healthy.