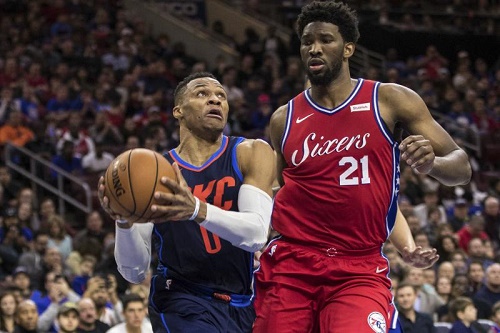 (PHOTO CREDIT: Chris Szagola/AP.)
So far, it's the NBA Game of the Year.
This was not the prettiest game but it felt like a playoff game. The setting is there. An up-and-coming team against a team that SHOULD be on or near the top. The names are there with Ben Simmons, Joel Embiid, Carmelo Anthony, Paul George, and Russell Westbrook. And these are teams that can potentially give us a lot of highlights.
The Thunder actually showed some ball movement early in the game. It helped them get up to a 17-point lead. But Philly came back as their threes started to fall with Dario Saric and Robert Covington making them.
There were some highlights. We all know that Westbrook dunk over Saric. Embiid showed off some of his good passing. Simmons was able to get in a reverse jam.
There was some intensity. Embiid and Carmelo exchanged words. Later on, Embiid waved goodbye to Steven Adams when he fouled out. And after the game, Westbrook returned the favor and waved to Embiid after the Thunder won in triple overtime.
TRIPLE OVERTIME. It was so close that they needed an extra 15 minutes to resolve this game. And I'm amazed how Westbrook was able to go coast to coast in the third overtime. It was noticeable to see Embiid get gassed; it was his first time going over 40 minutes (48:39!) in a single game.
And we were even scratching our head at times. Westbrook missed free throws throughout (including the last two but the final foul shot sealed the game). Andre Roberson passed up a wide open lay-up… and he still got it back and ended up missing the lay-up (with Embiid definitely getting his arm). And Simmons only shot once after regulation? Yikes.
After the game, Embiid responded to Westbrook's wave that "he is home." And that he wishes he could shoot 33 times in a game. You gotta love Joel Embiid.
All-in-all, it was everything we wanted in an NBA game. And it was during mid-December! You just never know, sometimes, when you're going to get a gem like this.
BULLET PASSES
*So the Bulls have the longest win streak in the Eastern Conference. They've won five straight games and we mentioned the return of Nikola Mirotic. Well, his best friend, Bobby Portis (I kid!) went off for a career-high 27 points. The NBA is weird.
*It's so weird. Will the Rockets ever lose with Chris Paul in the line-up? That's 12 straight wins and 13-0 overall with CP3. The team they thrashed, the Spurs, are 0-2 WITH Kawhi Leonard active. Will the Spurs EVER win with Kawhi in the line-up?
*Rudy Gobert got hurt and it's believed to be an MCL sprain. Hopefully, he won't be out for long.
The Jazz did get revenge against Gordon Hayward (who obviously didn't play) and the Celtics.
*Erik Spoelstra has now tied Pat Riley for most wins as coach of the Heat. That's Spoelstra's 454th career win.
*Jahlil Okafor suited up for the Nets for the first time and had 10 points and four rebounds. Too bad, the Raptors smashed the Nets by 33.
*Welcome back, Nikola Jokic. He came off the bench and had 13 points and 11 boards in 22 minutes. The Nuggets won in OT.
SCOREBOARD
12/15/2017
MIA 104 (14-14) @ CHA 98 (10-18)
DET 104 (16-13) @ IND 98 (16-13)
POR 95 (15-13) @ ORL 88 (11-19)
OKC 119 (14-14) @ PHI 117 (14-14) [3OT]
LAC 91 (11-16) @ WAS 100 (16-13)
UTA 107 (14-15) @ BOS 95 (24-7)
BRK 87 (11-17) @ TOR 120 (19-8)
ATL 94 (6-23) @ MEM 96 (9-20)
CHI 115 (8-20) @ MIL 109 (15-12)
NO 111 (15-15) @ DEN 117 (16-13)
SA 109 (19-10) @ HOU 124 (23-4)
LINE CROSSER
Sure, he shot badly. 10 for 33. But you cannot dispute this line from Russell Westbrook:
27 points, 18 rebounds, 15 assists.
That's his 10th triple-double this season.
WATCH THIS PLAY
(VIDEO CREDIT: Bleacher Report.)
Shoutout to the son of Arvydas, Domantas Sabonis for this jam.
But Friday was all about Westbrook. He went coast to coast and dunked on Dario Saric's mug. And this was in the THIRD OVERTIME.
---
Hey now! Follow Rey-Rey on Twitter at @TheNoLookPass.
You can also see some of his work at Forum Blue & Gold, a site specializing on the Los Angeles Lakers.
Also, while it's on hiatus due to personal and health issues, you can listen to old episodes of Rey-Rey's podcast, Rey-Rey Is Fundamental, which has NBA talk and other topics. The podcast will be back as soon as he's healthy.