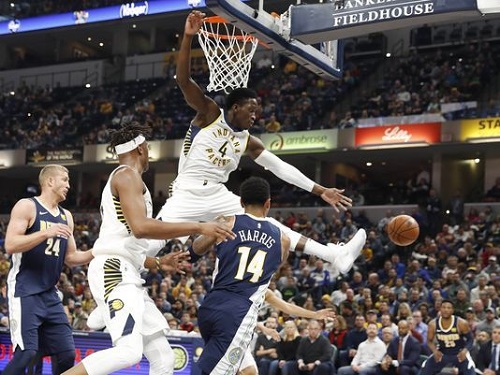 (PHOTO CREDIT: Brian Spurlock/USA Today.)
Sometimes, all you need is a new scenery. It'll give you a fresh start in life and your career.
In Victor Oladipo's case, he got to go back "home." He played college ball in Indiana University so this atmosphere is very familiar to him. He was sent to the Pacers along with Domantas Sabonis in the huge Paul George trade. Things didn't exactly work out in Oklahoma City as he dealt with some injuries and he wasn't a great fit with a dominant Russell Westbrook.
Now? He's just playing ball and having a hell of a season. It's more than a bounceback campaign for Vic; he seems comfortable and very happy. There were no expectations for the Pacers and Oladipo before the season started. After all, he was cast aside by the Magic and the Thunder.
And yeah, it took him a few years for the former #2 pick to flourish. But a lot of players take a few years to become an awesome player. Kobe Bryant wasn't Kobe until his third or fourth year. Grant Hill broke out on his third season. Stephen Curry became that guy in his fourth season. Sure, Oladipo took a different path; it's his third team in three seasons. But he's also learned some painful lessons along the way. Oladipo was stuck in rebuilding hell for three seasons and he didn't know if he was the #1 option. He was in a decent team last year but we knew that was Westbrook's team. Now he is in a team teeming with potential. Along with his growth as a player, he knows what he has to do to put himself and his team in a position to succeed. Plus it definitely doesn't hurt to be back home again.
Entering their game against the Nuggets, he was averaging a career-best 23.6 points, 5.3 boards, 3.9 assists, and 1.8 steals. To go with those, he's also shooting his best at .482 from the field and .439 from three.
He dominated against Denver, scoring 47 points, grabbing 7 rebounds, and dishing out 6 assists. Oladipo got to the rim at will. They couldn't leave him alone outside; he made six threes. And he had a little old-school midrange game that got the Nuggets defenders skittish. He's such a different player this season.
Hope Oladipo keeps playing like this. Initially, pundits thought OKC ripped Indy off. But with the way Oladipo is playing (and Domantas Sabonis having an excellent year off the pine), it's like Indiana stole those two from the Thunder.
BULLET PASSES
*It really saddens me to see seemingly-rising teams Pistons and Sixers go on skids. Detroit basketball has dropped their last six games (tough loss against Boston) and Brotherly Love has lost their last four contests.
*On the other side, we mentioned the happy Pacers. They've won four straight with immense help from Oladipo.
*Indy doesn't have the longest current win streak in the East, though. Toronto has silently won six in a row.
*By the way, James Harden32.3. Second place? Giannis Antetokounmpo is at 29.8.
*Jrue Holiday providing 34 points to the Pelicans win is something New Orleans definitely needs more. Make them a REAL big three.
SCOREBOARD
12/10/2017
TOR 102 (17-7) @ SAC 87 (8-18)
BOS 91 (23-5) @ DET 81 (14-12)
DEN 116 (14-12) @ IND 126 (16-11) [OT]
PHI 124 (13-13) @ NO 131 (14-13)
DAL 92 (7-20) @ MIN 97 (16-11)
ATL 107 (6-20) @ NY 111 (13-13)
LINE CROSSER
Give that Oladipo line again:
47 points, 7 rebounds, 6 assists.
Oladipo is averaging 31.8 points, 7.0 rebounds, 4.6 assists, 1.2 blocks, and 2.0 steals in the month of December.
WATCH THIS PLAY
(VIDEO CREDIT: petmalu_pet.)
It's a Pacers Sunday, I guess! Here's Thaddeus Young sending the game to overtime.
---
Follow Rey-Rey on Twitter at @TheNoLookPass. You can also see some of his work at Forum Blue & Gold, a site specializing on the Los Angeles Lakers. And lastly, it's on hiatus due to personal and health issues but you can listen to old episodes of Rey-Rey Is Fundamental, which consists of NBA talk and other topics he feels like talking about. The podcast will be back soon.