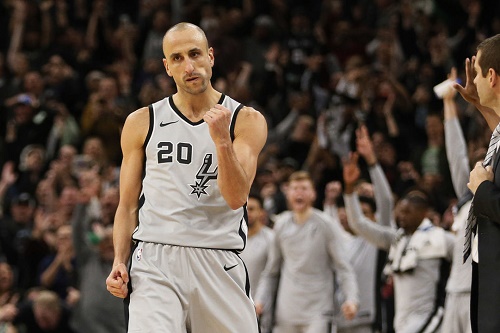 (PHOTO CREDIT: Soobum Im/USA Today.)
The Spurs have been winners for what seems like forever. And one big part of that winning train is Manu Ginobili, who is still making big plays at 40 years old. We saw a few big plays by Manu in that huge win over Boston on Friday night.
I feel like he doesn't get his just due. In the second half of his career, he's been a bench player, winning the Sixth Man of the Year award in 2007-08. He never really got to play big minutes like a normal starter would; the most he's ever played in a season was 31 minutes per contest. And he's made the all-star team only twice.
But every time he was on the court, he made an impact. He's hit big shots in the clutch for a long time (again, Friday night was a good example). He seems to surprise everyone with a big dunk (witness him mashing one against Chris Bosh in the 2014 NBA Finals). His herky-jerky movements on the court allows him to get inside, even if it drove Coach Gregg Popovich crazy.
I think what's endearing to me about Manu is that he is front and center whenever he does fail in big moments but would never run away from those moments. Remember when he fouled Dirk Nowitzki in Game 7 of the West Semis? Remember when he was just all over the place in the 2013 NBA Finals? But yet he kept coming back. He would help the Spurs win titles the next year after those mistakes.
And he's still playing really well at age 40. If he keeps playing like this, why would we want him to retire? His time will come soon enough but in the meantime, keep hitting those big shots. Keep making those big defensive plays. Keep getting that loose ball. Surprise us again with another huge jam.
I wish you could play forever, Manu Ginobili.
BULLET PASSES
*Cleveland's win streak is over, courtesy of the Indiana Pacers. And Victor Oladipo! Oladipo is having quite the season so far (averages of 23-5-4!). He pulverized the Cavs' chances of a 14th straight win after hitting a clutch three against them. He ended the game with 33-8-5.
Look. I know the Pacers traded Paul George and all but how are the Pacers suddenly WINNING this deal?!
By the way, Paul Pierce? Please pronounce his name correctly.
Paul Pierce said, "Victor Olive-a-dipo." pic.twitter.com/71jtUmYLcM

— Rey-Rey (@TheNoLookPass) December 9, 2017
*The Bulls won their fourth game of the season. Hooray for them. Two of their wins are against Charlotte. Chicago probably wishes they could play Charlotte all 82 games.
*Jaylen Brown forgot to put his goggles on while game was in play.
For a minute of play, Jaylen Brown wore his goggles on his forehead. pic.twitter.com/OSjxlqjXVX

— Rey-Rey (@TheNoLookPass) December 9, 2017
*We know the reputation of DeMarcus Cousins. He's a hothead. But you probably don't want to mess with Zach Randolph.
Z-Bo to Cousins:

"Where I'm from bullies get bullied. In my hood bullies get bullied."

— Kings on NBCS (@NBCSKings) December 9, 2017
Yeah. Z-Bo is a real one. By the way, the Kings won that game. Sweet revenge for Sactown.
*Draymond Green and Kevin Durant brought their work boots against the Pistsons. The Warriors had a total of 15 blocks but Draymond had six of them and Durant had five.
*Concussions are nothing to mess with. Get well soon, Aaron Gordon.
SCOREBOARD
12/08/2017
CHI 119 (4-20) @ CHA 111 (9-15) [OT]
CLE 102 (18-8) @ IND 106 (15-11)
DEN 103 (14-11) @ ORL 89 (11-16)
GS 102 (21-6) @ DET 98 (14-11)
SAC 116 (8-17) @ NO 109 (13-13) [OT]
DAL 102 (7-19) @ MIL 109 (14-10)
TOR 116 (16-7) @ MEM 107 (8-17)
BOS 102 (22-5) @ SA 105 (18-8)
LINE CROSSER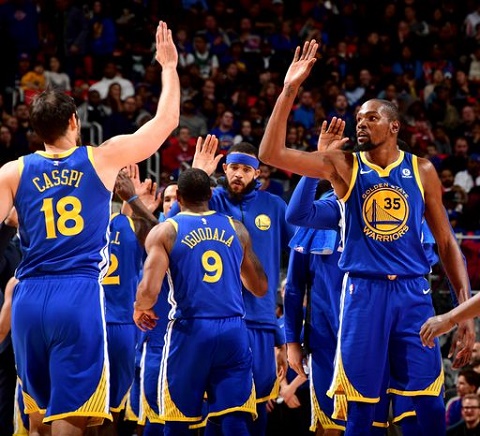 (PHOTO CREDIT: Chris Schwegler/Getty Images.)
There were a lot of good lines. But man, did Kevin Durant do everything against Detroit.
36 points, 10 rebounds, 7 assists, 5 blocks.
We didn't doubt it but man, he's just being dominant without Stephen Curry on the team.
WATCH THIS PLAY
(VIDEO CREDIT: Bleacher Report.)
Ah. Manu Ginobili still being clutch against the best. This tiebreaking three with 5 seconds left gave the Spurs the win.
---
Follow Rey-Rey on Twitter at @TheNoLookPass. You can also see some of his work at Forum Blue & Gold, a site specializing on the Los Angeles Lakers. And lastly, it's on hiatus due to personal and health issues but you can listen to old episodes of Rey-Rey Is Fundamental, which consists of NBA talk and other topics he feels like talking about. The podcast will be back soon.