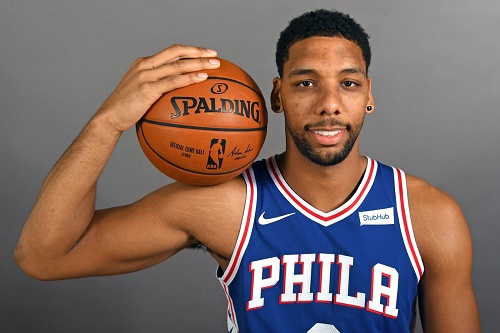 (PHOTO CREDIT: Erik Hartline/USA Today.)
So the Jahlil Okafor, uhhhh, experiment (?) is officially done in Philadelphia. For all those that hailed Sam Hinkie as some sort of god, one of his high draft picks didn't exactly work out.
The complete deal was…
SIXERS GET…
Trevor Booker.
NETS GET…
Jahlil Okafor.
Nik Stauskas. (Sauce Castillo!)
2019 Second Round Pick.
People like to rate trades immediately and judge which team won. I tweeted out that the Nets got all of this for Trevor Booker. It felt like the Sixers paid way too much to get Booker.
But it's really addition by subtraction. Okafor wasn't playing at all in Philly and we knew his time was up there. And Stauskas was barely getting any run; he's only played a total of 45 minutes this season. I am also aware how much the Sixers value their second round picks but they have like 417 of those in the next few years so it's okay to let go of one of them.
Booker is a bruiser and an energy guy. Every team needs one of those guys and he won't demand the ball as much. He's perfect for Philly's second unit. In nearly 22 minutes per game, he's averaging 10.1 points and 6.6 boards. He's been very productive everywhere he's gone (Wizards, Jazz, Nets). I like this for the Sixers.
It's all about another chance for Okafor and Stauskas to prove themselves. Stauskas shot under 37 percent from three last season and the Nets hope he can be a legitimate outside threat (they put up a lot of threes but are 24th in percentage). And Okafor, although he defends like a scarecrow, is an excellent low post scorer (to those that are saying he's a bust, he averaged 17.5 points per game in his rookie season). It's almost extinct in today's NBA but the Nets do need a go-to scorer inside. Maybe he'll thrive in a Nets uni like D'Angelo Russell has so far this season. Also, isn't it wild that the #2 and #3 picks of the 2015 Draft are playing in the same team? No way #1 Karl-Anthony Towns and #4 Kristaps Porzingis are going anywhere so the Nets should target #5 Mario Hezonja, who is currently in suspended animation in Orlando.
Also, the reason the Sixers need Trevor Booker?
The Sixers lost to the Lakers last night. At the end of the 3rd and 4th quarters, the Sixers had chances to get shots off with 0.8 seconds left on the clock. That's where they needed Booker:
(VIDEO CREDIT: NBA.)
Possibly the greatest buzzerbeater in NBA history. I am STILL amazed at that shot.
BULLET PASSES
*Lakers/Sixers game was really fun. Joel Embiid kept owning the Lakers. Ben Simmons' playmaking was incredible. Lonzo Ball was everywhere on the court. Brandon Ingram continued to show how good he was, especially with his game-winning shot. It was such a fun match-up. Maybe we'll get a Finals between these two in a few years.
*Donovan Mitchell has really picked up his scoring. He's averaging 28.6 points in his last five games. It's like Gordon Hayward never existed in a Utah uniform!
*But I mean, Houston is just rolling. They're on top of their game as they have won their eighth straight game. Basically, they haven't lost since Chris Paul came back.
*Oklahoma City continues to baffle. Russell Westbrook has really picked it up in the last few games at the cost of the other all-stars' production (although Paul George didn't play against the Nets). But now they have to strike some sort of balance. It's obvious Westbrook plays best when he's going wild but the other two still need their touches. I don't know how long until they figure it out but OKC may not have another shot at good players like these if both George and Carmelo Anthony leave town in the summer.
*DeMarcus Cousins, please calm down.
SCOREBOARD
12/07/2017
LAL 107 (9-15) @ PHI 104 (13-11)
WAS 109 (14-11) @ PHX 99 (9-18)
OKC 95 (11-13) @ BRK 100 (10-14) (played in Mexico)
HOU 112 (19-4) @ UTA 101 (13-13)
LINE CROSSER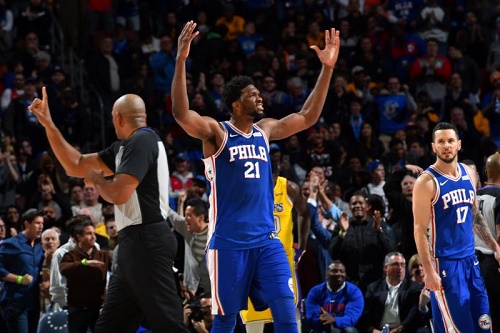 (PHOTO CREDIT: Jesse D. Garrabrant/Getty Images.)
Ben Simmons got a triple-double. Lonzo Ball nearly got a 5×5. Russell Westbrook and Chris Paul got close to trip-dubs themselves. But this one's going to Joel Embiid:
32 points, 7 rebounds, 6 assists, 5 blocks.
Embiid just owns the Lakers, doesn't he?
WATCH THIS PLAY
(VIDEO CREDIT: K4ΠGK0ΠG.)
What else? Brandon Ingram putting a halt to the process for one night with this icy three.
---
Follow Rey-Rey on Twitter at @TheNoLookPass. You can also see some of his work at Forum Blue & Gold, a site specializing on the Los Angeles Lakers. And lastly, it's on hiatus due to personal and health issues but you can listen to old episodes of Rey-Rey Is Fundamental, which consists of NBA talk and other topics he feels like talking about. The podcast will be back soon.