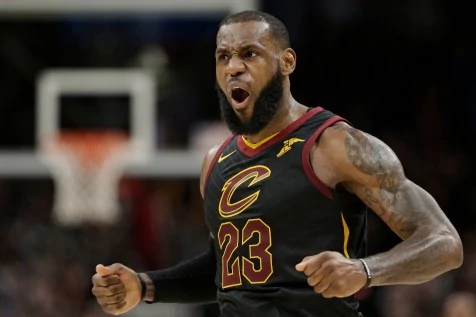 (PHOTO CREDIT: Tony Dejak/AP.)
LeBron James just keeps doing it.
A lot of star players that stay healthy don't even make it to a 15-year NBA playing career. Yet, here's LeBron James and a lot of people will still say he's the best player in the NBA. HIS FIFTEENTH SEASON.
How rare is that? Kobe Bryant was still super productive in his 15th season (that was the season after Kobe won his fifth championship). Kareem Abdul-Jabbar continued to be incredible in his 15th season. We were amazed when Shaquille O'Neal had his last gasp as an all-star in his 16th season. Wilt Chamberlain didn't even have a 15-year playing career.
But we haven't seen much of a dropoff (if any) from LeBron James. Yeah, his vertical jump isn't as high as it used to be (remember when he missed a breakaway windmill dunk this season?) but in all other facets of the game, he's still very monstrous. For crying out loud, he just hit yet another clutch three (this time, against Sacramento) and he mentioned in his postgame interview that "it was his time." HIS TIME? 15 YEARS IN THE LEAGUE!
He has his Cavs in the midst of a 13-game winning streak. Mainly because he's really had to carry this team. A fifth MVP award is very realistic here. Again, in his 15TH SEASON. He has so much mileage on his body. LeBron has already played more career regular season minutes than Shaq. But he has played the most playoff minutes in NBA history other than Tim Duncan. And we keep wondering why he doesn't get tired.
It's still amazing to me how fans keep downplaying him on how he's not clutch or he's not better than certain players. Can't we just enjoy what he's doing right now? He's possibly the greatest player of this generation. He's averaging 28-8-9 this season. HIS FIFTEENTH. That's inhuman to me.
His decline can be any minute now. Father Time is undefeated and LeBron is somehow holding on than anyone anticipated. Let's take pleasure in watching one of the best to ever play the game.
There are some players like Kevin Durant, James Harden, Stephen Curry, Russell Westbrook, and Kyrie Irving who are already great. Then there are others knocking on the door of greatness (if they already haven't smashed it down) like Giannis Antetokounmpo and Kristaps Porzingis. But there's only one LeBron and I am so happy I've gotten to watch him over the past 15 years (even if I admittedly disliked him immensely in his earlier years).
BULLET PASSES
*The Clippers lost again and are now 8-15. They did get some good news as Danilo Gallinari came back from injury. But right now, it's Doc's son, Austin Rivers, and Lou Williams carrying their offense. Not a great sign.
I have this feeling again for the Clippers. It's like we forgot how much they lost before Blake Griffin and Chris Paul got there. But now they've turned back into those lovable losers again where they'd make a spirited comeback from a huge deficit against a good team… only to fall short of the win. That's where they are until Blake comes back. And even then, it might be too late.
*The Timberwolves winning has pushed them back to fourth in the West. It's a tough battle from the 4-9 spots. Portland is healthy. Oklahoma City might figure it out. Utah is having a surge with Donovan Mitchell emerging as a threat. New Orleans and Denver are trying to hold on as they're wrecked with injuries.
But they might not be able to touch the Top 3 come playoff time. Houston is having a great run right now. We still have the Golden State Warriors ruling the league and they're without Stephen Curry at the moment. How the Spurs are third without Kawhi Leonard is beyond me.
*I'm still amazed Boston is 22-4 with practically a new team (talented, no doubt).
*We're seeing a similar battle in the East around the 4-10 spots. I'm becoming more of a believer of the Sixers. I'm also liking Detroit. I thought that, with Giannis stepping his game up, the Bucks would be a little better. Washington is struggling (especially without John Wall) and the Pacers are somehow doing well with Victor Oladipo as the lead. The Knicks are also doing better than anticipated and the Heat may have another winning streak in them later so they're dangerous.
*All in all, I continue to love this parity going on in the league. Even if it turns out to be the predictable Warriors/Cavs IV.
SCOREBOARD
12/06/2017
CHI 96 (3-20) @ IND 98 (14-11)
ATL 106 (5-19) @ ORL 110 (11-15) [OT]
SAC 95 (7-17) @ CLE 101 (18-7)
MEM 88 (8-16) @ NY 99 (12-12)
DAL 90 (7-18) @ BOS 97 (22-4)
DEN 114 (13-11) @ NO 123 (13-12)
DET 100 (14-10) @ MIL 104 (13-10)
GS 101 (20-6) @ CHA 87 (9-14)
MIA 105 (11-13) @ SA 117 (17-8)
MIN 113 (15-11) @ LAC 107 (8-15)
LINE CROSSER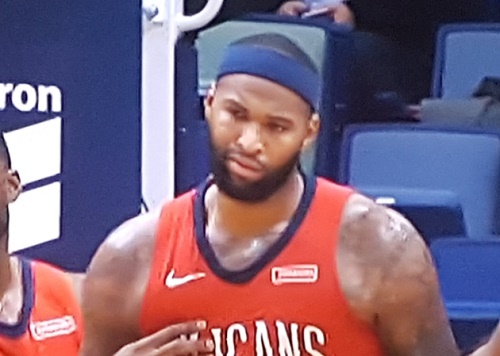 DeMarcus Cousins went off against the Nuggets:
40 points, 22 rebounds, 4 blocks.
Shoutout to Kevin Durant going for a trip-dub without Stephen Curry. But we can't ignore what Boogie just did.
Couple of tidbits:
Boogie went for 40 pts, 22 reb. Drummond had 27 pts, 20 reb. First time two players had 25/20 on same day since 04/17/2013.

— Rey-Rey (@TheNoLookPass) December 7, 2017
Those two players? Boogie (36 pts/22 rebs) and LaMarcus Aldridge (30 pts/21 rebs).

— Rey-Rey (@TheNoLookPass) December 7, 2017
Boogie had 22 rebounds. DeAndre Jordan ended with 21 and Drummond had 20. https://t.co/3XOzwMsl1z

— Rey-Rey (@TheNoLookPass) December 7, 2017
Those three players were Drummond, DeAndre, and Zach Randolph.

— Rey-Rey (@TheNoLookPass) December 7, 2017
WATCH THIS PLAY
(VIDEO CREDIT: Dynasty Sports.)
Victor Oladipo continues his excellent season. He picks up the loose ball as the Bulls lose the rock and pulls up for the go-ahead three. This led to the close Pacers win.
---
Follow Rey-Rey on Twitter at @TheNoLookPass. You can also see some of his work at Forum Blue & Gold, a site specializing on the Los Angeles Lakers. And lastly, it's on hiatus due to personal and health issues but you can listen to old episodes of Rey-Rey Is Fundamental, which consists of NBA talk and other topics he feels like talking about. The podcast will be back soon.