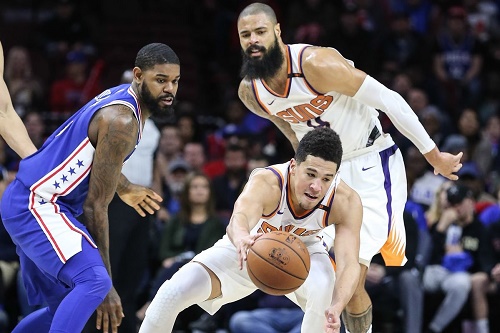 (PHOTO CREDIT: Steven M. Falk/Philly.Com.)
Sometimes, I see some writers (and fans) on Twitter and they spark huge debates on which player is "better." It was really offputting to see people say that Devin Booker is NOT a good basketball player. We saw Andrew Wiggins vs Robert Covington debates. I was waiting for people to say some 10th man from a team is better than Stephen Curry because of the per 36 numbers.
There is kind of a reason why players are put into certain roles. Because they're really good at certain things. You WANT your best scorer or/and playmaker to be the #1 option on offense. There are players who shine on limited roles. If those players on limited roles try to do too much, their weaknesses could get exposed.
What does Covington do for the Sixers? He just sort of parks at the three-point line and will do the occasional cut or drive to the basket. And we know he's an excellent defender. But he doesn't get the ball as much as a Ben Simmons or Joel Embiid would. What if you switch their roles? Would Covington be as effective? Wouldn't we have an outrage that Simmons just becomes a bystander when we know he's capable of so much more?
Wiggins is the #1 or #2 option in the Timberwolves. Wouldn't we also be outraged if we have Jeff Teague do all the scoring? Wiggins is CAPABLE of scoring in bunches and that's why he's in his role. Obviously, other mitigating factors like salary and age come into play; Wiggins was the first pick in 2014 while Covington went undrafted. I'm glad Covington is getting the props for what he's doing but let's face it; he's realistically no more than a fourth option on a team. And he does it very well. Wiggins is still learning on the job as one of the top two options on a team.
I also mentioned age. Wiggins is obviously very young at 22 and Covington is about to turn 27. You pretty much hit your prime around 28-32 so Wiggins can still grow as a player while Covington is pretty much what he is now. And again, they play two different roles. Would you actually straight up deal Wiggins for Covington?
So it bothers me when people say Devin Booker is not a good player. If he wasn't, then everyone in the NBA can score 70 points in an NBA game. How come only SIX players (including Booker) have done it in NBA history?
Booker is a great scorer. He's still only 21 years old (again, he scored 70 points at age 20!). Obviously, he has a lot of things to work on. He could be a better playmaker though he is improving. He could definitely be a better defender (there were times where you could see he's pretty good, though). But it doesn't mean Booker sucks. The man is averaging 24.3 points this season. Not anyone can do that. Can you trust anyone else in the Suns that can take the scoring load? No? Okay.
It just makes me think that in these times where we use analytics a lot more, pure scorers are getting a bit of a bad rap. We have to realize that players are in their roles for a reason. And while there is the cost of efficiency, do you think other players in that team could do better in that role? Probably not, right?
Yes, scorers like Wiggins and Booker can improve their game. It doesn't mean that they're NOT GOOD NBA PLAYERS. But they sure can get to the next level within due time.
Or not.
BULLET PASSES
*This should be my new motto. "We won so **** it."
Marc Gasol after the #Grizzlies snap the 11 game losing streak: "Overall, we won so f*ck it." pic.twitter.com/FlGTCqInCW

— Def Pen Hoops (@DefPenHoops) December 5, 2017
Marc Gasol ended up getting fined for $15K. But hey, the Grizz snapped their 11-game losing streak so it must have been worth it!
*Stephen Curry rolled his ankle at the end of the Warriors/Pelicans contest. He will be reevaluated in a couple of weeks which means that we'll get to see a Warriors team led by Kevin Durant. The team is built around Curry so we'll see how the adjust to this. Also, I'm a little nervous for Curry because it's those ankle injuries that really slowed him down early in his career.
*We had our third 50-point game of the season as Bradley Beal exploded against Portland with 51 points. Yeah, it was definitely a career-high.
*Dwight Howard is having a rebirth of sorts in Charlotte as he's averaging 15.1 points and 12.4 boards. But the team is still 9-13. It's because they're getting burned by three-pointers (opponents make two more per game against the Hornets). They're in the middle of the road in terms of defensive rating. So while Howard has helped on that end, he can't do much about the perimeter defense.
*Get well, Steve Clifford. No timetable for his return. Stephen Silas will take over in his place.
*Are we sleeping on the Raptors right now? They are Top 10 in both offensive and defensive ratings and there is a lot more ball movement going on in Canada. Hmmmmm.
*By the way, the Cavs won their 12th straight game.
SCOREBOARD
12/04/2017
NY 97 (11-12) @ IND 115 (13-11)
ORL 94 (10-15) @ CHA 104 (9-13)
PHX 115 (9-16) @ PHI 101 (13-10)
MIL 100 (12-10) @ BOS 111 (21-4)
BRK 110 (9-14) @ ATL 90 (5-18)
CLE 113 (17-7) @ CHI 91 (3-19)
MIN 92 (14-11) @ MEM 95 (8-15)
GS 125 (19-6) @ NO 115 (12-12)
DEN 105 (13-10) @ DAL 122 (7-17)
DET 93 (14-9) @ SA 96 (16-8)
WAS 69 (12-11) @ UTA 116 (13-11)
12/05/2017
PHX 113 (9-17) @ TOR 126 (15-7)
UTA 94 (13-12) @ OKC 100 (11-12)
WAS 106 (13-11) @ POR 92 (13-11)
LINE CROSSER
12/04/2017
Devin Booker only had four points in the first quarter. In fact, he started out 1 for 10. But he finished with:
46 points, 8 rebounds.
He went 16 for 22 in the final three periods.
12/05/2017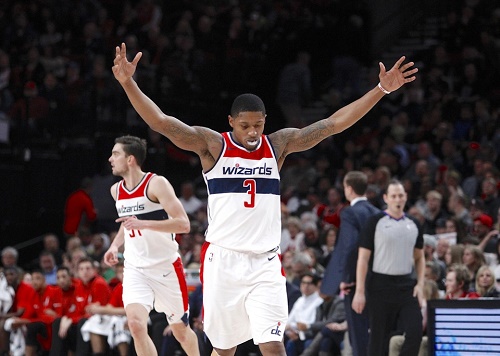 (PHOTO CREDIT: Sean Meagher/The Oregonian.)
We know Russell Westbrook got a triple-double but we just can't ignore this from Bradley Beal:
51 points (5/12 3FG).
He got over the 50 spot when he cherrypicked for a slam. I love it.
WATCH THIS PLAY
12/04/2017
(VIDEO CREDIT: Detodo Unpoco.)
Look at Donovan Mitchell throw this down off TNLP by Ricky Rubio.
12/05/2017
(VIDEO CREDIT: Ximo Pierto.)
Russell Westbrook smashes the rock down in this beautiful give-and-go.
---
Follow Rey-Rey on Twitter at @TheNoLookPass. You can also see some of his work at Forum Blue & Gold, a site specializing on the Los Angeles Lakers. And lastly, it's on hiatus due to personal and health issues but you can listen to old episodes of Rey-Rey Is Fundamental, which consists of NBA talk and other topics he feels like talking about. The podcast will be back soon.