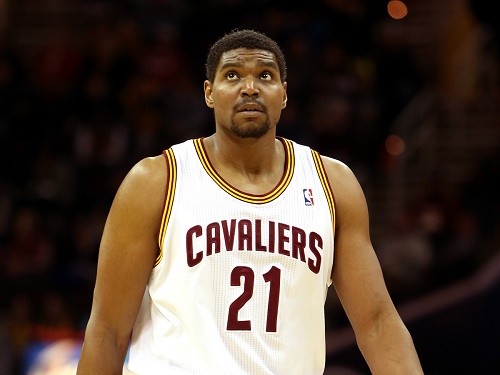 (PHOTO CREDIT: Mike Lawrie/Getty Images.)
Yeah. I know about the whole Derrick Rose thing. It was mentioned on Friday that he could probably retire from basketball because of his frustrations with injuries.
His off the court stuff hasn't exactly endeared me to Rose. So without going further with him, I'll talk about the human aspect of this problem.
Greg Oden. Andrew Bynum. Brandon Roy. All of these guys have had multiple knee injuries.
Oden had the most nightmarish NBA career of all of these three. He had expectations that were out of this world. Oden was even compared to Bill Russell and he talked about winning multiple championship rings.
He couldn't get on the court, though. First, he didn't play the first year he was out of college because of his knee injury. He did play 61 games on his "rookie" year and showed some promise. Then it all came crashing down next season. He hurt his knee without contact and would be out the rest of the 2009-10 season. Oden had multiple knee surgeries but kept having setbacks. He would eventually not play until the 2013-14 season, where he landed with the Miami Heat. Oden played limited minutes for the Heat in 23 games and was even part of the team that went to the Finals. But after that, he was done. So much potential but he ended up only playing 105 games in his NBA career. Trying to come back takes a toll on your mental health as well as your physical health.
Bynum's career was also cut short due to multiple knee injuries. He debuted in 2005 and was surprisingly having a breakout season in 2007-08. But a knee injury destroyed his season. He was having an excellent season the next campaign but another knee injury caused him to miss 32 games. In 2009-10, yet another knee injury slowed him down but he played the rest of the postseason. He had more surgeries before he became an all-star in 2011-12. He was traded to Philadelphia where he didn't play a single game due to more knee issues. Bynum tried to revive his career in Cleveland and then Chicago but he hasn't played since 2013-14.
Brandon Roy has had a lot of knee problems since college. It caught up to him after he got injured in the 2010 playoffs. The lack of cartilage on his knees would force Roy to take a limited role in the 2010-11 season. Roy would have a memorable Game 4 in the first round of the playoffs against the eventual champion Dallas Mavericks where he scored 18 of his 24 points in the fourth quarter. The Blazers would end up losing the series in six but that game would be Roy's last stand. He would retire due to those knee injuries. After a season, Roy decided to make a comeback in 2012-13. He signed with the Timberwolves but would only play five games before needing knee surgery. Roy retired for good.
So my point is that the players put their bodies through hell just so that they can play the game that has made them millionaires. It has to be a mental anguish to go through multiple knee surgeries. Plus when you step on the court, you're going to have these thoughts. "What if I hurt myself again?" "Can I still do this move?" "Can I still run as fast?" It's such a frustrating mental block. And I can't blame players for wanting to retire after they had gone through enough of this. Rehab is not fun. Not playing is not fun. And they're in pain while they recover. There's too much time involved and they only have a limited window on how long they can play.
Hopefully, players can find happiness with their post-athletic life when they eventually do retire. It sucks to have to go through all of this mental and physical stress.
SCOREBOARD
11/24/2017
POR 127 (11-8) @ BRK 125 (6-12)
NY 104 (10-8) @ ATL 116 (4-15)
ORL 103 (8-11) @ BOS 118 (17-3)
CHA 99 (8-10) @ CLE 100 (12-7)
TOR 104 (11-7) @ IND 107 (11-8)
MIA 109 (9-9) @ MIN 97 (11-8)
DET 99 (12-6) @ OKC 98 (8-10)
MEM 92 (7-11) @ DEN 104 (11-8)
NO 115 (11-8) @ PHX 91 (7-13)
CHI 94 (3-14) @ GS 143 (14-5)
11/25/2017
SA 106 (12-7) @ CHA 86 (8-11)
ORL 111 (8-12) @ PHI 130 (11-7)
POR 108 (12-8) @ WAS 105 (10-9)
TOR 112 (12-7) @ ATL 78 (4-16)
BOS 108 (18-3) @ IND 98 (11-9)
NY 102 (10-9) @ HOU 117 (15-4)
OKC 81 (8-11) @ DAL 97 (5-15)
NO 95 (11-9) @ GS 110 (15-5)
MIL 108 (9-9) @ UTA 121 (9-11)
LAC 97 (7-11) @ SAC 95 (5-14)
LINE CROSSER
11/24/2017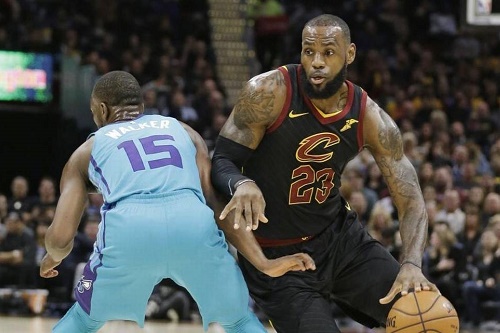 (PHOTO CREDIT: Tony Dejak/AP.)
LeBron James continues to do what he can for the Cavs as the team streaks into December. He did this against the Hornets:
27 points, 16 rebounds, 13 assists, 3 blocks.
That was his 57th career triple-double.
11/25/2017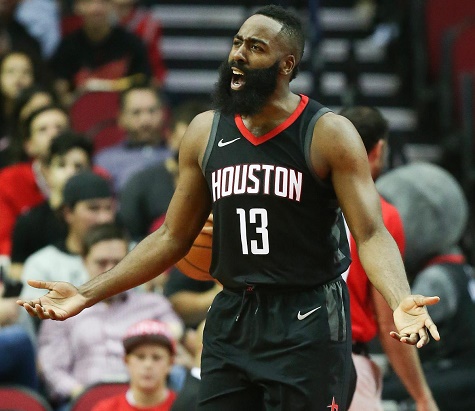 (PHOTO CREDIT: Eric Christian Smith/AP.)
James Harden led the comeback against the Knicks with:
37 points, 10 assists.
The Rockets were down by as many as 22 points. But with Harden leading that incredible offense, no deficit is too much for Houston.
WATCH THIS PLAY
11/24/2017
(VIDEO CREDIT: whodey.)
The Warrior bigs getting it done with Zaza Pachulia and Jordan Bell teaming up on an alley-oop.
11/25/2017
https://youtu.be/F2Qw8wgcnoU
(VIDEO CREDIT: Ximo Pierto.)
Blake Griffin sinks the eventual go-winner with 3.2 seconds against the Kings. He's had his share of winners.
---
Follow Rey-Rey on Twitter at @TheNoLookPass. You can also see some of his work at Forum Blue & Gold, a site specializing on the Los Angeles Lakers. And lastly, it's on hiatus due to personal and health issues but you can listen to old episodes of Rey-Rey Is Fundamental, which consists of NBA talk and other topics he feels like talking about. The podcast will be back soon.