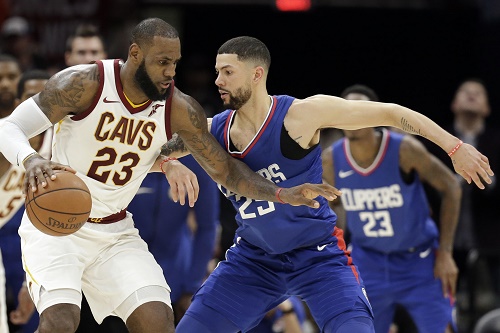 (PHOTO CREDIT: Tony Dejak/AP.)
The Cleveland Cavaliers have won four straight games. The worries haven't really subsided as much; they're still last in defensive rating (allowing 112.4 points per 100 possessions). But LeBron James is having a hell of a season.
But as Draymond Green mentioned, LeBron is playing too many minutes. LeBron agreed.
LeBron leads the league in minutes played. Not just in average but in total minutes. He's at 38.6 per game and at a total of 617. This probably wouldn't be a problem if he was still in his early 20s and in his third or fourth year in the NBA. He's in his 15th season.
Not only that but he's played deep into June MORE than half his career. LeBron has 41,889 minutes played in the regular season, which is 27th of all-time and 29 minutes fewer than Shaquille O'Neal. Let's ALSO add 9,127 minutes from the postseason, which is the second most in history.
That is a LOT of mileage.
Now you can argue that he's in this MVP race early at 28.9 points, 7.8 rebounds, and 8.6 dimes per game WHILE he's shooting .585. But the only reason why the Cavs are staying afloat as of now is BECAUSE LeBron is working too damn hard. The guy's not a spring chicken in terms of the league. A lot of great players in the history of this league don't even reach 15 seasons. Yet here he is playing nearly 39 minutes per game in a more athletic and physical league.
That decline can come at you just like that. Thank goodness we haven't seen it in LeBron yet. But with the grind of the NBA seasons, the body just wears down. If the Cavs want to have a chance at the title, they should lessen LeBron's workload.
Unfortunately, I'm not sure when they can do that. Their defense is still bad. LeBron has to be in the game for the Cavs to have a chance at winning games. I know Tyronn Lue is trying to manage minutes for everybody; only J.R. Smith plays more than 30 minutes per game (Kevin Love is at 29.9). But he can't manage LeBron's just yet until probably when Isaiah Thomas makes his debut for the team.
What is it that people say? Life comes at you fast. And that life can shut a window quickly if LeBron gets hurt playing too many minutes. They'd better take care of this sooner or later.
Or else…
BULLET PASSES
*I know many people did all their takes about the Boston Celtics beating the Golden State Warriors. The Celtics always gave the Warriors fits in the last few years. Brad Stevens has something on these guys.
But did the game mean a lot? The way I look at it is that it's a fantastic confidence booster for the Celtics. But unless they meet in the Finals, I don't think it meant that much. After all, they're in different conferences and they can only meet in the last round of the postseason.
It was a hell of a game, though, right? The Celtics have won 14 straight.
*The Houston Rockets put up 90 points. IN THE FIRST HALF. This coincided with Chris Paul's return to the team. But James Harden had a HUGE game.
*The Rockets ended up with 142 points. The Nuggets on Friday night went for 146!
*It's heartbreaking to see Kemba Walker miss a go-ahead lay-up with seconds left in the contest. And he had a huge game, too. The Hornets have lost six straight games. Oof.
*The Clippers are also in a tailspin. Longest losing skid in the league with seven losses. I thought in the first week that they were better than I thought. Now? They're worse than I thought. LIFE COMES AT YOU FAST.
*The Spurs don't have the most sparkling record at 10-6. But they did come back from 23 down to beat the Thunder, who were catching a bit of fire. Let's also remember that Kawhi Leonard hasn't played a minute.
*But shhhhh! The Minnesota Timberwolves have the third best record in the West with 10-5.
*The Suns/Lakers game had a bit of shoving match between Kentavious Caldwell-Pope and Tyler Ulis. Lonzo Ball was visibly shown walking away from the skirmish.
Lonzo didn't want a technical foul. That's fine. If his teammates were upset that Lonzo didn't get involved, I get that, too. But there hasn't been any noise from the team since then so I guess that's all we'll really hear from it. I hope.
*Ban injuries. Anthony Davis got a concussion on Friday night. Ugh.
SCOREBOARD
11/16/2017
GS 88 (11-4) @ BOS 92 (14-2)
HOU 142 (12-4) @ PHX 116 (5-11)
11/17/2017
DET 100 (10-5) @ IND 107 (8-8)
MIA 91 (7-8) @ WAS 88 (9-6)
UTA 107 (6-10) @ BRK 118 (6-9)
LAC 113 (5-9) @ CLE 118 (9-7) [OT]
NY 84 (8-7) @ IND 107 (10-5)
CHA 120 (5-9) @ CHI 123 (3-10)
OKC 101 (7-8) @ SA 104 (10-6)
MIN 111 (10-5) @ DAL 87 (2-14)
POR 82 (8-7) @ SAC 86 (4-11)
NO 114 (8-8) @ DEN 146 (9-6)
PHX 122 (6-11) @ LAL 113 (6-10)
LINE CROSSER
11/16/2017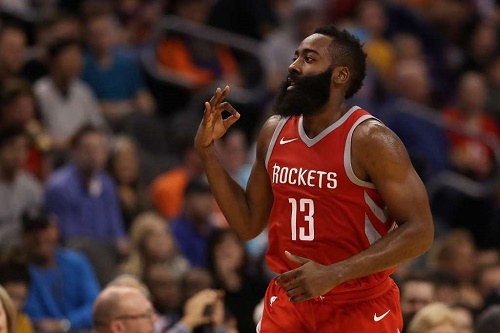 (PHOTO CREDIT: Christian Petersen/Getty Images.)
Like I said, James Harden overshadowed Chris Paul's return to the court.
48 points, 7 assists, 18/18 FT.
He scored 33 points in the first half. Paul ribbed that it was weak he couldn't get 50.
11/17/2017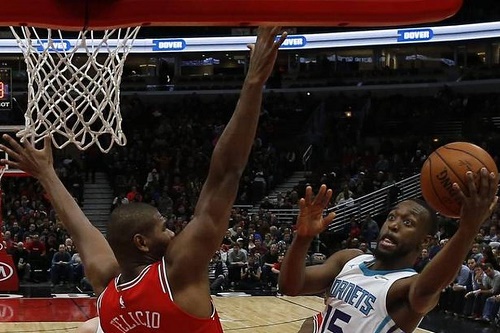 (PHOTO CREDIT: Jim Young/AP.)
Kemba Walker probably needed just a bit more to beat the Bulls. But seriously?
47 points, 6 rebounds, 5 assists.
It's too bad that the Hornets haven't won in a while.
WATCH THIS PLAY
11/16/2017
(VIDEO CREDIT: Green Mode.)
Goodness. Andre Iguodala can still do this.
11/17/2017
(VIDEO CREDIT: Detodo Unpoco.)
Before Anthony Davis went out with a concussion, he did this to Kenneth Faried.
---
Follow Rey-Rey on Twitter at @TheNoLookPass. You can also see some of his work at Forum Blue & Gold, a site specializing on the Los Angeles Lakers. And lastly, it's on hiatus due to personal and health issues but you can listen to old episodes of Rey-Rey Is Fundamental, which consists of NBA talk and other topics he feels like talking about. The podcast will be back soon.