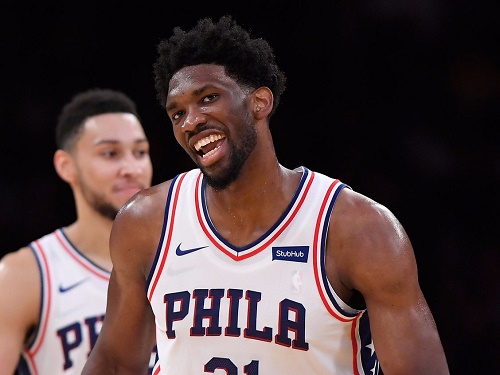 (PHOTO CREDIT: Mark J. Terrill/AP.)
So… trusting the process.
I was NOT a big fan of former Philadelphia 76ers General Manager Sam Hinkie's way of getting to the top. Lose a bunch of games and get the highest draft pick possible. In theory, it sounds like the quickest way to become a contender. In reality, I thought it stunk for a lot of reasons.
It sets off a BAD culture of losing for one thing. And the organization and fans can be patient for only so long. How long would this process take? Three years? Five years? A decade? You never want to miss the playoffs as an organization, obviously, but I thought three years was already long enough for a drought (try 13 years, says the Wolves).
And I mention the culture. Why would players wanna play for that team, knowing that winning isn't going to matter? Why would they even try? How are they even going to develop?
Anyway, Hinkie stepped down on April 2016. While he didn't do the best job in drafting, he did acquire a bunch of assets that would lead to this current team. His first draft pick, Nerlens Noel, was eventually dealt. He struck gold with Joel Embiid (and also Dario Saric, who ended up being stashed for a couple of years) but not before he missed two seasons. Jahlil Okafor wasn't the right pick; now he's waiting to be traded. And his final tanking job eventually led to the Ben Simmons pick. Plus because of his trades from previous drafts, that led to Markelle Fultz, who is currently hurt. (Philly certainly has a way of drafting players who always end up getting hurt for a year.)
I will definitely give Hinkie credit for finding Robert Covington (who has become one of the better 3-and-D wings today), T.J. McConnell (a scrappy back-up one), and drafting guys like Timothe Luwawu-Cabarrot.
So even though I disliked "the Process" itself, it's proving to be more and more fruitful this season. Ben Simmons is healthy and is a triple-double threat every game. Joel Embiid has become more and more terrifying as evidenced by his games in L.A. (32 points and 16 rebounds against the Clippers; and the huge statline below against the Lakers) When healthy, Embiid is probably the best center in the game with his versatility and size (7'2″!). And Covington is deservedly getting paid because of his tenacious defense and improving scoring. The addition of J.J. Redick is good for his veteran presence and additional shooting and Saric and McConnell provide some good support.
Let's hope the Sixers can stay healthy. And if they are, they will be a threat in the East once they become experienced and their core players go into their prime.
BULLET PASSES
*Soooo… the Cleveland Cavaliers have won three straight. So many worriers about this team.
*The battle of the bad teams turned out to be a laugher. A HUGE laugher. A 46-point victory by the Hawks over the Kings.
*Lonzo Ball is REALLY struggling and you wonder if all the off-court stuff is getting to him (his brother, LiAngelo, was arrested for shoplifting in China). His shooting looks awful and it's really gotten to the point that his play has become more of a liability. He sat down the fourth quarter for the second straight game.
*Welcome back, Rajon Rondo and Nicolas Batum.
*Back to winning streaks. Since Eric Bledsoe joined the Bucks, Milwaukee is 4-0. Uh-oh.
*The last five games the Raptors went over 100 points, they've won. So they better pick up the pace.
*Tonight's game between the Celtics and the Warriors is an early contender for best NBA game of the season on paper. Boston is going into this game with a 13-game winning streak while G. State has a 7-game win streak of their own. This should be fun!
SCOREBOARD
11/15/2017
UTA 101 (6-9) @ NY 106 (8-6)
SAC 80 (3-11) @ ATL 126 (3-12)
WAS 102 (9-5) @ MIA 93 (6-8)
CHI 79 (2-10) @ OKC 92 (7-7)
CLE 115 (8-7) @ CHA 107 (5-8)
IND 116 (7-8) @ MEM 113 (7-7)
DET 95 (10-4) @ MIL 99 (8-6)
TOR 125 (9-5) @ NO 116 (8-7)
SA 86 (9-6) @ MIN 98 (9-5)
ORL 94 (8-7) @ POR 99 (8-6)
PHI 115 (8-6) @ LAL 109 (6-9)
LINE CROSSER
Embiid did his thing in Los Angeles. Again.
(I was so glad I could just copy and paste the first sentence.)
46 points, 15 rebounds, 7 assists, 7 blocks.
Looking at Basketball Reference, no one has been able to do that line since 1983-84. I imagine Wilt Chamberlain did something like this but they didn't keep track of blocked shots until 1973.
This was just ridiculous.
WATCH THIS PLAY
(VIDEO CREDIT: Sports World Videos.)
Want more Embiid? How's this Eurostep? Come on, man. That's too much.
---
Follow Rey-Rey on Twitter at @TheNoLookPass. You can also see some of his work at Forum Blue & Gold, a site specializing on the Los Angeles Lakers. And lastly, it's on hiatus due to personal and health issues but you can listen to old episodes of Rey-Rey Is Fundamental, which consists of NBA talk and other topics he feels like talking about. The podcast will be back soon.