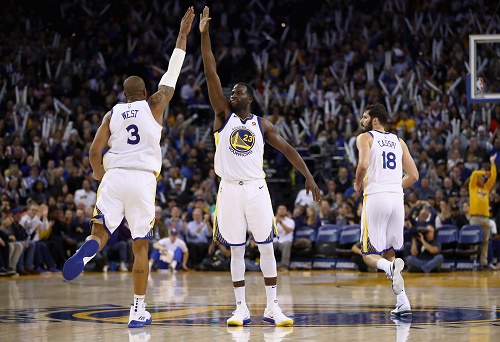 (PHOTO CREDIT: Ezra Shaw/Getty Images.)
I've been hearing this amongst fans and even writers that the Warriors make the league not so fun.
I can't speak for everyone else, obviously. I'm definitely not going to convince people on what I have to say about this subject. But the biggest complaint is that the Warriors are so good and making the league predictable so what's the point of watching the NBA?
Didn't we face this, uh, predicament in the 90s? What about the 80s? Because we had the Bulls dominating the 90s and the Lakers and Celtics running over everyone in the 80s. But it was great for the league, right? Star power and excellent basketball. What's not to like?
I'm not saying these people are wrong about how "predictable" the league can be. Usually, the best teams in the regular season win out in the playoffs. The oddball champion was the 1995 Rockets as they were the #6 seed in the West but even then, they were the champions the year before that. But we also remember last season when the Warriors and the Cavaliers ran through their conferences, only for the Warriors to set the best record in NBA playoff history by going 16-1.
We are in the Warriors era. But they haven't even been repeat champions. After all, the Cavs pulled off the comeback that is always talked about by fans in 2016. But still, we had the same Finals match-up for the last three seasons. People want something fresh. I totally get that.
The way I also look at it is that the league has so many other storylines going on. There are stars cluttered throughout the NBA. We're seeing the rise of Giannis Antetokounmpo and Kristaps Porzingis. We're awaiting the return of the Lakers with Lonzo Ball on the helm. James Harden and the Rockets are a revolution of their own with so many threes being shot. Russell Westbrook is a walking triple-double. And we're still waiting on how the Thunder's new trio are going to do.
Heck, I haven't even talked about the off-the-court shenanigans going on in the league. I'll talk more about the pettiness of some players below but there is more access than ever to the NBA and its players. The NBA has embraced social media like no other league. The community is mostly great, writers and fans alike. There is just so much to talk about.
And even if the Warriors win four straight championships, so what? We're going to be entertained just the same (or even more) as more players rise to greatness, more young prospects come in, and everyone gets to show their personalities on social media.
Besides, throughout all of this, I'll continue watching the NBA because… I love basketball. Do I need any other reason besides that? I stuck throughout the bad basketball of most of the 90s and early 2000s. Why quit now?
BULLET PASSES
*Some of the NBA can be really petty.
Take LeBron James for example. He's made it known that he's not a fan of Phil Jackson. Which somehow prompted him to say that the Knicks should've drafted Dennis Smith, Jr. instead of Frank Ntilikina.
This led to ride-or-die man Enes Kanter getting into a confrontation with LeBron in the Knicks/Cavs game. Much later, LeBron did his thing as he helped the Cavs come back from a huge deficit to beat the Knicks.
After that, LeBron claimed himself to be the King of New York. Enes Kanter went on to respond to that and I really wish that the queen and princess remarks were not insults.
LeBron decided not to take it any further, saying that he's not going to say Kanter's name. Man, they're so dramatic.
*After a hard foul by Willie Reed, Joel Embiid was juiced afterwards as he pretty much made fun of the Clippers throughout the game. Embiid said "(Reed) got a technical (flagrant) because he couldn't guard me." He even forgot Reed's name in one interview. Maaaaaaan.
*I find it hilarious that the Lakers are facing the Suns again this week. They're 2-0 against Phoenix this season. That probably helps in their decent start, which happens to be better than the Clippers' record. Ouch.
*By the way, the Lakers face the Sixers tonight. What a fantastic birthday present! Happy Birthday to me!
*Lastly, I love the notification I got from the NBA about the Celtics going after their 13th win (which they did and it's very very impressive):

I LOVE that they had to mention that Kyrie Irving was masked. But I'm so disappointed that they can't have black masks. Can they have colored masks? I'd totally wear pink if I had a broken nose.
SCOREBOARD
11/13/2017
SAC 92 (3-10) @ WAS 110 (7-6)
CLE 104 (7-7) @ NY 101 (7-6)
MEM 103 (7-6) @ MIL 110 (7-6)
ATL 105 (2-12) @ NO 106 (8-6)
LAL 100 (6-8) @ PHX 93 (5-10)
MIN 109 (8-5) @ UTA 98 (6-8)
DEN 82 (8-6) @ POR 99 (7-6)
PHI 109 (7-6) @ LAC 105 (5-8)
ORL 100 (8-6) @ GS 110 (11-3)
11/14/2017
BOS 109 (13-2) @ BRK 102 (5-9)
TOR 129 (8-5) @ HOU 113 (11-4)
SA 97 (9-5) @ DAL 91 (2-13)
LINE CROSSER
11/13/2017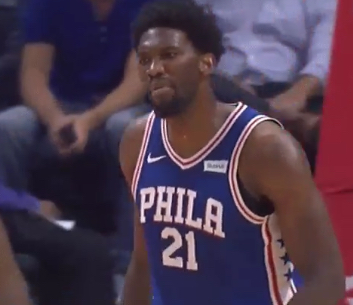 Embiid did his thing in Los Angeles.
32 points, 16 rebounds.
The process has been good.
11/14/2017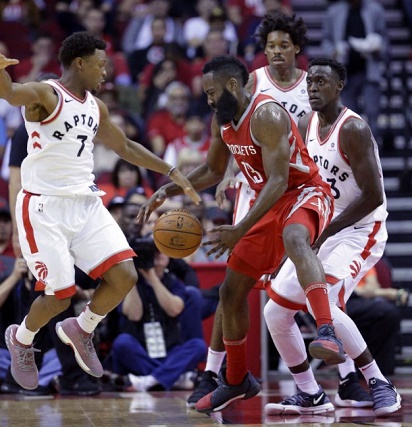 (PHOTO CREDIT: Michael Wyke/AP.)
The Rockets did lose but James Harden's statline stood out the most even though he shot 8 for 25:
38 points, 6 rebounds, 11 assists, 19/19 FTs
That is quite a hot line.
WATCH THIS PLAY
11/13/2017
(VIDEO CREDIT: Bleacher Report.)
LeBron James made this clutch three to break the tie and help give the Cavs the win over the Knicks. We already documented how much shade James gave the Knicks throughout the past few days.
11/14/2017
(VIDEO CREDIT: MLG Highlights)
Jaylen Brown made Barclays Center his own dunk playground.
---
Follow Rey-Rey on Twitter at @TheNoLookPass. You can also see some of his work at Forum Blue & Gold, a site specializing on the Los Angeles Lakers. And lastly, it's on hiatus due to personal and health issues but you can listen to old episodes of Rey-Rey Is Fundamental, which consists of NBA talk and other topics he feels like talking about. The podcast will be back soon.