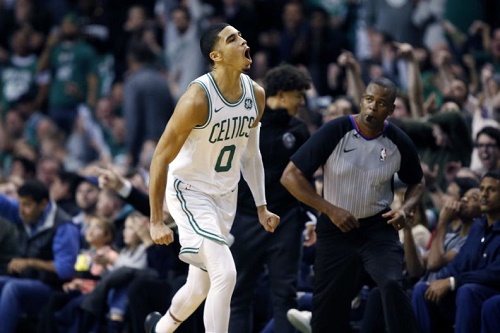 (PHOTO CREDIT: AP.)
So it's time to give some credit to the Boston Celtics. And to Brad Stevens.
I know people are always looking for something negative on face value. Trying to look for some context that would diminish the achievement a team has done.
Now I'm not saying they can suddenly make it to the NBA Finals and take out the Golden State Warriors (who have woken up themselves). But we should appreciate what Brad Stevens has done to this team.
First off, the injuries. Al Horford is out due to the concussion protocol. We all know what happened to Gordon Hayward. Then in Friday night's game, Kyrie Irving got taken out by Aron Baynes' elbow inadvertently that Dusty Rhodes would be proud of. Irving will likely go under the concussion protocol like Horford.
Yet they have won 11 in a row. I think a winning streak, no matter who their opponents are, gives huge confidence to a team and confidence can go a long way in sports and in life itself. The 11 opponents in this streak were… the Sixers (good team), Knicks (suddenly a good team), Bucks (about to take it to the next level), Heat (decent), Spurs (perenially good), Kings (eh), Thunder (SHOULD be good), Magic (improved), Hawks (blah), Lakers (ehhhh), and the Hornets (I don't know?). I mean, it's not like they beat a bunch of pushovers.
But what's even more impressive about this? How everything has come together for this team. Only four players have returned from last year's squad (Horford, Marcus Smart, Jaylen Brown, Terry Rozier). They added ready-for-primetime rook Jayson Tatum (he's one of SEVEN rookies on the team), castoff Shane Larkin, tough guy Baynes, and Marcus Morris along with Irving and Hayward (again, the latter is out for the season). And they have the #1 defense on this team. Irving isn't exactly known for his defense, either.
Yet they beat Charlotte after being down 18 and losing Kyrie. They just keep getting it done. How can you dismiss an 11-game winning streak with a bunch of guys that just started playing together last month? It's a testament to Brad Stevens and his staff. It's one thing if these guys had an 11-game win streak in March or April. But THIS early in the season? You have to realize how impressive that is.
It's early but I'll be shocked if Stevens isn't, at least, in consideration for Coach of the Year. If anything, that award is long overdue for the former Butler head coach.
BULLET PASSES
*You wanna talk about a revolution? Well, Victor Oladipo did a 360 dunk against the Bulls. Later on in the night, Giannis Antetokounmpo did what looked like a delayed 360 dunk against the Spurs. And sadly, those weren't the best plays to me on a Friday night.
*I'm not sure if Andre Drummond was jinxed by everyone but he went 0/7 against the Pacers from the line. He came back to split his four foul shots against the Hawks. But seriously, Drummond is having an outstanding season as he is averaging 14.2 points and 15.6 boards per thus far. His free throw percentage is back down to .642 but we still hope he sustains that. And even better, we hope he grows it back up to the high 70s.
*And, by the way, the Pistons are 9-3. It's their best start since 2005-06. That team finished with 64 wins.
*Lonzo Ball fills up the stat sheet (8.9 points, 6.4 rebounds, 6.9 assists) but it's hard to ignore the elephant in the room. No, not his dad but his shooting. .292 from the field? .220 from three? That's atrocious. Yes, Ball helps the offense and some of the stuff he does is outside the box score. But man, some possessions that end up with him shooting can't go to waste like this.
*Eric Bledsoe is now part of the Deer team and he actually started in place of Malcolm Brogdon. Bledsoe and Brogdon ended up closing the game and I think I want to see more of that. Bledsoe finished with 13-4-7 and they beat the Spurs IN San Antonio.
*Again, the Warriors are awake. They handled Minnesota pretty easily. And wouldn't you know it, Nick Young and Omri Casspi had some moments in this game. This already adds to their terrifying depth. As if the Warriors need it after the Four Horsemen of the Oracle, right?
*Watch the video of Jimmy Butler here in the Minnesota wild. Tell me you think Jimmy Butler screaming in that vid is hilarious. By the way, that's how I scream.
*We were kinda wondering about what's going on with Paul George and the Thunder. Russell Westbrook is trying so hard to involve his two new all-star teammates. Carmelo Anthony is still scoring like he can but what of PG-13? Well, he finally broke out against the Clippers on Friday night. Check the line below.
*Ben Simmons is the runaway best rookie of the NBA this season. But man, we have a lot of productive first-year players. Kyle Kuzma is getting a lot of love (deservedly so). The Bulls are terrible but Lauri Markannen is playing very well. Dennis Smith, Jr. has been electrifying for the Mavericks and so has Donovan Mitchell for the Jazz. I've already mentioned Tatum. Dillon Brooks has surprised for the Grizzlies. Mike James (a different one!) came out of nowhere for the Suns. De'Aaron Fox is playing well for the Kings. There's still Josh Jackson, Malik Monk, John Collins, Jonathan Isaac, Bogdan Bogdanovic, and Justin Jackson.
This might be the most productive rookie class I've seen in a long time.
SCOREBOARD
11/08/2017
NY 99 (6-5) @ ORL 112 (7-4)
IND 97 (5-7) @ DET 114 (8-3)
LAL 96 (5-6) @ BOS 107 (10-2)
MIA 126 (5-6) @ PHX 115 (4-8)
MIN 101 (7-4) @ GS 125 (9-3)
11/09/2017
LAL 95 (5-7) @ WAS 111 (6-5)
NO 118 (6-6) @ TOR 122 (7-4)
CLE 113 (5-7) @ HOU 117 (9-3)
PHI 108 (6-5) @ SAC 109 (3-8)
OKC 94 (4-7) @ DEN 102 (7-5)
11/10/2017
ATL 104 (2-10) @ DET 111 (9-3)
CHA 87 (5-7) @ BOS 90 (11-2)
IND 105 (6-7) @ CHI 87 (2-8)
LAC 111 (5-6) @ OKC 120 (5-7)
MIL 94 (5-6) @ SA 87 (7-5)
ORL 128 (8-4) @ PHX 112 (4-9)
MIA 84 (6-6) @ UTA 74 (5-7)
BRK 101 (5-7) @ POR 97 (6-6)
LINE CROSSER
11/08/2017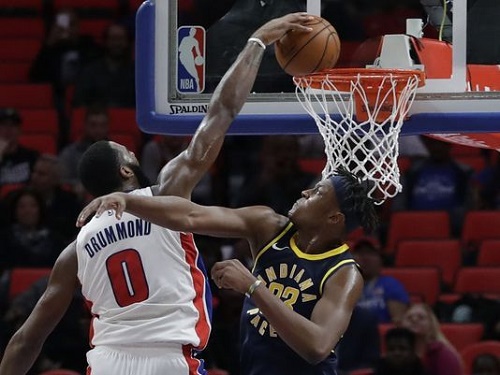 (PHOTO CREDIT: Carlos Osorio/AP.)
It was discouraging to see Drummond miss all 7 foul shots against the Pacers. He still had a really good game, though.
14 points, 21 rebounds.
He's definitely woken up from last year's slumber.
11/09/2017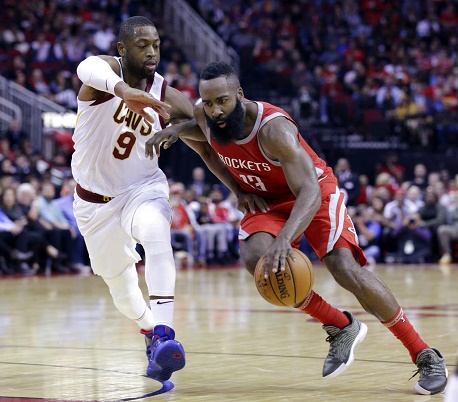 (PHOTO CREDIT: Michael Wyke/AP.)
James Harden continues to cook up them triple-doubles:
35 points, 11 rebounds, 13 assists, 5 steals.
Stir it up, James.
11/10/2017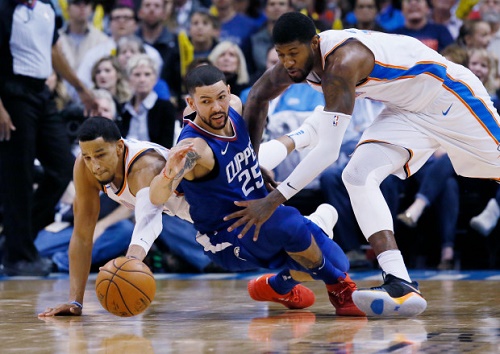 (PHOTO CREDIT: Sue Ogrocki/AP.)
Again, we mentioned PG-13's coming out party on Friday night. He went for…
42 points, 9 rebounds, 7 assists, 3 steals.
Maybe this will turn it around for OKC.
WATCH THIS PLAY
11/08/2017
(VIDEO CREDIT: NBAHighlights2.)
Probably a carry at the crossover but Kyrie leaves some Lakers in the dust.
11/09/2017
(VIDEO CREDIT: Bleacher Report.)
De'Aaron Fox of the Kings trusted his own process and makes the go-ahead and eventual game-winning bucket against the Sixers.
11/10/2017
https://youtu.be/jqbVqCRncjs
(VIDEO CREDIT: Must See Highlights 2.)
Again, Eric Bledsoe made his debut with the Bucks and he immediately showed Giannis Antetokounmpo some lob, er, love.
---
Follow Rey-Rey on Twitter at @TheNoLookPass. You can also see some of his work at Forum Blue & Gold, a site specializing on the Los Angeles Lakers. And lastly, it's on hiatus due to personal and health issues but you can listen to old episodes of Rey-Rey Is Fundamental, which consists of NBA talk and other topics he feels like talking about. The podcast will be back soon.