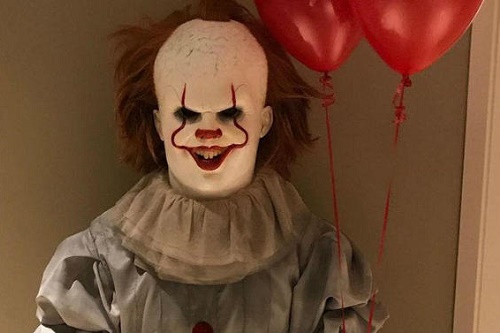 (PHOTO CREDIT: LeBron James' Instagram.)
NBA players like to go all out for Halloween. Sometimes, maybe too into it? Look at the pic above and tell me you wouldn't freak out. That's LeBron James as Pennywise from It. That is frightening.
Here's some more fright. Stephen Curry went as Jigsaw from the Saw movie series.
Steph Curry arrives at Oracle as "JigSaw". Everyone got a big laugh, including Draymond Green. https://t.co/mOfhvuIfwT pic.twitter.com/HAVlKU0A5N

— Janelle Wang (@janellewang) October 30, 2017
For some not-so-scary outfits, here are the Utah Jazz players doing their thing:
Trick or treat! 🎃🎃🎃

via @rickyrubio9 IG story pic.twitter.com/ncxKwEUxhE

— Utah Jazz (@utahjazz) October 29, 2017
Rudy Gobert was maybe an Egyptian god or the Scorpion King, Raul Neto was a Viking, and the always adorable Ricky Rubio was Luigi!
I don't watch Game of Thrones (sorry!) but Carmelo Anthony was the Night King for Halloween.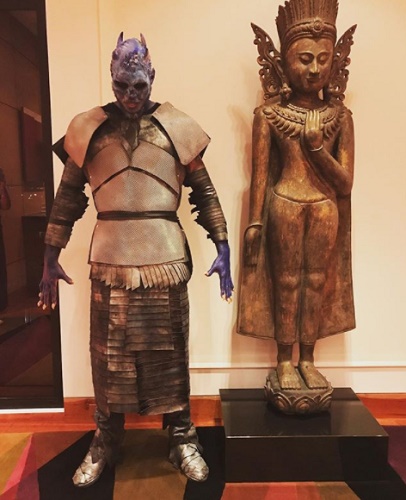 (PHOTO CREDIT: Carmelo Anthony's Instagram.)
Not to be outdone, Russell Westbrook and Nick Collison (along with their wives) did the White Men Can't Jump ensemble.
— Russell Westbrook (@russwest44) October 15, 2017
Isaiah Thomas was Eazy-E from the notorious rap group, N.W.A.
Isaiah Thomas' Halloween costume is lit! pic.twitter.com/Y8H0zokjL1

— NBA SKITS (@NBA_Skits) October 31, 2017
While Karl-Anthony Towns couldn't dress up on the court, his shoes were something else.
KAT's line Monday: 20 points, 12 rebounds, 1 Jason Voorhees pic.twitter.com/9tWyxs6Y0J

— NBA on ESPN (@ESPNNBA) October 31, 2017
As for me? I don't usually dress up for Halloween. But if I had ONE choice, I would want to go as terrifying Pierre the Pelican. I'm still disappointed he had to "go through surgery."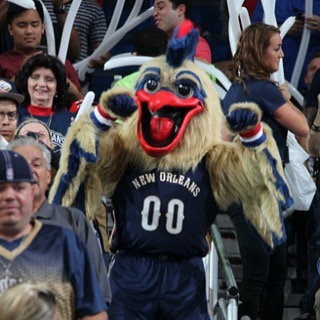 BULLET PASSES
*We've talked about "turning on the switch" for some really good teams that are struggling. Well, the Warriors did just that against the Clippers. They must really dislike the Clips for that treatment.
*Boston has won five straight. People questioned their defense, especially since they lost Avery Bradley and defensive liability Kyrie Irving but they are second overall in defensive rating. They're only allowing 94.9 points per 100 possessions. Stingy.
*Meanwhile, the lack of Kawhi Leonard is beginning to be felt as the Spurs (the MIGHTY Spurs) have lost three straight. He can't come back soon enough for San Antonio.
*How about those Raptors holding the Blazers to SIX measly points in the second quarter? Yikes.
SCOREBOARD
DEN 110 (3-4) @ NY 116 (3-3)
SA 94 (4-3) @ BOS 108 (5-2)
MIN 125 (4-3) @ MIA 122 (2-4) [OT]
PHI 115 (3-4) @ HOU 107 (5-3)
CHA 104 (4-3) @ MEM 99 (5-2)
ORL 115 (5-2) @ NO 99 (3-4)
DAL 89 (1-7) @ UTA 104 (4-3)
TOR 99 (4-2) @ POR 85 (4-3)
GS 141 (5-3) @ LAC 113 (4-2)
LINE CROSSER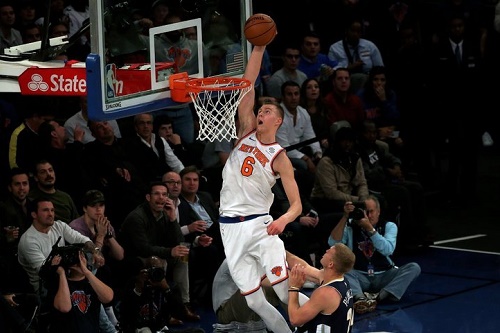 (PHOTO CREDIT: Peter Foley/European Press.)
Kristaps Porzingis gets loose against the Nuggets.
38 points, 7 rebounds, 3 blocks.
The Knicks have won three straight. That felt weird to say.
WATCH THIS PLAY
https://youtu.be/X3VNSCvBdxM
(VIDEO CREDIT: AOSports!.)
Look at Andrew Wiggins go in for the flush during the clutch.
---
Follow Rey-Rey on Twitter at @TheNoLookPass. You can also see some of his work at Forum Blue & Gold, a site specializing on the Los Angeles Lakers. And lastly, it's on hiatus due to personal and health issues but you can listen to old episodes of Rey-Rey Is Fundamental, which consists of NBA talk and other topics he feels like talking about. The podcast will be back soon.