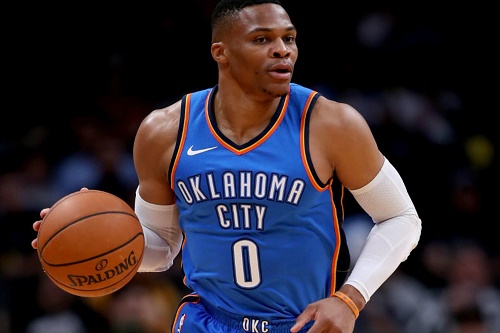 (PHOTO CREDIT: Getty Images.)
Russell Westbrook has been incredible, especially the last three seasons.
He's become Mr. Triple Double. If anything, we're surprised if he doesn't get close to a triple-double in a game. Well, he did it again last night as went 12-13-13 against the Chicago Bulls.
By the way, the Bulls are the 29th team he got a triple-double against. He's done it against every current NBA team except his own, of course. Although Carmelo Anthony joked after the game that he gets a triple-double regularly against his own teammates on practice.
We can't downplay these feats that Westbrook does. What I don't understand is that I see some people criticize the way he gets his triple-double.
Scoring is the easiest for Russell. After all, he's led the league in scoring twice in his career. And he's the designated #1 option so of course, he'll get his shots.
Assists? He's the designated point guard. And the way he draws in opponents before kicking out to a teammate is part of the plan. I think it was pretty amazing that he was able to average more than 10 assists per game with his team last season. With more weapons in Carmelo and Paul George, he should average 11 or 12, which is where he is at the moment.
Rebounding is where people get a little ragey over. They charge that he pads his stats. But in a basketball game, who DOESN'T want to pad their stats, right? They also charge that Westbrook insists on getting the rebound. Boards are one of the hustle stats; don't you want everyone to go after the rebound? Shouldn't we ADMIRE the point guard for wanting to get the board? Another one is the big guys boxing out their opponents so they could clear the way for Russ to get the rebound. What's wrong with that? It also makes the team's job easier to do a fastbreak because the point guard already HAS the ball.
Yet we give props to everyone else when they get the triple-double. Kyle Lowry gets one? Awesome. LeBron James gets his? Cool. DeMarcus Cousins has it? We love Boogie! Ben Simmons? What a fantastic rookie!
Heck, Magic Johnson is LEGENDARY for his triple-doubles. I say we appreciate Westbrook for what he's doing. He broke the record for most triple-doubles in a season last year with 42. He was the second player to AVERAGE a triple-double, which also happened last year. He is now fourth in career triple-doubles with 82. But yet we have to find the flaws in this incredible run?
Let's give Russell Westbrook the credit that he deserves.
BULLET PASSES
*This barely happens, especially to a professional basketball player. But, man, this is embarrassing, Avery Bradley:
(VIDEO CREDIT: Everything NBA.)
He'll be remembered for that for a while.
*Andre Drummond is shooting 70 percent from the foul line. Considering his career average is a horrifying 40 percent, this is a huge improvement. Hopefully, he keeps it up.
*With the Clippers losing, there are no more undefeated teams in the NBA. You want to know who's sitting on top of each conference? Memphis is 5-1 on top of the West and Orlando is 4-1 as the #1 seed in the East. What?
*The Cavaliers are 3-3. But I don't think there should be much concern just yet. Isaiah Thomas hasn't played a minute. Derrick Rose is hurt. And I still think they're one of the teams that can afford to turn the switch on late. Look at what they did the last two seasons.
I'd probably worry, though, if that switch never came on in the season. Like if they finish 38-44 and as the 8th seed… actually, you know what? Who am I kidding?
*Joel Embiid and Ben Simmons each scored 23 points in a win over the Mavericks. If both can stay healthy (well, I'd like it if EVERYONE can stay healthy), they're going to be quite the dynamic duo. Both guys have incredible skills and if Simmons gets a consistent jumper, watch out.
*After much praise for Luke Walton last year, it feels like he's lost with his rotations this year. Julius Randle should be starting. Corey Brewer is getting extended minutes. I'm not sure if the full team substitutions are the best way in the NBA (I've only seen that work once and that was with the 2010 Suns). It's still early but this could get away from the team fast.
SCOREBOARD
CLE 101 (3-3) @ NO 123 (3-3)
BOS 96 (4-2) @ MIA 90 (2-3)
HOU 89 (5-2) @ MEM 103 (5-1)
OKC 101 (3-3) @ CHI 69 (1-4)
PHI 112 (2-4) @ DAL 110 (1-6)
LAL 81 (2-4) @ UTA 96 (3-3)
PHX 107 (2-4) @ POR 114 (4-2)
DET 95 (4-2) @ LAC 87 (4-1)
LINE CROSSER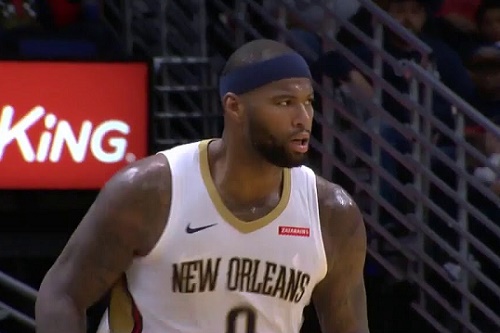 Speaking of triple-doubles, here's DeMarcus Cousins with a huge game against the Cavaliers.
29 points, 12 rebounds, 10 assists, 3 steals.
Let's not downplay triple-doubles anymore.
WATCH THIS PLAY
(VIDEO CREDIT: NBA.)
In what is probably the best dunk of the season so far, Donovan Mitchell comes down from the heavens and does a monstrous putback jam.
It's beautiful in its height and destruction.
---
Follow Rey-Rey on Twitter at @TheNoLookPass. You can also see some of his work at Forum Blue & Gold, a site specializing on the Los Angeles Lakers. And lastly, it's on hiatus due to personal and health issues but you can listen to old episodes of Rey-Rey Is Fundamental, which consists of NBA talk and other topics he feels like talking about. The podcast will be back soon.