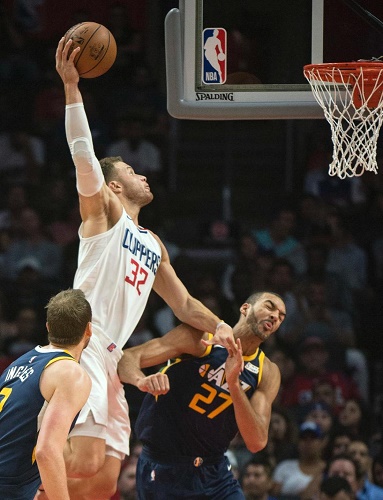 (PHOTO CREDIT: Kyusung Gong/AP.)
Okay. So the Clippers are so far better than how I thought they were going to be.
Yeah, it's only been three games. And yeah, they've gone against some inferior opponents like the Lakers and the Suns. But the Jazz, even without Gordon Hayward, was thought to be maybe on par with or better than the Clips.
They still have Rudy Gobert as the centerpiece of that defense. But the Clippers, after losing Chris Paul, also have an excellent defense as well. Patrick Beverley will dog everyone on every play. Austin Rivers has become an excellent perimeter defender. We got dudes like Wesley Johnson earning his keep through defending. And DeAndre Jordan has become a premier rim protector.
The loss of Milos Teodosic was felt. But we have Blake Griffin having a renaissance so far with averages of 26.7 points, 9.7 boards, and 4.3 dimes. The Clippers lost Jamal Crawford but they kept their bench scoring with Lou Williams coming over from the CP3 trade. Danilo Gallinari is struggling at his shooting at .316 but when he gets to what he can do, the Clips will be even better.
Obviously, it helped that the Clips went against the Suns and the Lakers. It also helped that they went against a team that's not great offensively in the Jazz. But their defensive rating is staggering at 87.6 points allowed per 100 possessions. Points allowed per game is not as impressive as it used to be but their opponents have a hard time scoring; the Clips have only allowed 88 points per game.
So yeah, maybe we're sort of overlooking the Clippers right now. It is early, though, and they have yet another test coming up with the Blazers on Thursday.
But that's what we're here for, though. We look at the overlooked.
TIP-INS
*Aaron Gordon scoring 41 points seems so random to me. I never really saw Gordon have any huge scoring games thus far in his career. Maybe he turns it around this year.
*Anthony Davis hurt his knee early in their game against the Blazers. Part of the Pelicans' slow start in the last few years is that they never seem to be at full strength. Luckily, there's no structural damage on Davis's knee.
*There are only four undefeated teams left in the league: the aforementioned Clippers, Spurs, Grizzlies, and Wizards.
*There are still three teams yet to win this season: the Mavericks, Bulls and the Knicks. Bulls and the Knicks? The 90s were so long ago, guysh.
SCOREBOARD
CHI 112 (0-3) @ CLE 119 (3-1)
BRK 121 (2-2) @ ORL 125 (3-1)
NY 89 (0-3) @ BOS 110 (2-2)
IND 130 (2-2) @ MIN 107 (2-2)
NO 93 (1-3) @ POR 103 (3-1)
UTA 84 (2-2) @ LAC 102 (3-0)
LINE CROSSER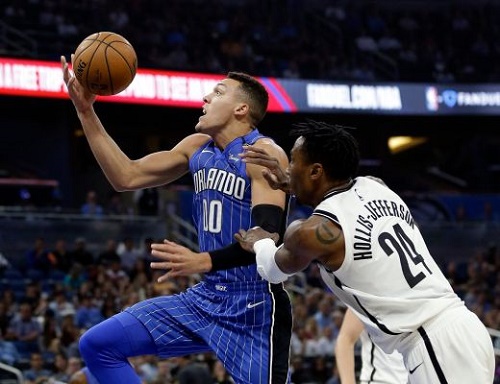 (PHOTO CREDIT: John Raoux/AP.)
The Magic are definitely hoping for more of these lines from Aaron Gordon.
41 points, 14 rebounds, 14/18 FG (5/5 3FG).
And the Magic are also winning a little at 3-1! Hmmmmm.
WATCH THIS PLAY
(VIDEO CREDIT: Los Angeles Clippers.)
Blake Griffin remembers that the Jazz eliminated his team in the playoffs so he took it out on Rudy Gobert. Maaaaan, that is so mean.
---
Follow Rey-Rey on Twitter at @TheNoLookPass. You can also see some of his work at Forum Blue & Gold, a site specializing on the Los Angeles Lakers. And you can listen to his podcast called Rey-Rey Is Fundamental, which consists of NBA talk and other topics he feels like talking about.