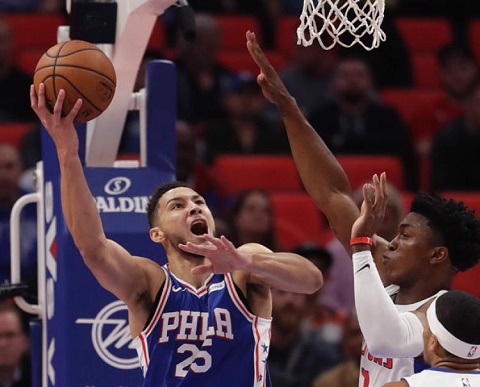 (PHOTO CREDIT: Carlos Osorio/AP.)
So Sixers rookie Ben Simmons made sure we remembered him.
When people were talking about Rookie of the Year, Dennis Smith, Jr. was mentioned. Lonzo Ball had a lot of hype. Maybe Jayson Tatum would thrive for a contending team. And teammate Markelle Fultz, the first pick of the draft, would be considered.
Let's not forget Simmons was the first pick in the draft from 2016. He also had a lot of hype coming in before his foot injury forced him out for the entire season (which, unfortunately, seems to be the theme for the Sixers). The only thing Simmons was missing was his shot, but that can be improved over time.
He's actually been doing it this whole time. It's just that triple-doubles have a way of making players stand out. Simmons did that against the Pistons in their first win of the season.
Simmons, who was put at point guard, is frighteningly good. He has great court awareness. He's an excellent rebounder. Pretty damn good defensively, too. Again, all he's missing is a perimeter shot and, just like a certain Greek freak, if he gets that, watch out.
Ben has absurd averages of 17.0 points, 10.8 rebounds, and 7.0 dimes. And that said triple-double was in his fourth career NBA game, which is a new NBA record.
Why did he get overlooked?
To be fair, players who don't play until, at least, a year after they're drafted often get overlooked. David Robinson dominated in his rookie year, which was in 1989-90; he was drafted #1 in 1987. Blake Griffin was out the entire 2009-10 season but won the following year, after some of us thought John Wall would be win the award in the 2010-11 campaign.
I don't think Ben Simmons is overlooked now. The process is looking better and better.
TIP-INS
*Giannis Antetokounmpo has been the talk of the league and he should be. He wrapped up another 30-plus point game in the Bucks' win over the Hornets. Giannis is now averaging a hefty 36.8 points per game in his first four.
*I talked about Nikola Jokic not scoring much and he snapped out of it with a 29-point game against the Wizards in a loss. But most people are talking about how he bumped Wizards coach Scott Brooks in a crucial moment. Here's the incident.
Accidental? Flopping? Nevertheless, contact could have been avoided. Again, the Wizards won.
*Grit-and-grind is alive and well within the Grizzlies. They held the Rockets to two points in the last 6:22 of the game. And they are one of four undefeated teams left in the league.
*Yo, no matter what the Spurs do and who they have on the roster, they just keep on winning. LaMarcus Aldridge, who got in an altercation with Serge Ibaka, has woken up and has averaged 24.3 points and 9.3 boards in his first three games. Dejounte Murray is also having an excellent start to the season with 13.3 points, 9.7 boards, and 4.7 assists in those three games. This is why I never want to count the Spurs out.
*And the Suns won a game! Mike James (no, this is a different Mike James) made a go-ahead bucket with 14.1 seconds left as Phoenix held on to win. Ya know, when a team gets a new coach, I feel they ALWAYS win their first game with that new guy in charge.
SCOREBOARD
PHI 97 (1-3) @ DET 86 (2-2)
ATL 93 (1-3) @ MIA 104 (2-1)
MEM 98 (3-0) @ HOU 90 (3-1)
CHA 94 (1-2) @ MIL 103 (3-1)
TOR 97 (2-1) @ SA 101 (3-0)
GS 133 (2-2) @ DAL 103 (0-4)
WAS 109 (3-0) @ DEN 104 (1-2)
SAC 115 (1-3) @ PHX 117 (1-3)
LINE CROSSER
Once again, let's mention Ben Simmons' first career trip-dub.
21 points, 12 rebounds, 10 assists.
The Sixers' future is getting brighter.
WATCH THIS PLAY
(VIDEO CREDIT: DaHoopSpot Productions.)
Some may find this tasteless or rude but maybe don't try to leave this guy all alone and maybe try not to be down by 30. Jordan Bell goes off the glass on this slam.
---
Follow Rey-Rey on Twitter at @TheNoLookPass. You can also see some of his work at Forum Blue & Gold, a site specializing on the Los Angeles Lakers. And you can listen to his podcast called Rey-Rey Is Fundamental, which consists of NBA talk and other topics he feels like talking about.