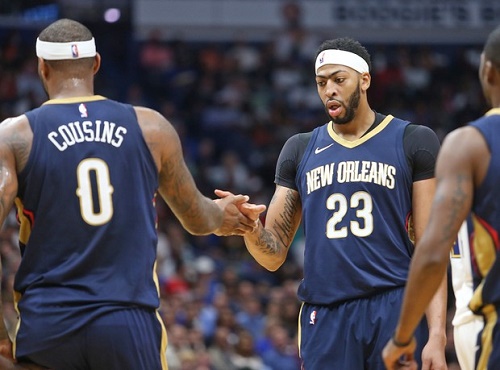 (PHOTO CREDIT: Michael DeMocker/The Times-Picayune.)
What doomed the Pelicans' chances of a playoff spot the last two seasons was that they were always facing an uphill battle in terms of their record. Their slow starts can be attributed to their team not being in full strength.
In 2015-16, the Pelicans started out 0-6. They were missing guys like Tyreke Evans and Omer Asik, who were prominently featured outside of Anthony Davis. That team never got anything going and finished 30-52.
The 2016-17 season also sounded promising. They did start out the season without Jrue Holiday. But the Pels lost their first eight games. They were able to swing a trade for DeMarcus Cousins after the All-Star game but the slow start was just too much for the birds. They finished 34-48.
The Pelicans now have both all-star bigs at the start of the season but a familiar scene happened the first two games. They lost their opener against the Grizzlies. And then they lost their home opener against the Warriors (by the way, it didn't help that they faced the Warriors twice early in the season the last two years). Pelicans are off to an 0-2 start. By the way, they're missing new acquisition Rajon Rondo and Solomon Hill.
If they wanna make the playoffs this season (a tall order in the West), they have to endure their losses and try to get off to better starts than they have the previous two seasons. Their top three players are healthy right now (Cousins, Davis, Holiday). I'm sure they paid Holiday a lot of money so that he can be their reliable third scorer.
Three of their next five games shouldn't be too bad. They have the Lakers on Sunday. Tuesday is a bit difficult with the Blazers but then they have the Kings on Thursday. They go back home to face the Cavs next week followed by the not-so-great Magic on the 30th.
A 3-5 start is not ideal. But it's way more surmountable than being winless after two weeks through the season.
TIP-INS
*What a bounceback game by Lonzo Ball, right? People are already quick to discredit Lonzo because the Lakers took on the Suns. But 29-11-9 is great by any NBA standard. He can't help who he plays against. And it's a huge confidence-booster.
*Ricky Rubio and Jimmy Butler, who seem like two of the nicest guys in the league got into a confrontation.
Rubio and Butler get double techs pic.twitter.com/Itmmtruffn

— ⓂarcusD (@_MarcusD2_) October 21, 2017
My heart. I can't take this.
*The Hawks and the Hornets had a game on Friday night. I giggled.
*Giannis Antetokounmpo is averaging 35.5 points in his first two games. Maybe we should also look to him to lead the league in scoring. With Russell Westbrook having two All-Stars as teammates, he's probably not going to do that anymore.
*John Wall said that he's the best shot-blocking point guard in history after he sealed the game by packing Reggie Jackson. I don't see any active point guard above him in this list. He might be right.
*Finally, Kevin Durant makes two blocks with only one shoe on.
SCOREBOARD
10/20/2017
CLE 116 (2-0) @ MIL 97 (1-1)
BOS 102 (1-2) @ PHI 92 (0-2)
ATL 91 (1-1) @ CHA 109 (1-1)
DET 111 (1-1) @ WAS 115 (2-0)
POR 114 (2-0) @ IND 96 (1-1)
ORL 121 (1-1) @ BRK 126 (1-1)
UTA 97 (1-1) @ MIN 100 (1-1)
SAC 93 (1-1) @ DAL 88 (0-2)
GS 128 (1-1) @ NO 120 (0-2)
LAL 132 (1-1) @ PHX 130 (0-1)
LINE CROSSER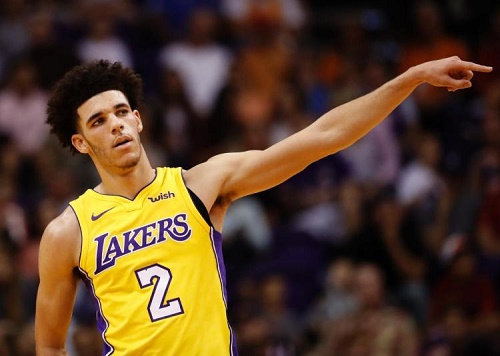 (PHOTO CREDIT: Matt York/AP.)
Let's give it to the Lakers rookie Lonzo Ball.
29 points, 11 boards, 9 assists.
Shoutout to Nikola Vucevic for having 41 points and 12 boards, though.
WATCH THIS PLAY
https://youtu.be/MfsqK1jEyEo
(VIDEO CREDIT: NBA Tube.)
Victor Oladipo goes up and gets it.
---
Follow Rey-Rey on Twitter at @TheNoLookPass. You can also see some of his work at Forum Blue & Gold, a site specializing on the Los Angeles Lakers. And you can listen to his podcast called Rey-Rey Is Fundamental, which consists of NBA talk and other topics he feels like talking about.