SEASON PREVIEW.
The NBA is back. The regular season starts tonight.
Predictions are fun and a lot can happen in this campaign whether it's crooked and unfair deals or injuries that we never want to happen. They're all part of the game, though.
Here's where I think each team will end up in terms of win-loss records. I'll follow it up with award predictions and how I think the playoffs will end up.
Ready? GO.
EASTERN CONFERENCE
(PHOTO CREDIT: Brian Babineau/Getty Images.)
1) CLEVELAND CAVALIERS (56-26): Yeah, they lost Kyrie Irving. But they did gain Dwyane Wade, who should be motivated as he is teammates once again with one of his best friends, LeBron James. Derrick Rose is trying hard to gain back his MVP self but he should still strive in a much lesser role since, after all, this team is all about LeBron. The health of former foe and now-Cavalier Isaiah Thomas is in question but if he gets back to last season's self, he will put way less pressure on the rest of his teammates.
And we know what LeBron can do. I'm done trying to predict when his sharp decline will happen. This dude is superhuman.
2) BOSTON CELTICS (51-31): The Celtics only have four players left over from last season's team: Marcus Smart, Terry Rozier, Jaylen Brown, and Al Horford. The rest of the team are all new to Boston but they got quite a bit of talent. Irving is embracing his new digs. So is Gordon Hayward. Jayson Tatum wants to prove he belongs.
I'm not big on the Marcus Morris deal if only because they got rid of their bulldog defender Avery Bradley. I think they have enough talent and can quickly be a cohesive team since Brad Stevens is such a good coach that I'd listen to him if he coached my life.
3) TORONTO RAPTORS (50-32): It's good that they re-signed Kyle Lowry and Serge Ibaka. They also extended Norman Powell and added outside specialist C.J. Miles. But with DeMar DeRozan leading DeWay (laugh at my jokes, guys!), is this team really good enough to make it to the top of the East? Are they just gonna keep hanging around until the Cavs decline or the Celtics stumble?
They're good for 50 wins with this talent. Playoffs are another story. They the North.
4) WASHINGTON WIZARDS (50-32): I am all for players getting their cash. John Wall is worth it. But what about Otto Porter, who got his $100+ million pay day? Along with Bradley Beal, Markieff Morris, and Marcin Gortat, they form a potent starting line-up. Now they need guys like Jodie Meeks, Mike Scott, Kelly Oubre etc. to do their thing.
They matched up well with the top two teams. Wall played like an MVP last season. Can they finally take it to the next level this coming campaign? Why am I even questioning this when the Cavs exist?
5) MILWAUKEE BUCKS (45-37): Giannis Antetokounmpo made the leap last season. Some people are thinking that he could be the best in the league one day.
Next season is not that time but last year wasn't a fluke, either. He'll be a force to be reckoned with for years to come. It's too bad that Jabari Parker can't stay healthy; they were possibly on their way to becoming the best frontcourt tandem. At least, they have Khris Middleton, Malcolm Brogdon, and Greg Monroe, who is thriving off the bench.
If they could get back to their defense from 2015, they might be able to win 50 and maybe have a better showing in the postseason. As is, Giannis is going to have to put the team on his back.
6) MIAMI HEAT (43-39): Their second half run last season was fantastic to say the least. It's too bad that they missed the postseason. They're gonna run it back with the practically the same team with the addition of rookie Bam Adebayo and a returning Justise Winslow.
They won't have the element of surprise this time. Goran Dragic and Hassan Whiteside found a groove together. The Johnsons, Tyler and James, provided hellish punch off the bench. Dion Waiters got himself paid after possibly the best season of his career, even if he only played half the year.
But wouldn't it be awesome if they DID keep up their pace from their last 41 games and ended up winning 60 games? Guysh? Hello?
7) CHARLOTTE HORNETS (40-42): Their splash in the midseason was acquiring Dwight Howard, which they got for a Sega Genesis, four Sonic the Hedgehog games, and an extra controller. But Steve Clifford has coached Howard in the past (Magic and Lakers) so he might be able to get something out of him.
Howard has basically declined every season since he left Orlando, including his defensive prowess. Plus he's gonna have to share time with Cody Zeller. We keep going back to that 3-17 record when the Hornets didn't have Cody. Plus with Nicolas Batum out for maybe three months, they'll need to endure that and try to get off to a good start as they position themselves for the playoffs.
But the East isn't exactly deep in good teams. Chances are the buzz will be fine.
8) DETROIT PISTONS (37-45): I'm not sure if Reggie Jackson and Andre Drummond can get back to how they were two seasons ago. They did add Bradley to add to their defensive prowess. Plus Bradley is a capable scorer, which will more than offset the loss of Kentavious Caldwell-Pope. After all, they need all the scoring they can get.
But I almost feel like they need some sort of reset somewhere. I'm just not a fan of this roster after what happened last year. Once again, though, the East is so bad…
9) INDIANA PACERS (35-47): Paul George is gone and the responsibilities now fall to Myles Turner and newly-acquired Victor Oladipo. There's still some talent on that team with Al Jefferson, Lance Stephenson, Thaddeus Young, and one of the best back-up point guards in the league in ex-Raptor Cory Joseph.
So the team isn't too bad. Just don't fully expect playoffs this year.
10) PHILADELPHIA 76ERS (34-48): I LOVE Joel Embiid but let's be realistic here: it's a win if he plays like 60 games this season. But we'll get to see Ben Simmons (POINT GUARD). We'll get to see Markelle Fultz. Robert Covington will do his role really well. Dario Saric will be fine. T.J. McConnell is scrappy as hell. We don't know where Jahlil Okafor will be in a few months. And J.J. Redick will provide veteran leadership.
The team is so young, though. They'll have to continue to learn how to win first before taking the next step. And they'll probably still get close to getting a postseason berth.
11) ORLANDO MAGIC (31-51): Their biggest addition in the offseason was former Spur, Jonathon Simmons. They also added a few veterans in Mo Speights and Arron Afflalo, who played the best ball of his career in Disneyworld.
But the team will continue to be led by guys like Aaron Gordon, Evan Fournier, Nikola Vucevic, and Elfrid Payton. We'll also see what Jonathan Isaac can do.
The Magic have been stuck in quicksand since Dwight left. I don't see them getting out of that this year, either.
12) ATLANTA HAWKS (29-53): This Hawks team is decidedly different from the one that won 60 games in 2015. Dennis Schroder is a pretty good point guard that has a lot more leeway now that everyone is pretty much gone. The only holdovers from that excellent team are Kent Bazemore and Mike Muscala.
Behind Mike Budenholzer, the Hawks will "play the right way" and scrap their way to almost half of that win total I mentioned earlier. They're gonna have to build through the draft and trades for the next few years.
Of course, they could suddenly find some magical formula to win 60 games in like two or three years. Like you guys saw that coming in 2014-15.
13) NEW YORK KNICKS (26-56): The era of Carmelo Anthony is over. It is now going to be led by Kristaps Porzingis. Plus Jeff Hornacek can coach however he wants without any interference from Phil Jackson and his head in the clouds.
That doesn't mean the team will be any good. It will be another lottery appearance for the Knickerbockers. But I am intrigued with how Michael Beasley will do. If he says he's as talented as the top guys in the league, I wanna see him try to prove it.
Every year, the Knicks should get nominated for Best Comedy.
14) BROOKLYN NETS (24-58): I am curious about the backcourt of D'Angelo Russell and a healthy Jeremy Lin. Timofey Mozgov was included in the Russell deal and they also got DeMarre Carroll and Allen Crabbe in the offseason.
And they still don't have a first round pick in the coming offseason. That Kevin Garnett/Paul Pierce deal is STILL felt to this day. Ouch.
15) CHICAGO BULLS (24-58): Remember their own vaunted Big 3 last year? All gone. Zach LaVine and Kris Dunn are the main cogs in that Jimmy Butler deal. At this point, they're in full rebuild. We'll see what Lauri Markkanen can do.
But the best player on the team might be Robin Lopez. That is an extremely bad sign. Still, I think the team can eek out enough wins late to not be too much of an embarrassment.
WESTERN CONFERENCE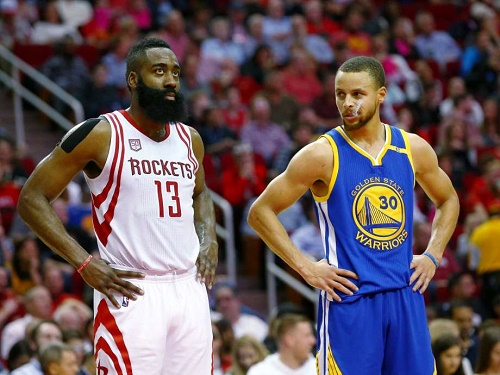 (PHOTO CREDIT: Jon Shapley/Houston Chronicle.)
1) GOLDEN STATE WARRIORS (69-13): These Warriors have had the best three-year regular season stretch in history in terms of record. They didn't lose anybody significant. Their Four Horsemen of the Oracle are in the prime of their careers. Am I supposed to do some sort of hot take and say they're only going to win 20 games this year? They might win 20 games in a week.
Nick Young is going to thrive in this environment and Omri Casspi is a perfect fit for this team. Life seldom is fair and so are the reigning, defending champions Golden State Warriors.
2) HOUSTON ROCKETS (57-25): The addition of Chris Paul will make life easier on James Harden. They still have serious perimeter threats in Eric Gordon (remember that he was the main player in that CP3 trade between the former New Orleans Hornets and Clippers!) and Ryan Anderson. They added defensive toughness in Luc Mbah a Moute and P.J. Tucker. And we might see a semblance of Lob City as CP3 will probably throw lobs all day to Clint Capela.
I think the Rockets are ready to return to the Conference Finals. No pressure, Chris Paul.
3) SAN ANTONIO SPURS (56-26): I'm a little worried about Kawhi Leonard's health but when he's on the court, he absolutely changes everything for the Spurs. Remember that they led the Warriors by 20 in Game 1 of their series last season before #2 went down.
LaMarcus Aldridge got a contract extension and Pau Gasol was re-signed. Some people didn't seem to like that but I'd rather have continuity than going sideways. They also signed Rudy Gay, who is coming off a devastating injury. Tony Parker is also back and Manu Ginobili is giving it one more run.
I just can't go against Gregg Popovich and this team. The Warriors are the overwhelming favorites this season, sure, but the Spurs are the model of consistency. Chock up another 55 wins for this team and give us yet another surprising (but not really?) playoff run.
I picked the Rockets to go to the West Finals but I'm not going to act shocked if the Spurs return there yet again.
4) OKLAHOMA CITY THUNDER (55-27): The West team that made the biggest splash in the offseason were the former Sonics. Sam Presti snuck in the back door and pulled off a Paul George trade. Then when we all thought Carmelo to the Rockets was a done deal, Presti put on his robe and wizard hat and got Melo for Enes Kanter, Doug McDermott, and a second rounder.
That was good enough for Russell Westbrook as he signed a humongous extension to stay in OKC. So we know the Thunder will be fine. But will they be fine this year? Absolutely. I actually like this Melo deal. At this stage of his career, I don't think he minds being a spot-up shooter and a #2 or #3 option on this team. George will thrive with his cutting game and will help in OKC's defense.
Maybe this will be good enough for both PG and Melo to stay. Russ had 200 million good reasons to.
5) DENVER NUGGETS (46-36): We all love Nikola Jokic's offensive game. And he's going to be flanked by forever-underrated Paul Millsap, Jamal Murray, Juan Hernangomez, Will Barton, Kenneth Faried, and newly-extended Gary Harris. We hardly think of Denver as anything more than mediocre but this year, they made enough moves that they could be something.
6) MINNESOTA TIMBERWOLVES (45-37): The young team got infused with an all-star vet in Jimmy Butler. Butler is an underdog story that I feel doesn't get talked enough and he will prove everyone wrong once again as he helps lead the Wolves out of their playoff drought.
Karl-Anthony Towns is only going to get better and Andrew Wiggins is going to figure out the rest of his game; he's already a potent scorer. I don't like that they lost Ricky Rubio but they did get him with a more than a serviceable replacement in Jeff Teague. Jamal Crawford and Taj Gibson also adds experience to these Timberpups.
Once Towns and Wiggins get it, the rest of the league will, too.
7) LOS ANGELES CLIPPERS (44-38): The losses of Chris Paul and Redick are not great for the Clippers. Sure, it'll open up more avenues for Blake Griffin and DeAndre Jordan but their team definitely got worse.
Still, the squad might just be as exciting or more. Lou Williams is an unconscious assassin. Patrick Beverley will take on everybody head on. And Milos Teodosic will dazzle everyone with his fancy dishes. They're delicious.
So yeah, they're no longer title contenders. But Lob City will continue to live on. That's what matters, right? I think.
8) UTAH JAZZ (43-39): Defense is going to keep them in the game. It's gonna be ugly but I still think they'll win enough games to make the postseason. Rudy Gobert will alter everyone's shots in his area and can singlehandedly change a game on the defensive end.
Losing Gordon Hayward and George Hill hurt. They might not have Dante Exum once again due to an unfortunate shoulder injury. But they still have capable playmakers in Ricky Rubio and Joe Ingles. Joe Johnson will do what he can to provide offense but he's also 36 years old. Maybe Rodney Hood can step it up some more. We'll see what Donovan Mitchell can do. And I forgot that Alec Burks is still on the team.
It just sucks that their rise has been derailed by free agency.
9) PORTLAND TRAILBLAZERS (42-40): The Blazers getting Jusuf Nurkic paved the way to a playoff berth last season. They'll have him for a full season. We all know what Damian Lillard and C.J. McCollum can do (although McCollum's suspension where he left the bench early might actually cost them a postseason spot). But everything about this team spells average to me. Fans are infuriated with Meyers Leonard. Evan Turner will have to do more with the departure of Crabbe. Noah Vonleh, Mo Harkless, and Al-Farouq Aminu should provide some quality minutes.
As it is, Lillard and McCollum will have to carry them throughout the season. Again.
10) NEW ORLEANS PELICANS (40-42): This is the Pelicans' chance to keep 2018 free agent DeMarcus Cousins happy. He will have a full season with Anthony Davis. They did acquire former Celtic champs in Rajon Rondo (he'll be out for a month) and Tony Allen to add some more depth. Jrue Holiday was paid a lot to stay on the team. It'll be a close one for the bottom playoff spots for the West.
11) MEMPHIS GRIZZLIES (38-44): The Grit-N-Grind era appears to be over. Allen has moved on to New Orleans and Zach Randolph is in Sacramento. The main holdovers, Marc Gasol and Mike Conley, will have to lead this seemingly ragtag bunch. Tyreke Evans and Ben McLemore didn't pan out in Sactown last season; maybe they'll have a rebirth of sorts in Memphis. Chandler Parsons is just trying to stay healthy. JaMychal Green did well and will probably have a bigger role this season.
And welcome back, Super Nintendo Chalmers.
12) DALLAS MAVERICKS (35-47): It's always a treat to see Dirk Nowitzki on the court. I'm just cherishing what could possibly be his last season.
In the meantime, the rest of the roster doesn't look too hot but they do have some promising youth. The younger Curry, Seth, had a very good 2017. Yogi Ferrell surprised everybody as he took advantage of his 10-day contract and turned it into a full-time deal. Nerlens Noel is back with the Mavs to bet on himself. And we also have a guy who's been predicted by many to win Rookie of the Year in freakish athlete Dennis Smith, Jr.. And I didn't even mention Harrison Barnes, who did a capable job as the #1 option.
This isn't the Mavs of 2011. But there is hope. And sometimes, that's all you can ask for.
13) LOS ANGELES LAKERS (30-52): My favorite team is continuing their rebuilding phase. Out is D'Angelo Russell and in is Lonzo Ball. Yeah, we know his dad receives all the interviews and headlines but Lonzo will have a lot of his own this year if he lives up to the hype. It's hard not to like his court vision.
Brook Lopez is gonna be the Lakers' best player in the meantime. He's consistent on the offensive end and will give you 20 every game. One rookie that's turning heads, though, is Kyle Kuzma. He had a fantastic Summer League and preseason and could be the hidden gem of this draft.
Just don't expect the Lakers to win too many games this year. They're essentially starting over again.
14) SACRAMENTO KINGS (29-53): If this was 2010, the Kings would be awesome with Zach Randolph and Vince Carter. Unfortunately, it's 2017. They will certainly be useful with their veteran presence along with George Hill. But I'm not sold on the rest of the talent. De'Aaron Fox seems promising. Willie Cauley-Stein needs to make a jump. And we'll wait forever for Buddy Hield to become Stephen Curry.
The Kings have been a mess for sometime but maybe they'll have something if they keep this core for a few years. Maybe.
15) PHOENIX SUNS (26-56): The question is: can Devin Booker score 82 points next season?
AWARD PREDICTIONS
ROOKIE OF THE YEAR: Dennis Smith, Jr. (DAL) (That 70-inch vertical will get him somewhere.)
MOST IMPROVED PLAYER: Kris Dunn (CHI) (He has plenty of time to pad his stats. Note that he'll be out first few weeks of the season. I think he'll still get it.)
DEFENSIVE PLAYER OF THE YEAR: Rudy Gobert (UTA) (It's between Kawhi, Draymond Green, and Gobert.)
SIXTH MAN OF THE YEAR: Andre Iguodala (GS) (Voters will finally appreciate what Dre does.)
COACH OF THE YEAR: Erik Spoelstra (MIA) (He's never won! He should absolutely win if the Heat get into the playoffs.)
MOST VALUABLE PLAYER: LeBron James (CLE) (No Kyrie. No Isaiah for a bit. He'll be forced to do more. And he'll add a fifth trophy.)
PLAYOFF PREDICTIONS
EAST 1ST ROUND
Cleveland defeats Detroit, 4-0.
Washington defeats Milwaukee, 4-2.
Boston defeats Charlotte, 4-1.
Toronto defeats Miami, 4-3.
EAST SEMIFINALS
Cleveland defeats Washington, 4-3.
Boston defeats Toronto, 4-2.
EAST FINALS
Cleveland defeats Boston, 4-2.
WEST 1ST ROUND
Golden State defeats Utah, 4-0.
Oklahoma City defeats Denver, 4-2.
Houston defeats L.A. Clippers, 4-2.
San Antonio defeats Minnesota, 4-0.
WEST SEMIFINALS
Golden State defeats Oklahoma City, 4-1.
Houston defeats San Antonio, 4-3.
WEST FINALS
Golden State defeats Houston, 4-1.
NBA FINALS
Golden State defeats Cleveland, 4-1. (WHAT A SURPRISING PREDICTION.)
And the lottery numbers tomorrow are 11, 23, 27, 30, and 35 with the mega number being 9.
---
Follow Rey-Rey on Twitter at @TheNoLookPass. You can also see some of his work at Forum Blue & Gold, a site specializing on the Los Angeles Lakers. And you can listen to his podcast called Rey-Rey Is Fundamental, which consists of NBA talk and other topics he feels like talking about.