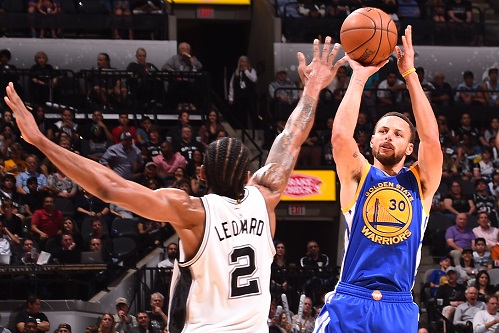 (PHOTO CREDIT: Noah Graham/Getty Images.)
(THIS WILL BE UPDATED WITH THE EASTERN CONFERENCE FINALS PREDICTION ONCE BOSTON AND WASHINGTON ARE DONE.)
Let's go ahead and make the Western Conference Finals predictions.
The Golden State Warriors have blasted through the Western Conference with an 8-0 record. They are certainly worth the money and if you're looking for NBA tickets, no matter how much the cost, you will get your money's worth. The Warriors and the Cavs in the East (also 8-0) are trying to be the first team to go undefeated in their conference for the playoffs. The last time that was done? 2001, which was done by the Los Angeles Lakers (you can buy your Los Angeles Lakers tickets here).
While the Warriors are undefeated in the playoffs, I kind of don't understand why the San Antonio Spurs are not being given much of a chance. They're the Spurs. They have their own star in Kawhi Leonard, a second star in LaMarcus Aldridge, and a bunch of role players that have been there before and know what they're supposed to do. Plus you never count a future hall-of-fame coach in Gregg Popovich, who has done a fantastic being on the helm since 1996.
The Spurs kind of played a similar team in Houston, where they're primary offense is three-point shooting. San Antonio is one of the best at controlling a game's pace. They are old-school in that they want to slow the game down and make the other team work hard for a shot. Sure, they'll run but only if it's appropriate for them. They won't run immediately after the opposing team scores; they'd rather walk it up and find a good shot. Otherwise, this is more built like a mid-2000s Spurs team instead of the Beautiful Game we saw in the last few years.
San Antonio wants to break you down systematically and methodically. Golden State wants to wallop you with explosive scoring. They're nearly unbeatable when they go to their small ball mode. Try to outscore a team that has two-time MVP Stephen Curry, 2014 MVP Kevin Durant, maybe the second-best shooter in the league Klay Thompson, pitbull Draymond Green, and former all-star and basketball genius Andre Iguodala. That's really not fair. And to think they won a championship and set a regular season record when they had Harrison Barnes instead of Durant.
The Warriors can get you with patented runs that will see them score 20 at a time. But it's not like the Spurs are incapable of that; they just prefer to kill you softly. Both teams are amazing defensively. Durant and Green have become hellish defenders by the rim. And Green can claim to be the best perimeter defender in the league. The Spurs, with all their flaws defensively, are so disciplined that teams find themselves scrambling when Danny Green or Leonard is suddenly in their face. This will be a fun battle.
Sure, San Antonio is a massive underdog, according to the pundits. I see more of a battle of wills and fun basketball coming up. Which team will control the pace? Which team will dominate defensively? Will Kawhi take it to another level? Are the Four Horsemen of the Oracle too much?
I think it's the very last item. Just don't count the Spurs out, which everyone has done in the last decade.
PREDICTION: GOLDEN STATE IN 6.
---
Follow Rey-Rey on Twitter at @TheNoLookPass for all tweets about the NBA. Also, check out his podcast, Rey-Rey Is Fundamental.

us on FaceBook where we have additional NBA highlights! Thank you!
#SagerStrongForever