This is the NBA Playoff Hangover. We're going to recap all the important games and talk about the hijinks that went on during or after. Here ya go.
Hey. One series is going the distance. What a finish it was!
#1 BOSTON CELTICS 91 @ #4 WASHINGTON WIZARDS 92
EAST Semifinals * Game 6 * Series is TIED, 3-3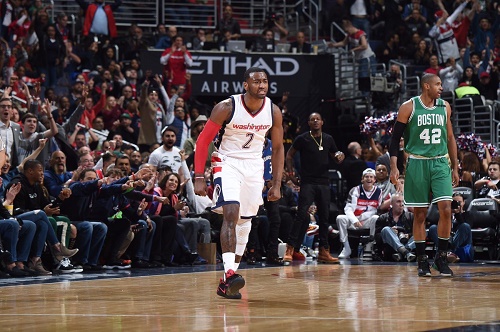 (PHOTO CREDIT: Getty Images.)
Before the game, the Celtics wore black. This was to mock the Wizards wearing black before their game against Boston in January. This rivalry is now arguably the best in the NBA.
Celtics arrive in all black tonight. Not a coincidence. Coverage on @CSNNE starts at 6:00 #celticstalk pic.twitter.com/bRT1Zwyvi3

— Nathan Long (@Mr_Nate_Long) May 12, 2017
John Wall got off to a slow start (1 for 9 from the field) but the Wizards still went up by 10 in the first half. But Avery Bradley (27 points) stayed hot from Game 5 and helped the Celtics to a 12-1 flourish to end the first half.
It continued to be close throughout the third quarter but Wall woke up in that period. He scored 13 points in the third but the Wiz still trailed the Celtics by three going into the last 12. We had a dry spell for nearly two minutes before there was a score. The Celtics bench continued to struggle while the Wiz couldn't hit anything from behind the arc.
Isaiah Thomas (27 points) broke an 82-tie when he scored five straight points inside two minutes. Bradley Beal finally made a three to counter and then Wall made two foul shots to tie the game. Avery Bradley made a quick long two and then Beal came back with a short banker. With 7.9 seconds left, Al Horford made a long two that banked in (but that never really seriously matters because if it goes in the hoop, it goes in the hoop). Then with the season on the line, Wall faced down Bradley and drained a three to give the nation's capital's team the lead with 3.5 ticks left. Thomas got a shot off but he had two guys in front of him and his went long.
Now we're going to a Game 7 in these conference semis. The games hadn't been close until this one. But both teams are intense towards each other and the way these two teams are going at it has really given the series more drama. And you couldn't get more dramatic than your star player (Wall had 26 points) making a series-saving three-pointer.
So let's see what kind of outfits each team will wear before their elimination game.
Game 7? Game 7!
LINE CROSSER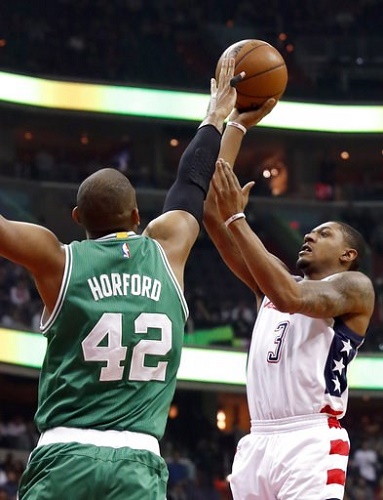 (PHOTO CREDIT: Alex Brandon/AP.)
Beal, despite being bad at behind the arc, did this:
33 points, 5 assists
Sexual.. BEALING.
WATCH THIS PLAY
(VIDEO CREDIT: NBA.)
Here you go. Wall's clutch and go-ahead three.
I know people are obviously going to compare John Wall and James Harden on how they handled elimination games. The credit that I will give Wall is that he kept swinging (he kept shooting, not swinging literally). I'm not going to put Harden down too much because he may have been overthinking last night. But Wall did what everyone should do if you want something.
John Wall shot his shot. And now he has one more game and one more shot to go to the Eastern Conference Finals.
---
Follow Rey-Rey on Twitter at @TheNoLookPass for all tweets about the NBA. Also, check out his podcast, Rey-Rey Is Fundamental.

us on FaceBook where we have additional NBA highlights! Thank you!
#SagerStrongForever