This is the NBA Playoff Hangover. We're going to recap all the important games and talk about the hijinks that went on during or after. Here ya go.
Well, this is where we are in the playoffs. The teams that are expected to go to the NBA Finals have been dominant.
#2 CLEVELAND CAVALIERS 109 @ #3 TORONTO RAPTORS 102
EAST Semifinals * Game 4 * CAVS WIN the series, 4-0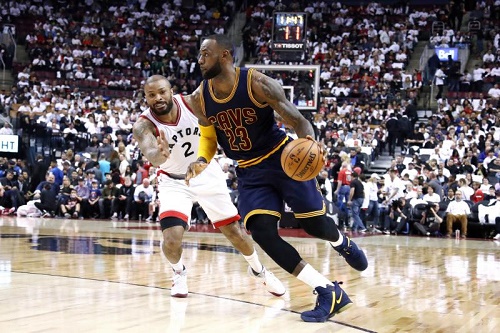 (PHOTO CREDIT: Nathaniel S. Butler/Getty Images.)
The dinosaurs were obviously desperate to not get swept as they got off to a 21-10 start. But that lead quickly disappeared as they were tied in the first quarter. Then in the second quarter, Kyle Korver dismantled the Raptors with his three-point shooting. He scored 16 points in that period and just like that, the Cavs had a double-digit lead by the half.
But the Raptors had pride and they were trying their damnedest not to get the brooms. They came back from 16 down to take a one-point lead halfway through the fourth. But they only held that lead for a good 23 seconds as Kyrie Irving made a three. Irving ended up scoring 11 straight points for his team as he carried the Cavs down the stretch as they completed the clean sweep.
Where the Raptors go from here is anybody's guess as Kyle Lowry has opted out of his contract. Meanwhile, the Cavs have gone through the postseason thus far without a loss and we've gone from wondering if they're vulnerable to wondering if anyone can even beat them as they woke up going against the team from Canada.
The semi-good news for the NBA? This was the first game in the Conference Semifinals that this was decided by single digits. Silver linings, I suppose.
Though it's tough to find that for the Raptors. Cavs move on to their third straight Conference Finals.
#1 BOSTON CELTICS 102 @ #4 WASHINGTON WIZARDS 121
EAST Semifinals * Game 4 * Series is TIED, 2-2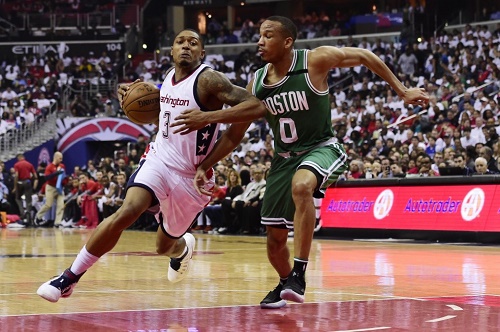 (PHOTO CREDIT: Patrick McDermott/Getty Images.)
There was no Kelly Oubre, Jr. as he was suspended for his altercation with Kelly Olynyk.
An inspired Isaiah Thomas made five three-pointers in the first half as he quickly made that 8-0 start by the Wizards into a blip. The Celtics built a 12-point lead that crumbled pretty fast. The game was tied by halftime.
Unfortunately for the Celtics, the game was pretty much over by the third quarter. The Wizards team stampeded over the green team as they scored 26 unanswered points. Boston never challenged again as Washington killed them in that period, 42-20, overall.
So much for close games, right? But, hey, at least, the series on the surface is tied at 2-2? And maybe we'll see a potential deathmatch in Game 5.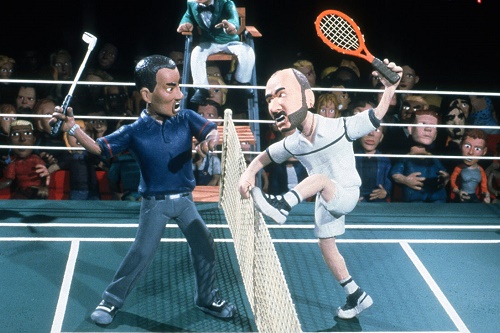 #2 SAN ANTONIO SPURS 104 @ #3 HOUSTON ROCKETS 125
WEST Semifinals * Game 4 * Series is TIED, 2-2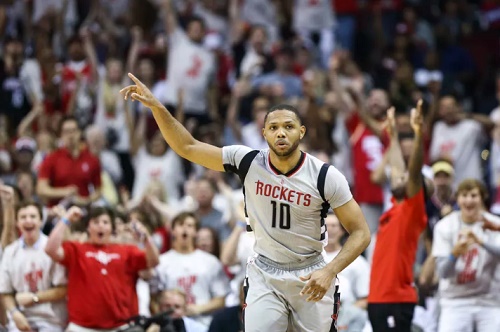 (PHOTO CREDIT: Troy Taormina/USA Today.)
This series has been about a battle of wills. Rockets wanna take quick shots and run up and down while the Spurs want to be methodical and break you down defensively.
This was pretty much all Rockets. They got off to a double-digit lead in the first quarter and while the Spurs did their best to cut it down to single digits, Rockets never stopped making three after three. The Rockets' lead grew to the 20s in the fourth quarter and they never looked back.
While the series is tied now, Nene was lost for the playoffs with a groin injury. It'll really make the Rockets play more small ball but hey, it's worked for them for two games.
By the way, our thoughts are with Patrick Beverley and his family as his grandfather passed away.
#1 GOLDEN STATE WARRIORS 121 @ #5 UTAH JAZZ 96
WEST Semifinals * Game 4 * WARRIORS WIN the series, 4-0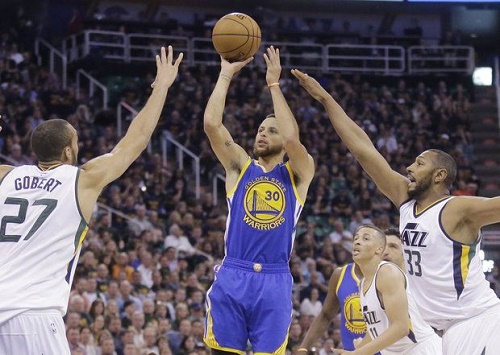 (PHOTO CREDIT: Rick Bowmer/AP.)
What the Jazz needed to was get off to a fast start and to put pressure on the Warriors. The opposite was what happened.
Golden State got off to a 24-7 start. It was 39-17 at the end of the first quarter.
The Jazz didn't give up, though. Dante Exum got some PT in and helped cut the deficit down to single digits by halftime. The Aussie scored 11 points in the second. Good job, cobber.
Utah fought hard in the third quarter, keeping pace with the two-time Western Conference champions. Then Stephen Curry and Andre Iguodala made back-to-back threes to finish the third with a flurry. The lead was suddenly back up to 14.
The Jazz couldn't make a comeback as they only scored three field goals in the first six minutes. The lead rose to 20 and it was pretty much done from there. Just like the Cavs, the Dubs have been undefeated in the postseason.
LINE CROSSER 05/07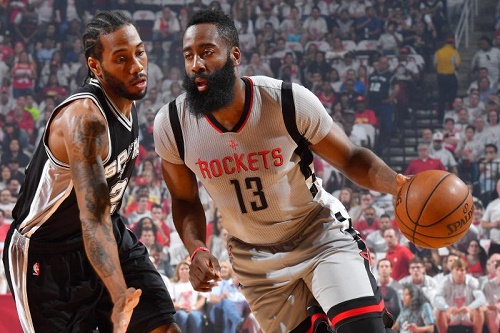 (PHOTO CREDIT: Jesse D. Garrabrant/Getty Images.)
As mentioned in that Spurs/Rockets series, it's about a battle of wills. And Harden willed the Rockets by getting:
28 points, 5 rebounds, 12 assists.
Scoring and playmaking. That's what Harden does.
LINE CROSSER 05/08
#NBA Draymond Green signs Jazz fan poster trolling him https://t.co/pASXxeooe3 pic.twitter.com/3XAghFwJ8n

— NBA Live Stream (@LStreamNBA) May 9, 2017
Look at Draymond Green sign that DRAYMOND FLOP COUNT sign brought by the Jazz fan. At least, he has some sort of sense of humor.
He also has a sense of padding up the statline:
17 points, 10 rebounds, 11 assists.
It's his third triple-double in his postseason career. It ties the franchise record for the Dubs.
WATCH THIS PLAY 05/07
(VIDEO CREDIT: NBA.)
John Wall has eyes on the back of his eyes. My gosh.
WATCH THIS PLAY 05/08
(VIDEO CREDIT: Ximo Pierto.)
This is a very tough bounce pass by Joe Ingles to a cutting Dante Exum.
---
Follow Rey-Rey on Twitter at @TheNoLookPass for all tweets about the NBA. Also, check out his podcast, Rey-Rey Is Fundamental.

us on FaceBook where we have additional NBA highlights! Thank you!
#SagerStrongForever