This is the NBA Playoff Hangover. We're going to recap all the important games and talk about the hijinks that went on during or after. Here ya go.
Once again, the playoffs the last two days have not been super exciting. In fact, you'll see a staggering statistic at the end of this entry.
And as of this writing, the Cavs and Raptors are playing Game 4. Toronto is trying to get away from the sweep. Because this is what happened in Game 3: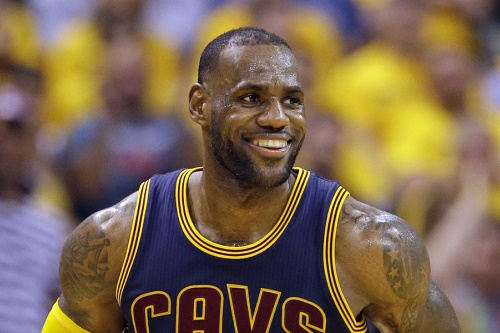 (PHOTO CREDIT: Michael Conroy/AP.)
#2 CLEVELAND CAVALIERS 115 @ #3 TORONTO RAPTORS 94
EAST Semifinals * Game 3 * CAVS lead the series, 3-0
So DeMar DeRozan and Jonas Valanciunas did their best to keep pace with the Cavs. Jonas couldn't be stopped inside (19 points, 8 for 10) and DeRozan had a dazzling offensive output (37 points).
But it was like the Cavs stopped playing around and decided to take a dump on the Raptors. It was 79-77, Cavs, going into the fourth quarter. Then Cleveland went on a demoralizing 20-3 run (LeBron James had 9 in that run). DeRozan only scored one point in the fourth quarter and now the Cavs are on a verge of another sweep.
LeBron is out there destroying franchise runs. We saw the Pacers that made the Eastern Conference finals break up after they couldn't beat LeBron's Heat. The Hawks were reduced after LeBron's Cavs eliminated them two seasons in a row. Now the Raptors are on the verge as well. Kyle Lowry notably didn't play in Game 3 and is not playing again in Game 4 due to an ankle injury. Lowry is a free agent after this run is over. What then for the Raptors?
Oh, well, Canada. You'll always have Robin Sparkles.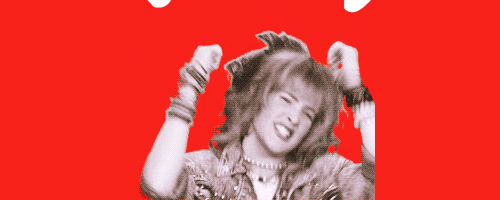 #2 SAN ANTONIO SPURS 103 @ #3 HOUSTON ROCKETS 92
WEST Semifinals * Game 3 * SPURS lead series, 2-1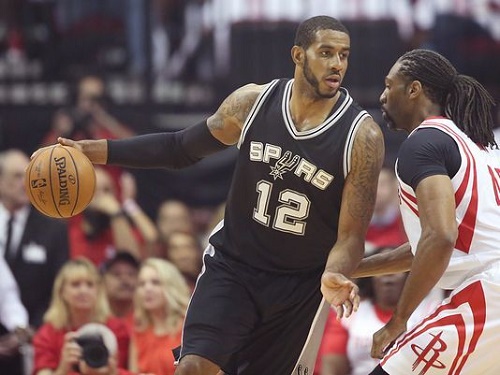 (PHOTO CREDIT: Thomas Shea/USA Today.)
What we wondered here was how LaMarcus Aldridge was going to do since his playoff performance has been much-maligned. He didn't let the Spurs down at all.
While the game was close for the most part, the Spurs slowed it down to the point that it was like we were seeing the 2000s Spurs. That pace and defense was what got them three titles in that decade.
The Rockets that were not James Harden shot 30 percent (18/60). While the Spurs were plagued with their own turnovers (20 overall), they outrebounded the Rockets by 10. Houston couldn't stop the duo of Kawhi Leonard (26 points) and Aldridge (also 26 points). Dejounte Murray did a good enough job as the new starting point guard for the Spurs after a very shaky start.
Looks like the Spurs have to do a little throwback to beat the Rockets. Let's see what Mike D'Antoni has in store in the next game, who HAS to be sick of trying to find ways to beat a team he never beat in the playoffs.
#1 GOLDEN STATE WARRIORS 102 @ #5 UTAH JAZZ 91
WEST Semifinals * Game 3 * WARRIORS lead series, 3-0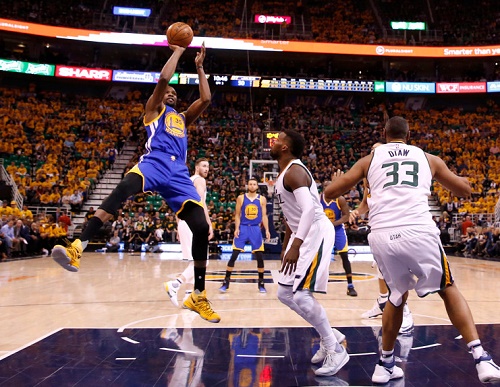 (PHOTO CREDIT: Nhat V. Meyer/Bay Area News Group.)
For the first time in this series, the Jazz led. And it looked really good for a while. Stephen Curry and Klay Thompson couldn't get any shooting going.
Then the Warriors decided to turn it on late. They were clinging to an 86-84 lead before Curry and Kevin Durant (who carried them throughout) made back-to-back threes. Curry made three more foul shots to top off the 9-0 run. After the Jazz stopped the run, Durant made an accidental banker for the long two. Durant did a little shrug and the Warriors are now one game away from a sweep.
Life must be good if you're a Warrior or a Cav in the league. Both teams are currently 7-0 in the playoffs. We know, barring injury, that they're the ones that seemed destined for a third straight Finals match-up.
I guess we're just all waiting for June?
LINE CROSSER 05/06
LeBron James is a monster:
35 points, 8 rebounds, 7 assists.
This guy just brings down franchises. (Sometimes, even his own!)
LINE CROSSER 05/07
In the lone game of Saturday, Kevin Durant covered all the Warriors with:
38 points, 13 rebounds.
That's why he was brought over to Northern California.
WATCH THIS PLAY 05/05
(VIDEO CREDIT: NBA.)
I prefer Kawhi's dunk over Harden's but these dunks in back-to-back plays were great.
WATCH THIS PLAY 05/06
(VIDEO CREDIT: NBA Top Play.)
Andre Iguodala finishes the fastbreak here after catching the lob from Draymond Green.
There have been NO games decided by single digits in all the Conference Semifinal games. That is twelve games in all. If you wanna include Game 7 of Clippers/Jazz, the LAST 13 NBA GAMES PLAYED have all finished with double digit margins. Yikes.
---
Follow Rey-Rey on Twitter at @TheNoLookPass for all tweets about the NBA. Also, check out his podcast, Rey-Rey Is Fundamental.

us on FaceBook where we have additional NBA highlights! Thank you!
#SagerStrongForever