This is the NBA Playoff Hangover. We're going to recap all the important games and talk about the hijinks that went on during or after. Here ya go.
The playoff games the past two nights weren't exactly… barnburners, as the title of this entry suggested. Check out them scores. I'll just basically go over some cliffnotes because there really isn't much analysis needed. Not that I do much analyzing in the first place.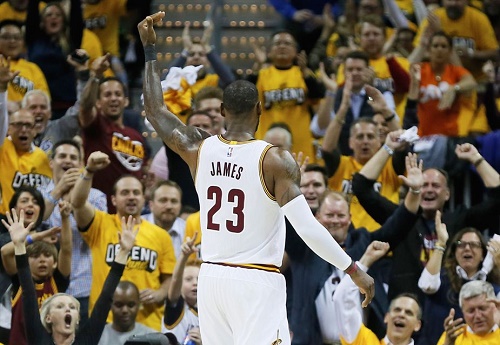 (PHOTO CREDIT: Leah Klafczynski/TNS.)
#3 TORONTO RAPTORS 103 @ #2 CLEVELAND CAVALIERS 125
EAST Semifinals * Game 2 * CAVS lead the series, 2-0
You can still see it in the Raptors' body language. It felt like they were going through the motions. DeMar DeRozan had five points for the entire game! And Kyle Lowry ended up spraining his ankle so the team was further weakened.
Meanwhile, the Cavs looked like the superpower that they were supposed to be. They led by double digits for most of the time. And then LeBron James passed Kareem Abdul-Jabbar for second in the NBA All-Time Playoff Scoring List. People should really appreciate this man more. This guy is trying to go to his seventh straight Finals.
And he could easily do that if the Raptors don't try to do anything drastic the next game. Serge Ibaka should try to power bomb Kyrie Irving for highlight-hunting and LeBron for basically spinning the ball like his free throw routine before pulling up for 3 in front of him. That might wake up the dinosaurs.
They might as well try, right? Even at the risk of the Cavs going another level.
#3 HOUSTON ROCKETS 96 @ #2 SAN ANTONIO SPURS 121
WEST Semifinals * Game 2 * Series is TIED, 1-1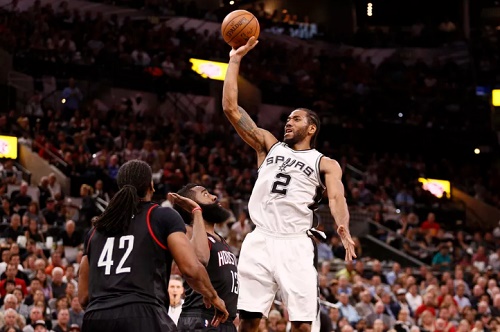 (PHOTO CREDIT: Soobum Im/USA Today.)
The Spurs made a little adjustment by starting Pau Gasol instead of David Lee. Not the perfect adjustment but it opened things up a bit more for the Spurs as they had Gasol work on the block and do some playmaking. The Rockets trailed for the most part but the game was really lost in the fourth quarter when they couldn't get anything going. The Spurs destroyed in the fourth, 33-13, which led to this blowout.
Unfortunately, the Spurs will have to go on without Tony Parker, who injured his knee and had to be carried off by teammates. I'm not sure how much of a difference it will make; it certainly won't HELP them that he's gone for the playoffs. But Parker looked reborn in the postseason as the Spurs' second best player. So San Antonio has to look to guys like LaMarcus Aldridge (I can't even believe I'm saying this) and Patty Mills (who has played wonderfully as Parker's back-up).
#1 BOSTON CELTICS 89 @ #4 WASHINGTON WIZARDS 116
EAST Semifinals * Game 3 * CELTICS lead the series, 2-1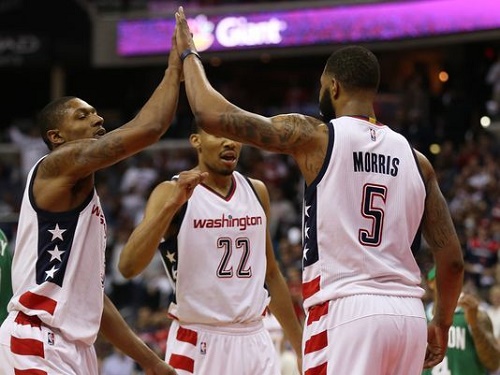 (PHOTO CREDIT: Geoff Burke/USA Today.)
This game was also done pretty much in the first quarter as the Wizards went on a sparkling 22-0 run. If anything, we were wondering when they were going to scrap.
Well…
(VIDEO CREDIT: Ximo Pierto.)
Both Kellys (Oubre and Olynyk) have actually played well in this series. And you don't wanna mess with Kellys.
Do you wanna mess with Kelly Bundy?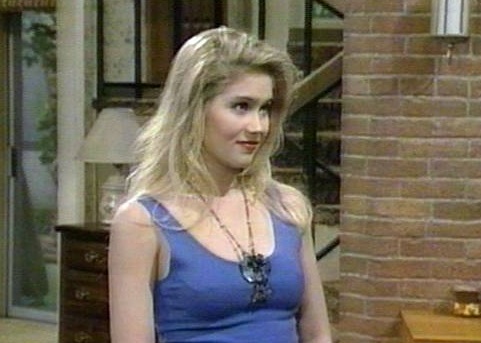 Kelly Taylor?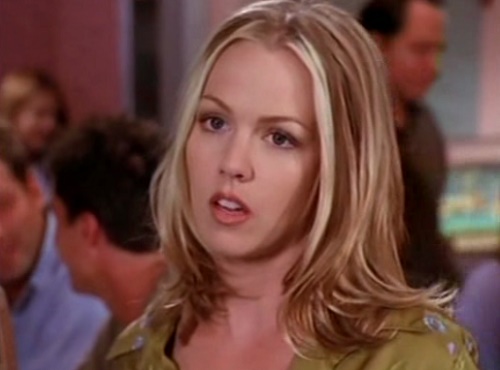 Kelly Kapowski?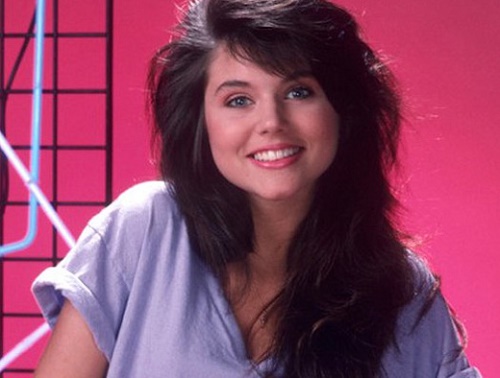 Anyway, we waited for the Celtics to make a run but it never happened. There were also mini-confrontations like Ian Mahinmi and Jonas Jerebko (Ian must hate Abba and Ace of Base) as well as Brandon Jennings and Terry Rozier. Heck, even mild-mannered Brad Stevens got a tech. Now I wanna see Stevens and Scott Brooks fight.
Also, Isaiah Thomas only scored 13 points after that 53-point explosion in Game 2. Gotta keep championing the "short guys" in the NBA.
#5 UTAH JAZZ 104 @ #1 GOLDEN STATE WARRIORS 115
WEST Semifinals * Game 2 * WARRIORS lead the series, 2-0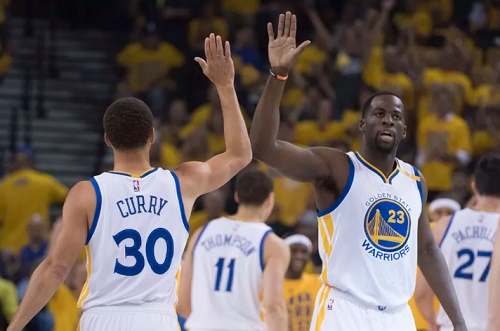 (PHOTO CREDIT: Kyle Terada/USA Today.)
The Warriors got off to a 12-3 start and this also never felt like the Jazz were going to win. When the Jazz would cut the deficit to single digits (even in the closing minutes), it's as if the Warriors said to themselves, "Well, that's cute. I guess we should start playing," and then they'd go on another run that was potentially pulverizing.
I'd feel insulted if I were the Jazz.
It's hard to match the Warriors' talent; the Jazz just don't have as much. But I just want to see the Jazz push back and make the Warriors have to work harder to go on these runs. Maybe it'll be different in Utah considering the Warriors have made it known that they don't think there's any nightlife in Salt Lake.
Maybe the Warriors end up getting so bored in Utah that they'll fall asleep during Games 3 and 4.
Funny how teams look defeated when facing the Cavs and the Warriors.
LINE CROSSER 05/03
We know what LeBron did to destroy the Raptors:
39 points, 6 rebounds, 3 steals, 10/14 FG.
Again. It's his 14th season. Amazing.
LINE CROSSER 05/04
And then there's Draymond Green doing his thing last night for the Warriors:
21 points, 7 rebounds, 6 assists, 4 steals.
Yeah, we go nuts on some of his antics. But you can't deny what he does on the court.
WATCH THIS PLAY 05/03
(VIDEO CREDIT: Hoop Session.)
All game, it seemed like Kyrie wanted to do a highlight play with LeBron. He finally got it in this fastbreak. Pretty good, guys.
WATCH THIS PLAY 05/04
(VIDEO CREDIT: NBA Show.)
So this fastbreak looked a bit sloppy. But Andre Iguodala was able to get a fancy behind-the-back pass in that led to a powerful dunk by Kevin Durant.
---
Follow Rey-Rey on Twitter at @TheNoLookPass for all tweets about the NBA. Also, check out his podcast, Rey-Rey Is Fundamental.

us on FaceBook where we have additional NBA highlights! Thank you!
#SagerStrongForever