This is the NBA Playoff Hangover. We're going to recap all the important games and talk about the hijinks that went on during or after. Here ya go.
For today, we start a series and we end a series.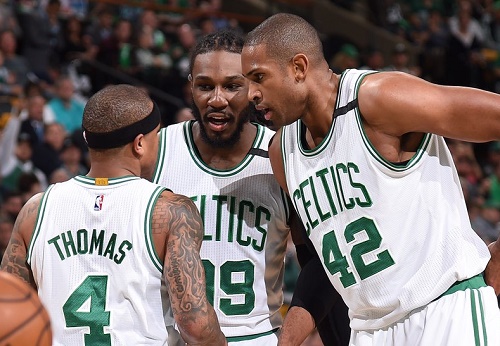 (PHOTO CREDIT: Getty Images.)
#4 WASHINGTON WIZARDS 111 @ #1 BOSTON CELTICS 123
EAST Semifinals * Game 1 * CELTICS lead the series, 1-0
I have no idea if the early time affected the Celtics but the Wizards came out to crush. They scored the first 16 points of the game and the Celtics fans wondered if their team knew there was a game today.
They knew. Kelly Olynyk came in and gave Boston a boost, scoring 12 early points off the bench. Jae Crowder and Marcus Smart also made huge threes as they caught the Wizards in the second quarter. Isaiah Thomas also got it going late (after losing a tooth, no less!).
Smile, Isaiah. pic.twitter.com/4wbHa4IOOg

— Rey-Rey (@TheNoLookPass) April 30, 2017
The dreaded backcourt of the Wizards kept them ahead, though, 64-59, at the half. It didn't help, though, that Washington lost Markieff Morris in the second with a painful ankle sprain.
Then the Wiz got sloppy with the ball. Couple that with the Celtics making threes pretty much the entire quarter and you thought it was raining inside the Gah-den. IS THAT RAIN?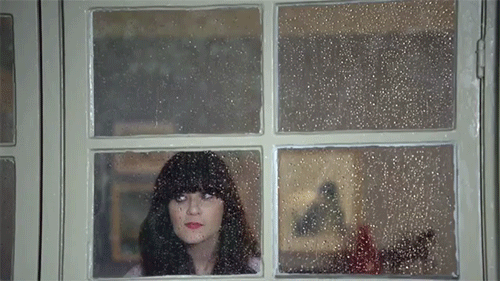 Bojan Bogdanovich tried to bring the Wiz back as he scored 10 straight points for the team. Then Brad Stevens brought in seldom-played rook Jaylen Brown. He made an immediate impact as he made a three and assisted to Jae Crowder's three. Bradley Beal countered with a three both times but Avery Bradley made a huge three to put them up 12 with two minutes left and that was it for them.
Boston was very resilient this game. They spotted the Wizards 16 points and they still won going away. The Technician, Isaiah Thomas, led the Celtics with 33 points while Al Horford went for 21-9-10. Also, Boston made a franchise playoff record 19 three-pointers. Beal led the Wiz with 27 points but all they'll think about is that they blew a golden opportunity in this series.
Also, Isaiah (who got his tooth back in; I don't know how that works) can get his smile fixed so he can have that shining grin like Tony Crane from Saved By The Bell.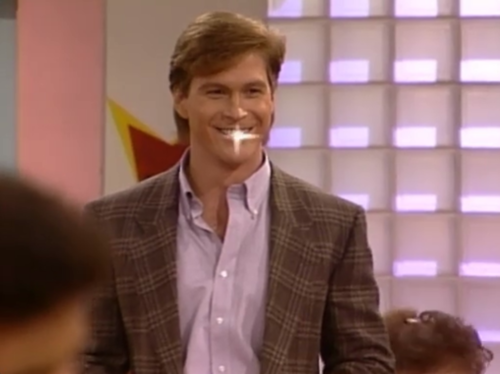 #5 UTAH JAZZ 104 @ #4 LOS ANGELES CLIPPERS 91
WEST 1st Round * Game 7 * WIN series, 4-3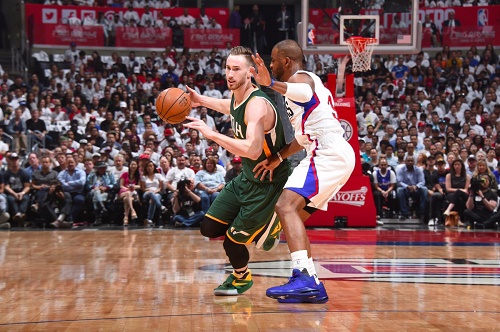 (PHOTO CREDIT: Getty Images.)
This game didn't start out so well for Rudy Gobert. Heck, the entire game didn't go well for Gobert. While he was available, he didn't get much PT because he was in foul trouble so much.
But while the Clippers played the Jazz to a stalemate in the first quarter, it was still the pace of a Utah game on International Jazz Day. Derrick Favors played a strong first half in place of Gobert. And the Clippers struggled to score in the second, only totaling 15 points in the period.
The Clips continued to struggle. On the other side, Gordon Hayward and Boris Diaw had a huge third. The lead ballooned to 21 points and, really, the Clippers never seriously challenged again. Hayward continued to massacre the Clips in the second half. Favors continued to do the dirty work. And the Jazz defense was suffocating the Clippers, particularly J.J. Redick. Hayward had 26 points while Favors ended with 17 and 11. DeAndre Jordan did all he could with 24 points and 17 boards while Chris Paul only scored two of his 13 points in the second half.
The Jazz have a date with the Warriors in the second round; it's their first trip to the West Semis since 2010. Meanwhile, the Clippers have a lot to think about. Do they try to keep everybody? Do they make little changes? Do they break the core up? I honestly don't think it's that tough of a call but sometimes, the pressure can get to the team. We shall see.
Have fun, Jazz.
LINE CROSSER
It was honestly pretty quiet but Horford came through with…
21 points, 9 rebounds, 10 assists.
That's why they gave him the big bucks!
WATCH THIS PLAY
Reach for the skies, DeAndre. pic.twitter.com/fd6oQETLYS

— Rey-Rey (@TheNoLookPass) April 30, 2017
You'll always have this jam, DeAndre. Hopefully, your teammates stay next season.
---
Follow Rey-Rey on Twitter at @TheNoLookPass for all tweets about the NBA. Also, check out his podcast, Rey-Rey Is Fundamental.

us on FaceBook where we have additional NBA highlights! Thank you!
#SagerStrongForever