This is the NBA Playoff Hangover. We're going to recap all the important games and talk about the hijinks that went on during or after. Here ya go.
Three elimination games were played. Who advanced? Who survived?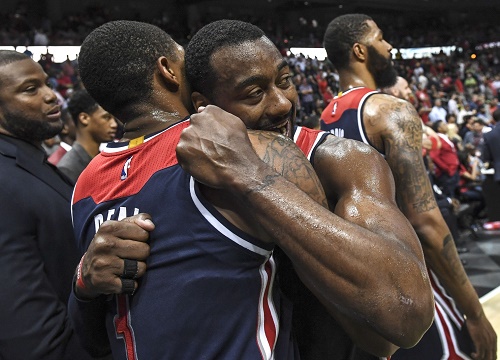 (PHOTO CREDIT: Toni L. Sandys/Washington Post.)
#4 WASHINGTON WIZARDS 115 @ #5 ATLANTA HAWKS 99
EAST 1st Round * Game 6 * WIZARDS WIN the series, 4-2
John Wall and Bradley Beal came into the ATL with a mission. They combined for 37 points in the first half as they put on a show.
The Wizards continued to clamp the Hawks as they went up by 22. But this became a bit similar to Raptors/Bucks last night. That lead disappeared as both teams put out a mess on the court (fouls and turnovers). The Hawks scored 10 straight at the end of the third quarter. Paul Millsap's three cut the lead down to 7 before the fourth.
Jose Calderon made a three to cut the deficit down to three. And the Hawks had a chance to cut it down to one on a fastbreak lay-up but Wall chased down Dennis Schroder and rejected him. From then on, Wall put on a show as he made midrange jumper over midrange jumper like it was going out of style.
(VIDEO CREDIT: Taylor Swift's VEVO.)
The Hawks never recovered from that play.
Overall, he scored 19 points in the fourth quarter and 42 for the game. The Wizards are going on to the Eastern Conference semifinals. As for the Hawks, they said they're going to try to go on with this core so…
#1 BOSTON CELTICS 105 @ #8 CHICAGO BULLS 83
EAST 1st Round * Game 6 * CELTICS WIN the series, 4-2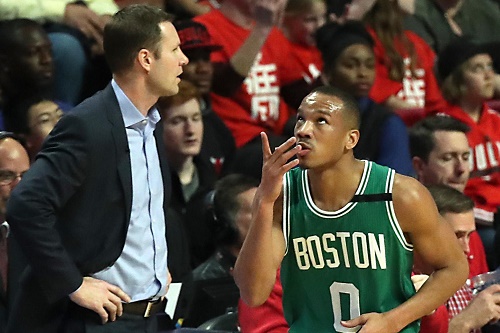 (PHOTO CREDIT: Matthew J. Lee/Boston Globe.)
Unlike the other game, this was just a one-way contest.
It didn't help that Jimmy Butler got hurt a bit. Still, he came back and had a big first half. But the Celtics had the ball movement going on as well as their three-point shooting. They were up 13 after twenty-four minutes.
And then the Celtics poured it on. They never stopped making their threes; they had 16 in the game compared to 4 by Chi-town. The Celtics led by 30 at one point and won in wire-to-wire fashion (all five starters were in double figs). Boston, after a bit of a scare being down 0-2, is advancing to face the Washington Wizards in the conference semis. That series should be juicy.
We don't know where the Bulls go from here; we know they had been a mess throughout the season. In the meantime, continued thoughts to Isaiah Thomas and his family.
#4 LOS ANGELES CLIPPERS 98 @ #5 UTAH JAZZ 93
WEST 1st Round * Game 6 * Series is TIED, 3-3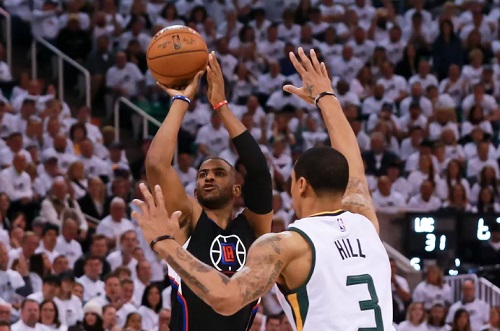 (PHOTO CREDIT: Chris Nicoll/USA Today.)
It started out slowly, which was pretty much the Jazz's choice of pace. But the problem was that they couldn't convert any three-pointers. In the meantime, Chris Paul did all his wizardry once again. He had 15 points in the first half and the Clips led by two.
After a slow start in the second half, the Clips, well, CP3 got DeAndre Jordan (who had been turnover-prone in this game) and Jamal Crawford involved as they raced out to an 11-point lead. And it looked like they were going to win going away as Austin Rivers made two big threes to keep a 10-point lead with 1:29 left.
But the playoffs have been wacky this season and this game was no exception. After two Gordon Hayward foul shots, Paul threw away a pass that led to a Gordon slam. Then Paul threw it away again and the Jazz suddenly had life. It led to a Hayward three and the lead was cut to three in roughly 45 seconds.
CP3 ran down the shot clock and missed a jumper. Jordan got the board but missed the putback. The Jazz didn't call a timeout and they went back to what worked all series long. Joe Johnson went ISO. But with 3.9 seconds left, Joe missed the game-tying three. The Clips got the board and we got a Game 7.
Paul was magnificent, going for 29 points and 8 dimes. Hayward led the Jazz with 31 points. But that wasn't enough. And they may not have enough in Game 7 as Rudy Gobert sprained his ankle in the third quarter.
The Clippers and Steve Ballmer are just happy to get one more chance.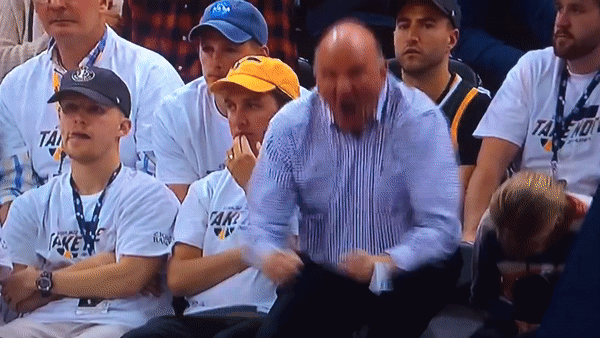 LINE CROSSER
John Wall with the clincher and the impressive line.
42 points, 8 assists, 4 steals.
Wall night long!
WATCH THIS PLAY
(VIDEO CREDIT: DDD 2Boy.)
Wall backs Dennis Schroder up, spins on him, and finishes with the patented lefty jam.
---
Follow Rey-Rey on Twitter at @TheNoLookPass for all tweets about the NBA. Also, check out his podcast, Rey-Rey Is Fundamental.

us on FaceBook where we have additional NBA highlights! Thank you!
#SagerStrongForever