This is the NBA Playoff Hangover. We're going to recap all the important games and talk about the hijinks that went on during or after. Here ya go.
The pool is getting thinner. Only two games tonight. And they were very important Game 5s.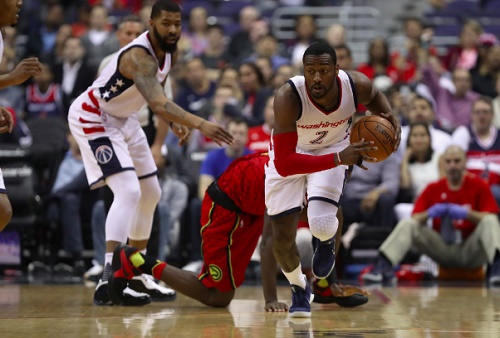 (PHOTO CREDIT: Getty Images.)
#5 ATLANTA HAWKS 99 @ #4 WASHINGTON WIZARDS 103
EAST 1st Round * Game 5 * WIZARDS lead the series, 3-2
So it was a back-and-forth affair between these two teams for a bit. Atlanta led early before the hot shooting of Bradley Beal and the craftiness of John Wall gave way for a Wizards lead. By the third quarter, the nation's capital led by 11 but the Hawks quickly erased that by scoring 11 unanswered to tie the game at 69.
Man, we are so mature.
Anyway, try as they might the Wizards couldn't blow the game open. They did lead by nine after some electrifying plays from Brandon Jennings, Bojan Bogdanovic, and Kelly Oubre, Jr. (it was funny in particular when Oubre went in for an uncontested dunk while Dwight Howard seemed pinned to the ground). The Hawks were able to cut the deficit down to two before Wall made the clutch J to put it away. The Wizards now lead the series, 3-2, in what has been an unexpected hotly contested match-up.
Beal went for 27 points while Wall had a great 20-6-14 line. Dennis Schroder (29 points, 11 assists) and Paul Millsap (21 points, 11 boards) did their best to keep the Hawks up but transition scoring and lack of help from Dwight and their wings killed them.
It could be it for the Hawks on Friday.
#8 CHICAGO BULLS @ #1 BOSTON CELTICS 108
EAST 1st Round * Game 5 * CELTICS lead the series, 3-2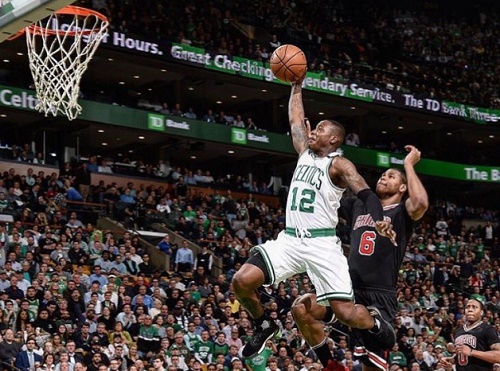 (PHOTO CREDIT: Getty Images.)
This wasn't the best game to watch. We had questionable officiating for both sides and there was some uninspired and seemingly lackluster effort on both sides of the ball here. Nevertheless, the Bulls kept in pace with the Celtics. Chicago made some tough shots while Boston seemingly missed makeable attempts. We questioned for most of the game, "HOW ARE THE BULLS LEADING?"
We stopped questioning when the Celtics finally got it together. They were able to frustrate the hot Robin Lopez (not hot in that context, mind you). Isaiah Thomas did his usual damage in the fourth. And Avery Bradley and Al Horford had huge games to help put Dwyane Wade (who went for 26-11-8) and company away. Jimmy Butler (14-8-6) didn't really get much of a chance to get it going as he was swarmed by the Celtics. A 13-0 run in the fourth assured Boston that there was finally going to be a victory at somebody's home court.
After the game, Fred Hoiberg was asked about Isaiah Thomas's dribbling. Well…
Bulls coach Fred Hoiberg quickly bails from podium when asked whether Celtics' Isaiah Thomas carried the ball during Game 5… pic.twitter.com/M1IYVrVRkK

— Ben Golliver (@BenGolliver) April 27, 2017
That was succinct and to the point.
Horford, Thomas, and Bradley combined for 69 points. Like I said, I am soooo mature.
LINE CROSSER
Let's give it to the Wall-Star.
20 points, 6 rebounds, 14 assists.
Solid solid line for the Wizard of D.C.
WATCH THIS PLAY
(VIDEO CREDIT: Ximo Pierto.)
Wall also takes this section. He had a hammer and he just had to use it on Mike Muscala.
Shoutout to the very loud and enthusiastic Wizards fan that you can hear in that video (throughout the fourth quarter if you watched the game).
Also… one more thing?
(VIDEO CREDIT: Clayton.)
Sooooo mature.
---
Follow Rey-Rey on Twitter at @TheNoLookPass for all tweets about the NBA. Also, check out his podcast, Rey-Rey Is Fundamental.

us on FaceBook where we have additional NBA highlights! Thank you!
#SagerStrongForever