This is the NBA Playoff Hangover. We're going to recap all the important games and talk about the hijinks that went on during or after. Here ya go.
#2 CLEVELAND CAVALIERS 106 @ #7 INDIANA PACERS 102
EAST 1st Round * Game 4 * CAVS WIN the series, 4-0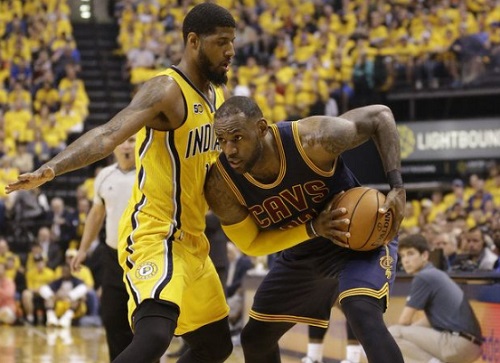 (PHOTO CREDIT: Michael Conroy/AP.)
It was honestly the same thing here. The Cavs get a big lead (in this case, 13 in the fourth quarter) and then they lose it. Cleveland went on a 4-minute drought here as they were stuck on 100 points. The Pacers came back and took the lead briefly after a Thaddeus Young tip with 1:31 left.
But with LeBron James, you're never out of a game. He made a counter three to take the lead back. Kyle Korver added two free throws and the Cavs had a three-point lead with 19.1 seconds left.
Then what we had was a bizarre possession. Jeff Teague threw a bad pass and J.R. Smith ran the other way for a fastbreak. Then he threw a BONEHEAD behind-the-back pass that was easily intercepted by Paul George. Indy scrambled before PG got the clutch shot attempt that he declared he wanted all along.
He only hit glass.
I don't take anything away from what Paul George said but this just comes off looking bad. We all know he said he wanted the last shot. This is akin to him saying he can get that girl's number and when the moment comes, the girl pours her drink on his head. Not this happened to me before. Nope.
Anyway, the Cavs advance and we're going to keep wondering how vulnerable they are throughout the playoffs. As for the Pacers? They gotta keep Paul George happy until a transaction happens. That's just the worst.
#3 HOUSTON ROCKETS 113 @ #6 OKLAHOMA CITY THUNDER 109
WEST 1st Round * Game 4 * ROCKETS lead series, 3-1
James Harden didn't do so well in the first half but Russell Westbrook certainly did. He got his patented triple-double in the first 24 minutes. But the Thunder were doing pretty well, leading the Rockets by four.
The Thunder extended their lead to 12 before that quickly disappeared like Akane's long hair in the first season of Ranma 1/2.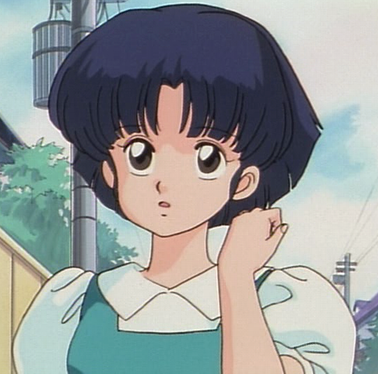 The Rockets and the Thunder went back-and-forth afterwards before Mike D'Antoni made the decision to foul Andre Roberson, who shot an atrocious 42 percent from the line in the regular season. He went 2 for 8 during that span and when he was finally taken out with three minutes left, the Rockets kept their three-point lead.
A Harden stepback jumper gave the Rockets a five-point cushion with 41 seconds left. Steven Adams was then fouled and after making his first freebie, he executed a perfect intentional missed foul shot. The ball caromed back to Adams and he got it to Russell Westbrook for a trey. The lead was cut to one but the Thunder didn't foul the Rockets with the clock down to 18 seconds. The Rockets got the ball to Nene (who kept the Rockets in the game the whole time) and the Brazilian converted a lay-up as he was fouled. That was the game.
Rockets now have a 3-1 series lead (SHUT UP AND KEEP YOUR OVERPLAYED JOKES TO YOURSELF) as they go back to Houston. While Harden struggled (16-7-8 is not weak but 5 for 16 is struggling), Nene went for 28 points and 10 boards. He had 12 shot attempts and made them all. I wish my life was as perfect as Nene's shooting.
Of course, Russ got a trip-dub.
#1 BOSTON CELTICS 103 @ #8 CHICAGO BULLS 94
EAST 1st Round * Game 4 * Series is TIED, 2-2
I'm still amazed how Isaiah Thomas was able to play through all this.
Coupled with Gerald Green's surprising effectiveness, the Celtics went up by 20 in the second quarter.
But the Bulls refused to back down.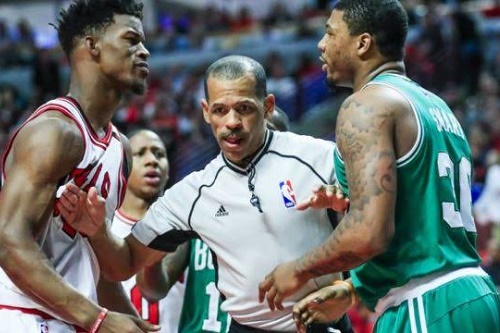 (PHOTO CREDIT: EPA.)
Chitown stampeded over the Celtics with a 12-0 run to take a 65-63 lead. But then Isaiah spurred Boston with a 12-0 run on their own. He scored 10 points in what was pretty much the decisive run of the game. Boston led by double digits for most of the fourth period.
Isaiah countered Jimmy Butler's 33 points with 33 points of his own. Will any of these two teams win in their home court? Stay tuned in the next episode of this series!
#4 LOS ANGELES CLIPPERS 98 @ #5 UTAH JAZZ 105
WEST 1st Round * Game 4 * Series is TIED, 2-2
So the good news here for the Jazz was that Rudy Gobert was back for this game. Remember that he was taken out of the very first play of the first game as he collided knees with Luc Mbah A Moute.
The bad news was that Gordon Hayward was not feeling well. He eventually left the game in the second period as he had food poisoning. At least, he didn't do the whole Alvin Gentry public vomiting thing.
(VIDEO CREDIT: Yagerbomb42.)
So the Clippers finally got a break, right? They lost Blake Griffin for the rest of the playoffs and now the Jazz just lost their best player.
But the Jazz are also pretty damn resourceful.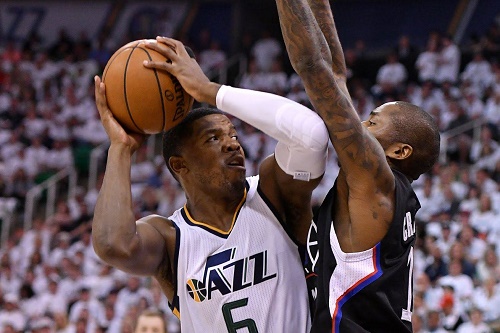 (PHOTO CREDIT: Gene Sweeney, Jr./Getty Images.)
The Clips led by seven in the fourth before an isolation problem turned up again. Joe Johnson went on a personal 11-3 run to give the Jazz the lead. Then he was able to get the ball to Joe Ingles for a three to extend the run to 14-3. And then he continued to make plays as he was able to pass to Rodney Hood and Ingles for a couple more threes. The Clips didn't recover and now the series is tied.
If it's not bad luck, it's no luck for the Clips. It's a best-of-three now as they go back to Hollywood. And the bad news for the Clippers is that the Jazz should have a full deck by then.
LINE CROSSER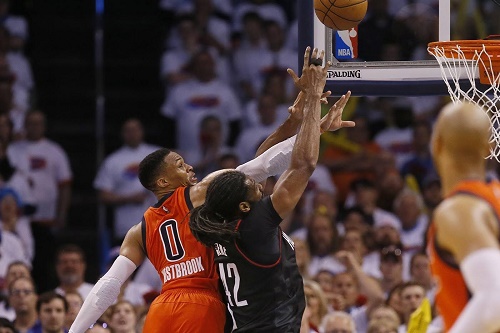 (PHOTO CREDIT: AP.)
Russ still got it done. Hell, he got the triple-double in the first half:
35 points, 14 rebounds, 14 assists, 3 steals.
But if he got 40… KIDDING, RUSS.
WATCH THIS PLAY
(VIDEO CREDIT: NBA.)
This is how you miss a free throw on purpose, get the offensive board, and get the next bucket. Well done, Steven Adams and Russell Westbrook.
---
Follow Rey-Rey on Twitter at @TheNoLookPass for all tweets about the NBA. Also, check out his podcast, Rey-Rey Is Fundamental.

us on FaceBook where we have additional NBA highlights! Thank you!
#SagerStrongForever