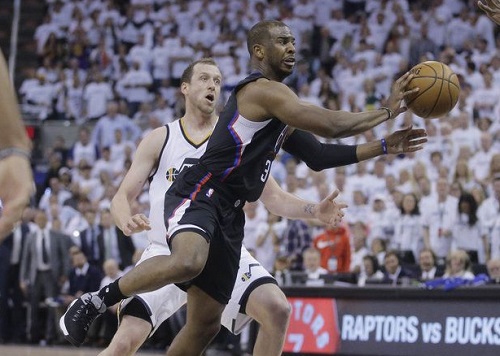 (PHOTO CREDIT: Rick Bowmer/AP.)
This is the NBA Playoff Hangover. We're going to recap all the important games and talk about the hijinks that went on during or after. Here ya go.
#1 BOSTON CELTICS 104 @ #8 CHICAGO BULLS 87
EAST 1st Round * Game 3 * BULLS lead series, 2-1
First off, the Bulls lost Rajon Rondo indefinitely after it was found he had a broken thumb. The Celtics also made a little adjustment by playing small and starting Gerald Green in place of Amir Johnson.
It paid immediate dividends as the Celtics jumped out to a double digit lead and led by as many as 20 points in the second quarter. Still, Dwyane Wade and company brought the Bulls back to within three at the half as they carried the load as Jimmy Butler struggled.
The tightness of this game wouldn't be long. Isaiah Thomas made a couple of threes and the much-maligned Al Horford got going inside. Butler would make three straight buckets at the end of the third but by then, it was too much for Chitown to handle. The Celtics never stopped making threes (17/37 overall). Their balanced scoring attack (five players in double figures) helped cut the series lead to 2-1. Suddenly, there seems to be light at the end of the tunnel for the green.
Assuming they get out of the tunnel full of Bulls first.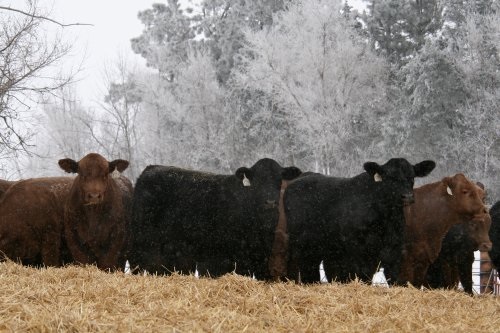 Not the friendliest sight, to be honest.
Continued thoughts for Isaiah Thomas and his family.
#3 HOUSTON ROCKETS 113 @ #6 OKLAHOMA CITY THUNDER 115
WEST 1st Round * Game 3 * ROCKETS lead series, 2-1
The criticism here was that Russell Westbrook didn't trust his teammates late in Game 2. I actually can't blame him for the way he played. Damned if you do, damned if you don't.
Early, Russ really looked to concentrate on distributing the pill (no, no, I don't mean drugs). Taj Gibson, in particular, really got involved and was the beneficiary of a lot of those passes.
As for the Rockets, James Harden got it going. And as usual, he was getting to the line (he made all of his 18 free throws). Lou Williams also played big and Ryan Anderson finally got his shooting back. You would've thought they were playing an all-star game with the lack of defense early in the contest.
OKC led by 10 in the fourth quarter but that high-powered offense by the Rockets continued to chug along. Harden's three tied the game at 111. Westbrook tried to counter with a three but he missed. However, Steven Adams got in a putback to give the Thunder back the lead.
The Rockets then played the foul game and they were successful because Russ missed a couple of free throws late. After the latest miss, Houston was down two with 5.3 seconds left. Harden went for the pull-up three but it rimmed off. The Thunder escape with the win. By the way, I liked Harden's decision there and I don't blame him one bit. Especially after he went for 44-6-6.
And of course, Westbrook got a triple-double (he was also disciplined enough to only put up one three!). Those are almost as sure as Barney Gumble getting drunk.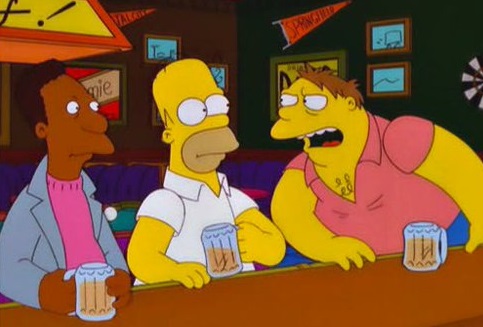 #4 LOS ANGELES CLIPPERS 111 @ #5 UTAH JAZZ 106
WEST 1st Round * Game 3 * lead series, 2-1
SPEAKING OF THE SIMPSONS AND HOMERS…
Gordon Hayward went wild (I tried to think up a Girls Gone Wild reference; is that thing still going on?) in the first quarter. So wild that Hayward equalled the Clippers' first quarter output. It was Clippers 21, Hayward 21 after one (the Jazz had 34).
By the way, I found J.J. Redick's reaction to Mo Speights putting up a three really hilarious:
Look at J.J. Redick's reaction when Mo Speights put up that 3. pic.twitter.com/gaI01L7nFG

— Rey-Rey (@TheNoLookPass) April 22, 2017
The Clips would lose Blake Griffin in the second quarter as he injured his big toe.. They would be down by nine going into the third quarter.
This was where Chris Paul would take over. He would make shots inside and out, pass to open teammates, and split the defense like the sharp knife that he is. His three would give the Clippers a 97-96 lead. He scored the last nine points of a nearly-decisive 15-0 run.
With the Clips up four, George Hill would make a quick three to cut it to one with 7.3 seconds left. After CP3 foul shots, Boris Diaw was fouled before making a three. However, it was ruled to be no continuaton (wacky stuff like this is why I don't prefer fouling up three; I'm not a fan of extending the game). Diaw would split foul shots before J.J. Redick was fouled. Unfortunately for L.A., J.J. would also make one of two. The Jazz were down three with no timeouts and 3.3 seconds left. But Hayward overthrew the intended pass to Joe Johnson like he was a Niners quarterback. CP3 would seal the game with a couple more foul shots.
That might have been the best CP3 takeover I've seen since he became a Clipper. He outscored the Jazz, 13-10 in the last four minutes.
LINE CROSSER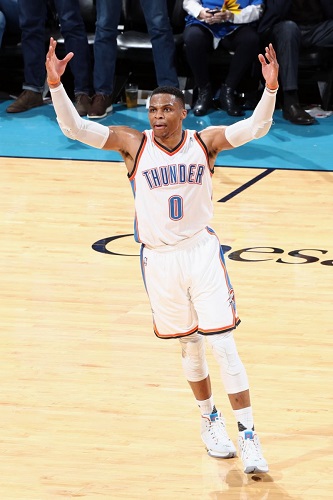 (PHOTO CREDIT: Nathaniel S. Butler/Getty Images.)
Lots of great lines out there. Like James Harden going for 44, Gordon Hayward going for 40, and CP3 doing 34-7-10.
But this is still Russell Westbrook's section:
32 points, 13 rebounds, 11 assists.
That's Russell's second triple-double in a row.
WATCH THIS PLAY
(VIDEO CREDIT: Ben Golliver.)
Chris BY GOD Paul goes behind-the-back on the way to the rim and that's just basketball magic at its finest.
---
Follow Rey-Rey on Twitter at @TheNoLookPass for all tweets about the NBA. Also, check out his podcast, Rey-Rey Is Fundamental.

us on FaceBook where we have additional NBA highlights! Thank you!
#SagerStrongForever